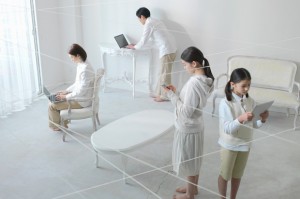 New research released today from marketing consultant Chetan Sharma says that the typical American home has on average a total of five connected devices. A connected device is any device which is connected to the Internet via Wi-Fi, wired, or cellular networks.
Think that's a lot? You won't believe what else they discovered…
Perhaps five connected devices in the typical home does not surprise you. But consider this other finding from the survey: more than six percent of households had more than 15 connected devices. That, it seems, is a much more impressive level of connected device penetration for a statistically significant number of survey respondents.
Keep in mind that the survey had a wide range of devices it asked about including, TVs, gaming consoles, tablets, smartphones, and even digital photo frames. Sharma says this super-user segment of the market is growing faster than other segments. The researcher also said that he estimates that about 70-80% of the devices are connected to the Internet wirelessly.
Finally, Sharma estimates that there were about 9 billion connected devices worldwide at the end of 2011. That number has grown to more than 10 billion units so far this year.
For more information, see: http://www.chetansharma.com/.