Identifying America's Most Entrepreneurial States
In new research from a think tank based in Bentonville, AR called Heartland Forward, we learn that innovation in the U.S. is largely happening on the east and west coasts of the country – not in America's heartland where entrepreneurship is lagging. And that they hope to change by influencing state policymakers to go on the offensive to launch new entrepreneurial initiatives.
See more on where Innovation is happening in America
Heartland Forward describes themselves as "a nonpartisan, nonprofit 'think and do tank' focused on improving economic performance in the center of the United States." They have published an index of where in America – state by state – there is "fertile ground for young companies," says a report in AXIOS.
Factored into their index are elements such as the number of people with bachelor's degrees, number of households with computers, access to investment capital, and government grants. As they rated states a disturbing reality emerged, the 20 states in the middle of the country badly lag the coasts.
Yes, states like Arkansas once possessed great entrepreneurs like Sam Walton, John Tyson, and J.B. Hunt – men who changed the game in their day. But now, Arkansas ranks a paltry 46th out of the 50 states in attracting today's entrepreneurial companies. Ouch!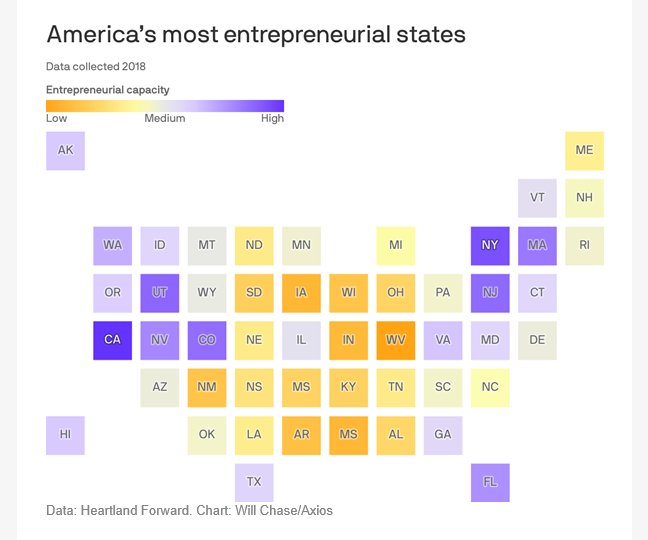 Of the top 25 states in the index, Texas is the only heartland state to rank in this top tier…and they came in at #14. In fact, the index places 16 of the lowest 20 positions with heartland states.
The organization has developed six steps that state policymakers can take to boost entrepreneurship in America's breadbasket.
Fund entrepreneurial support oranizations, such as chambers of commerce and business networks
Earmark state funding for young firms
Improve access to high-speed internet
Invest in higher education – researchers have identified a direct correlation between entrepreneurship and percentage of residents with college degrees
Teach entrepreneurial thinking in K-12 classrooms
Tap into initiatives that help stimulate entrepreneurial thinking on a micro level
Heartland Forward has also published an interactive calculator that local policymakers can use to experiment with different variables to see the impact on potential outcomes.
See more in the AXIOS report by following this link…
See more on Heartland Forward's index by visiting: heartlandforward.org.