ProSource, a national retail buying group, announced today that they have launched an all-new member services portal for their participating dealers. A web portal – or simply portal – is a customized website that typically offers access to an array of non-public data, often pulled from separate sources. In the case of the new ProSource portal, the group says that it serves up "information, services and tools designed to strengthen and grow member business."
See more on this announcement from ProSource…
ProSource says that their new portal for members will augment their interaction with the group's dedicated District Management team. Not only that, but it will also facilitate the member benefit review process.
According to the organization, the member benefit review process includes one-on-one collaboration between the dealer and their District Manager. During these sessions, the dealer receives an analysis of the dollars they have earned, and learn of opportunities to further maximize their profits when engaging with group brands.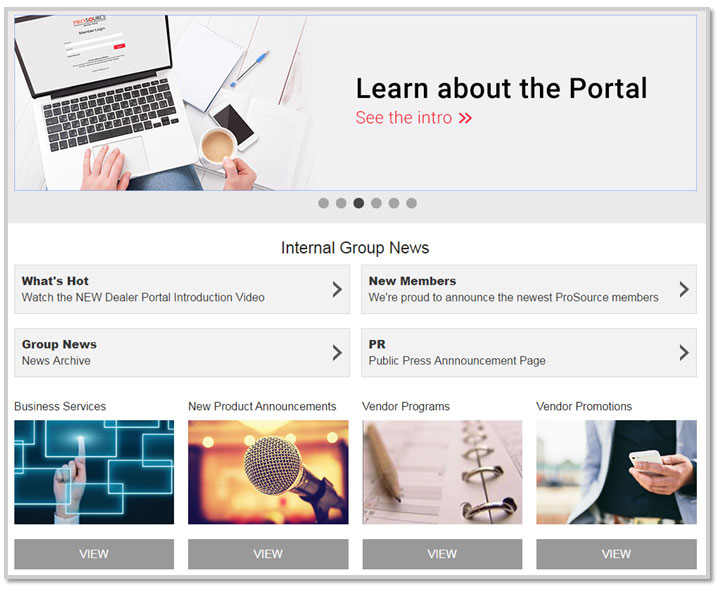 "Our strategy is to deliver the information our members require to make informed decisions and tightly manage their business," said Dave Workman, President and CEO of ProSource. "Along with our dedicated regional team, we are able to engage each member on a one-on-one basis to maximize their profitability."
ProSource's portal shows members vendor purchase and rebate information, vendor programs, information about any promotions, and new product announcements. There is also a part of the portal where vendors have dedicated pages that aggregate resources such as sales, training, and marketing tools.
The ProSource portal will be shown at their upcoming ProSource Summit in Orlando. ProSource marketing director Kathleen Marini will be giving members a walk-thru demonstration of the portal.
To learn more about ProSource, visit: www.prosourceinfo.com.