As we walked the halls of CE Week, we kept running into old friends and well-known industry personalities. We met both at once when we ran into Eric Bodley of  PPC/Perfect Path who was at the show to support various partners of the company. PPC was recently purchased by cable giant Belden, Inc. and we've been anxiously awaiting more details on how this consolidation would be implemented.
Bodley wasn't in a position to comment on that quite yet, but we took advantage of the meeting to ask him about a couple of other recent issues.
See Bodley's comments on competition heating up & the Belden/PPC connection…
Perfect Path has distinguished itself as a leading provider of a wide-range of high performance cables – particularly HDMI cables. An innovator in "locking" HDMI connector designs, Perfect Path was able to answer one of the more common complaints of the HDMI connectivity solution back in its early days – that the connectors, weighed down with thick, heavy cables, would pull away from – or even out of – the corresponding HDMI socket during use.
Perfect Path solutions offer cables with HDMI connectors with increased retentivity and even locking capabilities. The solution, elegant in its simplicity really, was just what installers and integrators needed – reliable HDMI connections. Nothing is more costly than having to run a truck back out to a customers installation because the television has lost the connection. With Perfect Path's solution, installers really had peace-of-mind that those issues were over.
Imitation, the sincerest form of flattery…
Of course, with any great invention comes imitators. Perfect Path has weathered quite a few companies trying to accomplish the same thing. But a particular new competitor that caught our attention was the recent line introduced by the rapidly growing – and some would say disruptive – SnapAV.
SnapAV bills itself as "the Fastest Growing Company in the Industry." We have no idea if this statement is fact, or just clever marketing hype – but few would argue the significant influence of SnapAV on the custom integration channel. An aggressive promoter, the company has been promoting their new Binary B6 line of cables with GripTek™.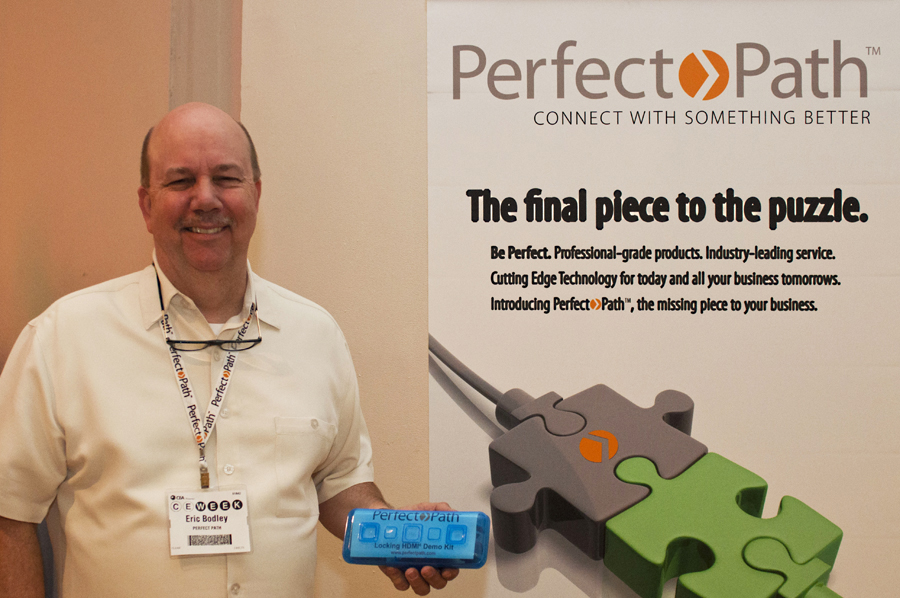 Feeling the heat…
We asked Bodley – Are you feeling the heat from SnapAV and other suppliers offering different versions of locking or gripping HDMI connectors? Bodley told us that Perfect Path, in just a few short years has grown to be the third most-supported cable brand by custom integrators, according to a survey by CEPro.
"Perfect Path went from not even being in the charts, to the number three brand," Bodley proudly proclaimed. "So it's SnapAV at about 30%, AudioQuest 26%, we're at 17% which I unabashedly will tell you I'm really proud of."
Bodley said that Perfect Path's growth in share of the custom integration market has occurred in just a matter of a couple of years. This fact is even more impressive when you consider that, unlike multi-category provider SnapAV, Perfect Path is only in cables and connectors.
Keeping leadership…
But, we asked, aren't you concerned about maintaining your leadership in locking connectors as more and more flood the market from competitors?
"Because of our locking [connector] and because its patented," Bodley explained, "…other companies like Tributaries and Monster and SnapAV are trying to come up with ways to [have their HDMI connectors] hold in. So the Snap[AV] product has little bumps…" on the flat side of the connector to increase pressure to hold the connector in.
"Even by their own spec. on their website, it holds 6 pounds," Bodley told us. "A standard cable is 3 pounds – that's the spec – so SnapAV is double. Our entry-level is at 12 and the one I just showed you is 25 pounds."
There's retention, and then there's locking…
SnapAV's product, like other manufacturers, is not a true locking design – just higher retention than a standard cable, according to Bodley. But more than that, Bodley adds, the two companies focus on completely different parts of the industry. Perfect Path, he says, is a step-up product with models positioned well over where brands like SnapAV focus, in terms of price, features and quality.
We also asked Bodley when we can expect to learn more about the ramifications of their acquisition by Belden. Belden bought PPC in late 2012 and since then the two companies have been in a series of planning sessions on how best to optimize the various business channels in which they operate. We've heard rumors of exciting things to come, but so far nothing has been confirmed.
According to Bodley, there should be new details sometime this month that will illustrate the results of those meetings. As soon as Strata-gee.com know more, we'll report our findings.
To learn more about Perfect Path, see: www.perfectpath.com.
To learn more about Belden, see: www.belden.com.