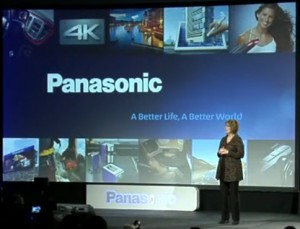 One of the bigger surprises on Press Day (the day before the show opens) at the International Consumer Electronics Show (CES) was the Panasonic press conference. We were quite surprised when Panasonic opened their press conference at the consumer electronics show, talking at length about their non-consumer businesses.
Their official tag line at the event…Panasonic A Better Life. A Better World…seemed very generic and not particularly entertainment linked. But the more interesting tag phrase that we heard several times throughout the presentation was – Panasonic is more than a TV company…seemed to suggest that the company was distancing itself from its consumer TV business. Or at least, re-prioritizing their business segments as they spent the first several minutes of their presentation talking government, security, and commercial applications for Panasonic technology.
See more from this surprising Panasonic presentation…
It was the most unusual opening for a Panasonic presentation at the CES we've seen. The company spoke at length at how they were applying their technology to a whole roster of commercial applications. In fact, one of their slides was captioned "Leveraging Consumer Expertise for B2B Solutions" – almost as if this was their focus or goal. (For those unfamiliar, B2B refers to business-to-business markets, as opposed to B2C for – you guessed it – business-to-consumer markets.)
Presentations like this take weeks or even months to prepare, with management pouring over the minute details and the messaging. So it was surely intentional that the presentation took this route with images of commercial installations of various video walls – including those using convex and concave curved displays, a security control room, images of automotive technology, photos of wind turbines & solar panels, and more.
Off to the races…
Company executives extolled a new huge 15,000 sq.ft. display that the company created for the Churchill Downs horse racing track. They called this display a "real world example" of 4K technology at work. This massive display – 171 feet wide by 90 feet tall – is touted as the world's largest 4K video board.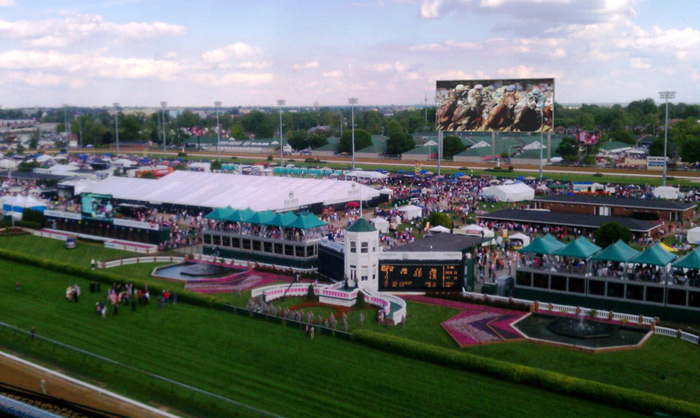 Clearly, the company is seeking to better leverage their technology portfolio across their various business units and platforms to offer commercial customers – as one presenter put it – "4K across the enterprise." Referring to the 20-inch tablet the company introduced in 2013, Panasonic says that 4K manipulation of data is the "perfect solution." And with that, they announced the ToughPad…a ruggedized tablet computer, much in the vein of their ToughBook laptop line.
Getting tough with tablets…
ToughPad was created in partnership with both Intel and Microsoft and is handled by their Mobility Business Unit. There are two versions, a production version of the 20-inch tablet shown last year and a new 7-inch model designed to be extremely rugged for operation in difficult work environments.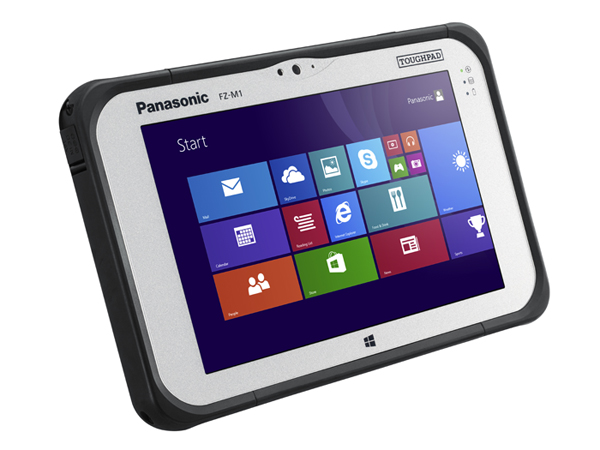 The UT-MA6 20-inch ToughPad tablet features an Intel Core i7 vPro processor and an NVIDIA Quadro GPU. It is designed for use as a mobile CAD or video workstation. The FZ-M1 is a 7-inch ruggedized model that is clearly designed for "mobile workforce productivity." The company has targeted this model for enterprise and government applications.
Getting back to consumers…
But this is the CONSUMER Electronics Show and the company did ultimately get to more of their consumer products. And this included two new series of television products – a 1080P series of LED LCD models with their Life+ user interface; and a 4K Ultra HDTV line of LED LCD televisions…also with their Life+ interface.
Panasonic last year announced that they were exiting the plasma television business and, true to their word, there were no plasma models introduced at this show. We found it interesting though, that the presenter referred to their new 4K Ultra LED LCD models as offering "plasma level picture quality."
By the way, both Samsung and LG seized upon Panasonic's plasma exit in their presentations. Both Korean manufacturers going out of their way to assure the media that they were firmly committed to the category
Beyond Smart…
The new 1080P LED LCD TVs will debut in four series of models with sizes ranging from 39-inches to 60-inches. These models include the Life+ capabilities, which the company says goes "Beyond Smart" with features like the ability to create a custom my Home Screen personalized for the user. Life+ also has a my Stream feature which offers content recommendations that the system learns as you use the set. Prices were not listed in the materials provided to the press.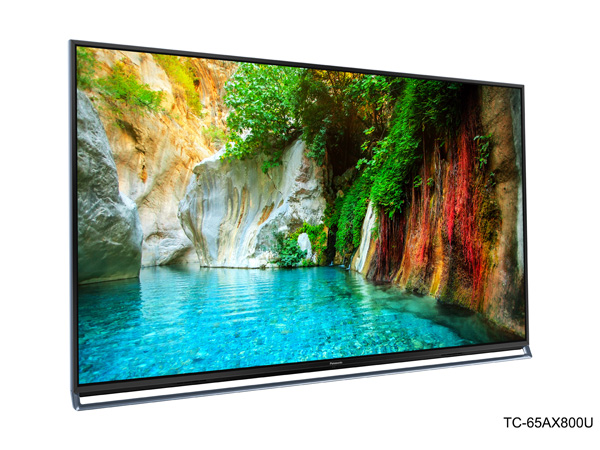 The Life+ interface also includes a Voice Assistant for Siri-like voice command convenience, my Home Cloud for downloading content and apps from the cloud, and a new Remote Sharing for smartphone sharing capability.
Panasonic's new AX800 4K LED LCD Life+ series televisions also incorporate the company's upgraded Life+ user interface. And of course, this series includes the much-touted 4K Ultra HDTV technology. Available in 58-inch and 65-inch models, the AX800 features THX in Ultra HD (which we assume to mean a THX-mode). Prices were not listed in the materials provided the press.
Hybrid cameras and wearable camcorders…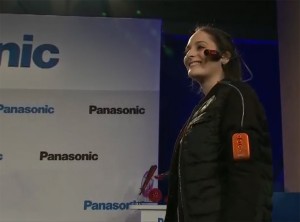 Panasonic also presented new models in its popular Lumix camera series, including a new model called the LumixGX7 with what they called hybrid photography. They quickly glossed over it and as far as we could tell, they were referring to the camera's ability to take both still shots or video…hardly unique in the camera world these days.
The company also showed a wearable camcorder – a device that seems to be aimed at making a dent in the action photography game, perhaps trying to take a bite out of GoPro. Even though they had a model show it, it still seemed a little clunky and inelegant. Still, this is a new market for them and future model iterations may step of their game. (And GoPro isn't all that elegant either.)
Electrifying!…
Finally, there was much discussion on automotive technology. The company noted that 9 of the 10 largest automobile manufacturers were participating at CES – a fact that they deemed to be logical. Panasonic's automotive business is the fastest growing segment of their North America business.
Panasonic, we were told, is a leader in vehicle electrification. Not as scary as it sounds, Panasonic provides rechargeable battery power for the growing market of electric vehicles. In fact, Panasonic signed a deal with Tesla to provide them with 2 billion lithium-ion batteries.
But beyond batteries, Panasonic has a prominent position in rear-view cameras and sensors. All of which positions them for the Next Big Thing – autonomous driving vehicles.
Streaming surround-sound music…
Panasonic also announced that their Aupeo music streaming division was partnering with DTS to create the first streaming audio platform capable of streaming music in DTS-HD surround sound. Also involved in the partnership is Abbey Road Studios. More details on this partnership will be forthcoming.
All-in-all a full agenda, but Panasonic clearly has re-prioritized their television business…relegating it to the smallest percentage of one of their conferences that we can recall. Perhaps, that is a sign of the times.