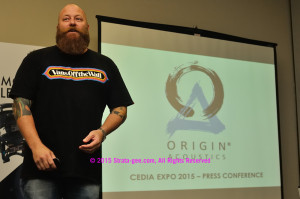 "I can tell you the last year has been a really exciting adventure," Origin CEO Jeremy Burkhardt said, kicking off an Origin Acoustics press conference at last week's 2015 CEDIA Expo in Dallas. Having officially launched the company at Expo last year, company executives sought to celebrate this milestone. And, much as they did last year – the company announced several new products for the coming year.
See more details on the Origin Acoustics product launch…
Origin tends to start off their press conferences talking about the past. They do this because they feel its consistent with the "Origin" company name. But what's important to most integrators is what can you do for me today? And in that regard, the company has adopted an aggressive posture – launching several new models last year…and again for this year.
But first, Burkhardt talked about how many had doubted the company's chances in a challenging industry with many competitors. Even so, he crowed, the company has signed up 2,000 dealers "around the world" and distributors in 50 countries. This is a quick start by anyone's definition.
"So in one year, I've personally been on the road over 260 days…I've been to every continent except for Antarctica…and I've visited all across the world," Burkhardt proclaimed. "And we've signed the majority of the distributors that we've done business with in the past…they've flocked to us."
Continued Expansion into New Product Categories
Origin says they are shipping 140 products now – we assume they mean globally. The two major technologies they introduced are their "zip clip" tool-less installation system, and their "more bass, less space" design that allows an 8-inch woofer fit into a 6-inch hole.
The company has moved into a couple of new product segments this year, including small aperture speakers, in-ceiling subwoofers, in-wall subwoofers, and a new limited dispersion outdoor speaker line. These new product introductions appear to put the company into direct competition with industry kingpin Sonance, who is widely considered the first major supplier to adopt the concept (said to have been invented by James Loudspeakers years ago) of matching speaker systems to residential lighting fixtures.
In-wall Subwoofers
Origin has introduced three new in-wall subwoofer models – one for retrofit installations and two for new construction installations. Each of them feature aluminum cone material which the company says is ideal for heat dissipation. And the behind-the-wall enclosure for the subwoofer is also constructed out of aluminum, which the company says offers 40% more air space than MDF.
The CSUB 10R is a 10-inch in-wall subwoofer with a smaller enclosure so you don't have to rip out the whole wall to install it. The company claims 33Hz – 250Hz frequency response with 250 watt power handling. The CSUB 10 sells for $1,400 ea. MSRP.
For new construction, the CSUB 10N (10-inch woofer) and CSUB 12N (12-inch woofer) add a larger in-wall enclosure to more properly load the woofer. This aluminum cabinet is designed to fit within the space between the studs and runs vertically up to the fire block. Origin engineers have designed a suspension system that literally floats the subwoofer enclosure between the studs on rubberized hangers that minimizes vibration conduction to the studs.
According to Origin, the CSUB 12N has a frequency response of 24Hz – 500Hz, which is surprisingly deep bass for an in-wall design. The CSUB 10N sells for $1,600 ea. and the CSUB 12N sells for $2,000 ea. MSRP.
The company also offers a 150-watt amplifier and a 500-watt amplifier for their subwoofers. The SUBA150 sells for $550 MSRP and the SUBA500 sells for $1,100 MSRP.
Composer Theater Collection
Within the company's existing Composer line, it has now launched what it calls its Theater Collection. The Theater Collection is basically two tower design full-range speakers that are configured to be mounted in-wall. The two models – one with 6½-inch glass fibre woofers and one with Kevlar woofers – are geared for serious theater installations.
The THTR 66 ($1,400 MSRP) features dual 6½-inch glass fibre woofers, dual 6½-inch mid-range drivers, and a 1-inch glass fibre silk tweeter. The THTR 88 ($1,800 MSRP) features dual 6½-inch Kevlar woofers, dual 6½-inch mid-range drivers, and a 1-inch glass fibre silk tweeter.
In-ceiling Subwoofers
Origin is also launching two new in-ceiling subwoofers. As you most likely know, in-ceiling subwoofer systems use a box mounted in the ceiling driving a flexible hose (James Loudspeakers calls them "Power Pipes") which is then connected to a fixture of some sort – usually a small aperture fixture that is designed to match typical residential lighting fixture.
However, for all of its positives, the one negative to this type of system is that the small aperture will restrict the depth of the bass. To address this issue, Origin is offering two options – a small aperture option when cosmetic factors are primary, and a larger fixture design when deeper bass performance is desired.
Origin is also offering a matching small speaker called the D38, which is a 3-inch two-way speaker with a Kevlar woofer. The company offers both a round and a square grill for the D38 to exactly match the client's lighting fixtures. The D38 has a price of $375 MSRP.
The in-ceiling subwoofers from Origin are the DSUB6 (dual 6-inch aluminum woofers) and DSUB8 (dual 8-inch aluminum woofers) mounted in a ceiling box in a band-pass design. Like the D38 the company offers multiple port options to match the client's decor. The DSUB6 sells for $1,250 MSRP and the DSUB8 sells for $1,575 MSRP.
The company will also offer packages with various combinations of speakers and subs.
Landscape Line Array
The company is expanding its landscape speaker line with a new series that use a line array to limit dispersion. A line array is simply a series of speakers mounted in a line. In the case of this new model, there are four 3-inch speakers in a row. According to Origin, this causes more of a beaming or limited sound wave dispersion. (Ironically, the slide in their presentation claimed wider dispersion, in contravention to Burkhardt's presentation.)
By using this line array design, you can more precisely aim the sound at your guests while limiting the amount of sound that impacts your neighbors. Like the other Origin landscape speakers, these new models are based on a 70-volt system and made out of a weatherproof PVC construction. The LSLA has a selling price of $600 MSRP.
Learn more about Origin at: www.originacoustics.com.