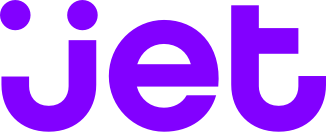 Wal-Mart may be the world's largest retailer, but when it comes to their ecommerce efforts…well, they've been much less than that. As behemoth Amazon.com continues to show strong growth, dominating category after category, Wal-Mart has seen its results lag.
See why Wal-Mart needed to do something to spark online sales…
Wal-Mart paid an eye-popping $3.3 Billion for ecommerce start-up Jet.com causing tongues to wag around the industry. Why did Wal-Mart pay so much for a company that is but a year old? And not only that, but for a company that is yet to turn a profit? Clearly, Wal-Mart was admitting defeat, with its online division showing sluggish results – in an era of rapid industry growth for pure play online e-tailers like Amazon.
In an analysis by eMarketer, we can see that Wal-Mart is suffering stagnating growth in both its retail stores, and more importantly for this story, in its online operations as well. If fact, looking at the red line in eMarketers chart, which represents the rate of growth on Wal-Mart's online operations – it almost could be the inverse of the tremendous rate of growth of overall online sales. And this is slowing growth in Wal-Mart's ecommerce sales is particularly remarkable, given that overall ecommerce has been growing double digits.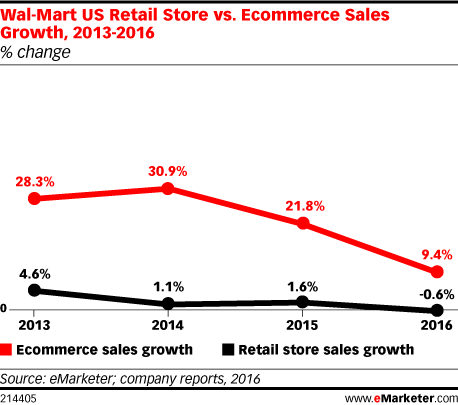 To be sure, retail sales is still the biggest percentage of Wal-Mart's overall revenues. According to the report, online or ecommerce accounts for just 2.8% of their overall sales. At the same time, retail store sales growth has slowed – projected to drop -0.6% in 2016. The company was likely planning to have online sales growth help drive their overall numbers.
Wal-Mart had some early success in online sales, showing as much as 30.9% growth in 2014. But its ecommerce division has been unable to keep up the pace as more – and more creative – competitors joined the fray.
"Wal-Mart has been slow to grow its ecommerce business, but it's a big ship to turn around," said eMarketer analyst Patricia Orsini. "The acquisition of Jet gives them infrastructure – warehouses, a delivery system, and a fun way to buy online – as you fill your cart, the prices go down. Jet gamifies shopping for CPG [consumer packaged goods] products,n an experience not usually identified with fun."
Online ecommerce sales in 2016 are forecast to grow almost 16% over the level in 2015 (+15.7%) to $396.72 billion. The overall rate of growth is expected to slow slightly, from 15.7% this year to 14.0% in 2020. However, ecommerce's percent of overall retail sales is expected to grow throughout the 2014-2020 period.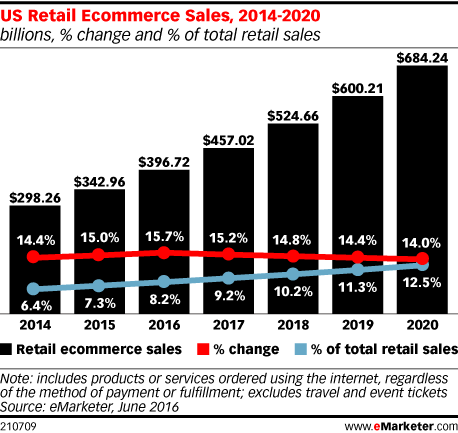 Wal-Mart has just taken a bold step to get in line with that growth. And most likely what appealed to them was the strength and creativity of the Jet management team. This is a team with ideas on how to revolutionize the ecommerce sales process. Jet has an algorithm that encourages bulk buying, where users gain more items at deeper discounts as they purchase their items.
Jet, Wal-Mart said, gives it access to "urban and millennial customers." These are not traditional Wal-Mart customers, but they are growing and important buyers online.
For Jet, becoming part of Wal-Mart likely provides a tremendous boost to their product acquisition buying power. And while up to now, Jet has relied heavily on their vendors with logistics, Wal-Mart is one of the best of the best in logistics and warehousing in the country.
Can Wal-Mart catch Amazon? Amazon's ecommerce sales last year were a mammoth $79.3 billion. Not only that, but this represented double digit growth for the company. More than likely, what we're seeing is a race for second place. And in that regard, Wal-Mart just took a giant step forward.
To learn more about Jet.com, visit: www.jet.com.