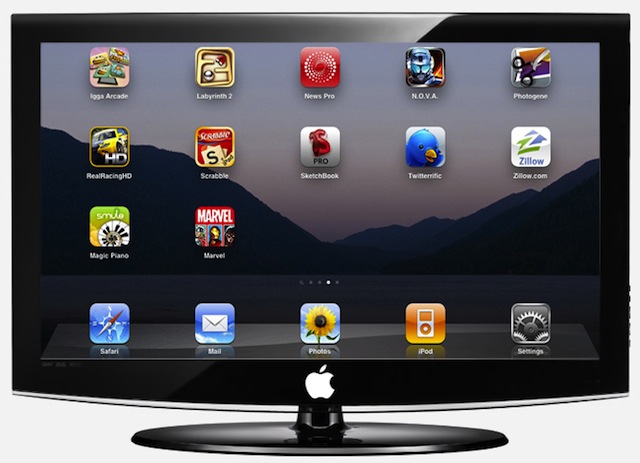 <December 28, 2011> We now can predict with a reasonable level of certainty two huge technology stories coming up in 2012. They may in fact turn out to be the biggest stories of the entire year. One is the impending public offering of Facebook, a story that will likely mean the minting of yet another Forbes billionaire, Mark Zuckerberg. But the story that many feel will be the biggest of the big is the impending launch of Apple's long-rumored iTV.
The Internet this week is buzzing with a rash of reports from around the world indicating the progress that Apple is making in this launch of what will either be their crowning consumer product achievement…or their greatest flop. Some say, with the passing of Steve Jobs, Apple's CEO and chief visionary, a flop is likely in the works.
It's in the cards…
However, from my experience in product planning/development, it is likely that the heavy lifting of creating the iTV product plan was complete prior to Jobs' death. In fact, Jobs' fingerprint is likely on products being planned for at least the next couple of years. Beyond that is an open question mark.
The latest flare up seems to be the result of a story on Tuesday by DigiTimes, a Taiwanese IT news provider, cited unnamed sources which said that the "supply chain of Apple will start preparing materials for iTV sets in the fiscal first quarter of 2012." The timing suggests a product launch by Apple in the second or third quarter of 2012.
Full TV sets…
DigiTimes, like other reports around the industry, says that this new Apple product will not be in the "form of set-top box (STB) like the Apple TV launched in 2006, Apple's new products will be the full TV sets…"
According to the report, Korea's Samsung Electronics has already started producing chips for Apple's iTV this past November. DigiTimes also claims that Japan's Sharp Corporation will produce the displays used in the sets.
Barron's blog is on board…
It appears that some major players in media are taking the DigiTimes report seriously. Barrons, in their blog, jumped on the bandwagon quoting Sterne Agee's Shaw Wu who agreed iTV is coming as "…we have picked up several data points indicating activity from component makers to manufacturing partners, as well as from Apple's own patent filings from at least 2005."
Wu also said the sticking point was not technology, rather the company has hit some snags putting content deals together. "The constraints are content partnerships and licensing terms that still need to be ironed out, as we mentioned in late October."
Apple should go disruptive…
The financial blog further encouraged Apple to not put out a product that would be reliant on a traditional cable or satellite pipeline. Instead, Apple would find that "a more revolutionary, disruptive and differentiated way [to deliver content] would be via the Internet, or Internet protocol TV (IPTV), which would be more in line with Apple's iTunes and iCloud model."
The DigiTimes story fueled a whole new rash of blog speculation about just what Apple's new product will look like and what it will feature. With all of this unconfirmed, we will have to put this report into the rumor category. However, some of the reports contain a lot of detail and…as the old saying goes…where there's smoke, there's fire.
Everyone wants to play…
A separate report from DigiTimes, and picked up by Forbes and the Mac Observor, quotes sources as saying that long time Apple manufacturing partner Foxconn has been set up to assemble the new iTV products. And in addition to Samsung chips, Taiwan Semiconductor Manufacturing Company, Advanced Semiconductors Engineering, and Siliconware Precision Industries are also in the running to provide chips for the project.
The chips are said to be ARM-based and similar to those used in iPad and the existing Apple TV set-top box products. Forbes notes that if these reports turn out to be true, Apple may be moving away from Intel microprocessors. Although, Forbes suggests the company would be smart to review upcoming Intel products that are both more powerful and more efficient than typical ARM designs.
HOW big?…
DigiTimes has also said that sources indicate that initial Apple iTV models will be 32- and 37-inches in size. This seems remarkably small for Apple's starting point. It would seem as though a 42- or 46-inch size would be a better starting point based on market demand.
Apple, Inc. has not verified any of these reports as the company has a policy of not commenting on products that have not been officially launched.