SEC Filings Reveal Serious Decline in 2013 Sales of A/V Lines

Nortek, Inc., a Rhode Island-based diversified manufacturer of a variety of environmental and technology products for home and business, announced its financial performance for the fiscal fourth quarter and year ended December 31, 2013 on Tuesday and conducted a conference call with analysts Wednesday morning. Nortek is the parent company of Core Brands, a group of eleven A/V brands that have a significant impact on the custom integration business – and, for this reason, we follow them closely.
The company saw sales increases for both the quarter and the year; however, it booked a net loss for both periods, suggesting that its previously announced restructuring plan is still a work-in-progress.
See more on the company's overall performance, as well as the unsettling news we heard about the TECH division, which includes Core Brands…
Nortek spoke confidently and optimistically about their results, saying all five major segments of their company showed sales gains in the fourth quarter (Q4). In fact, overall sales in the quarter increased 8.6% from $505.4 million last year to $548.9 million this year. President and CEO Michael J. Clarke noted that "market conditions for our businesses have been improving."
However, GAAP (generally accepted accounting practices) operating earnings for the quarter fell almost 32% from $15.2 million in the quarter last year to $10.4 million this year. But the company says that its "adjusted operating earnings," a non-GAAP analysis that pulls out various elements and that the company feels yields a more accurate assessment of its performance, actually increased from $24.9 million to $29.1 million.
Quarterly net loss narrowed from a year ago…
Still, the company booked a net loss in the quarter of $8.9 million or $0.58 per share. This loss, however, was less than the same period last year when the company lost $12.5 million or $0.82 per share.
"Nortek concluded 2013 with a solid fourth quarter," said Clarke. "Net sales were up from the fourth quarter last year in all five segments."
Somewhat troubling, the company saw its cash reserves drop substantially, from $144.7 million of unrestricted cash last year to $80.9 million this year – a 44% decline. According to the company, this drop in cash was largely due to the acquisition of 2GIG – a one-time event – and did not indicate any ongoing operational defect. The company also has a large revolving credit line it has not tapped.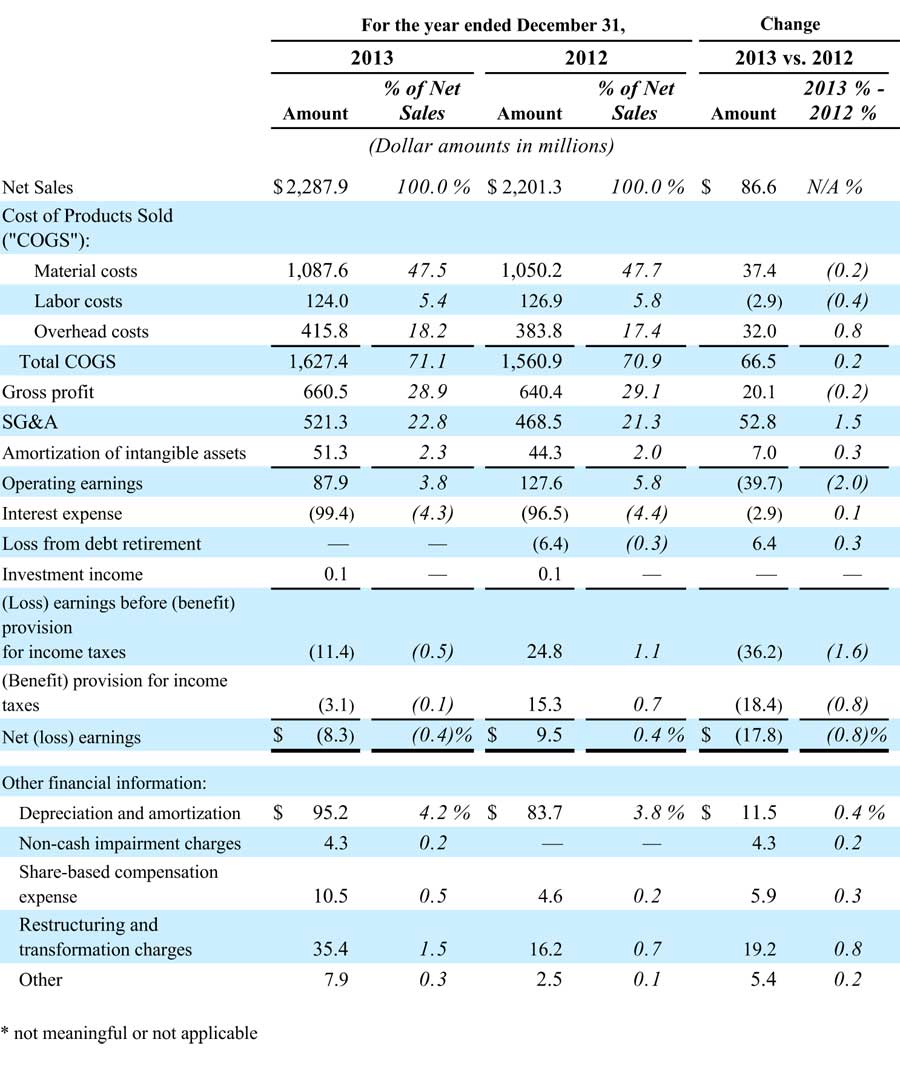 Sales are up…but profits are down…
When it comes to Nortek's report of results for the fiscal year, however, we see a slightly fuzzier picture – especially when it comes to its TECH segment. Just as it had in the quarter, Nortek saw an overall sales increase from $2.20 billion last year to $2.29 billion this year or a 3.9% increase.
But in a bit of a turnaround, after showing net profit of $9.5 million in 2012, the company slipped back into a loss of $8.3 million for fiscal 2013 (it had also lost money in 2011). Not only that, but there appeared to be erosion in several key areas. For example, several cost categories, such as  – overhead costs, total cost of goods sold (COGS), selling, general & administrative expenses, amortization, and interest expense were all higher as a percent of net sales than last year. This led gross profits and operating profits to both decline…and to a net loss.
Some expenses increased dramatically. As shown in the table above under "Other financial information," restructuring and transformation charges, as well as share-based compensation expense both more than doubled.
2013 launch of major reorganization…
As we have reported, the company launched a major project last year they call their "operational improvement initiatives" to reorganize several aspects of their business, including: procurement and sourcing; manufacturing footprint and distribution optimization; leveraging resources and implementing common business practices; and working capital management." Not just Wall Street-speak, the company sought to fundamentally change the way they do business and believe that these initiatives will eventually save it $45-55 million a year by the end of 2015.

This program was approved by the company's Board of Directors on March 11, 2013 – so their annual report include the pre-initiative results…as well as the rather disruptive period when the company is in the throes of change. As we noted earlier, Q4 showed some cost improvement which the company says is a result of their operational improvement initiative.
TECH similarly challenged…
In looking at the breakdown of their 2013 results by segment, we see some challenging issues for Nortek's TECH segment. Here again, as in their overall results, we see a sales increase from $422.7 million last year to $526.9 million this year. That's an impressive 24.7% increase.
In looking deeper at that $104.2 million in sales gain, however, the company says that about $82 million was added thanks to the 2GIG acquisition and another $6.1 million is attributable to the acquisition of Gefen Distribution. Take these new ventures out of the numbers and we see that ongoing businesses still grew, but at a much more moderate $16.1 million in added sales – or 4% growth as opposed to almost 25%.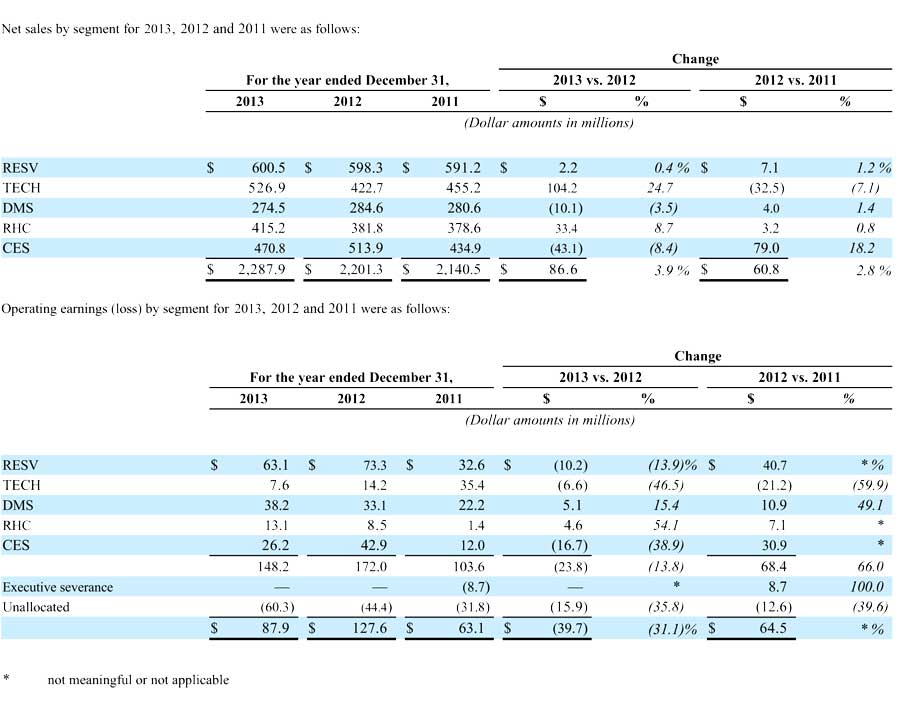 TECH segment earnings…
On top of this, the TECH segments earnings fell 46.5% to $7.5 million, well off of the $14.2 million in profits generated by the division last year. And TECH is apparently not experiencing any cost savings from the reorganization so far, as several cost categories saw meaningful increases…deflating the segment's profits.
Furthermore, when it comes to the TECH segment, we do not find particularly good news for their A/V businesses. It appears to us that the company is turning away from A/V and relying heavily on their security and access control businesses to drive this segment. According to the company's 10K annual report filed with the SEC, security now represents 66% of their TECH segment…up strongly from 53% last year.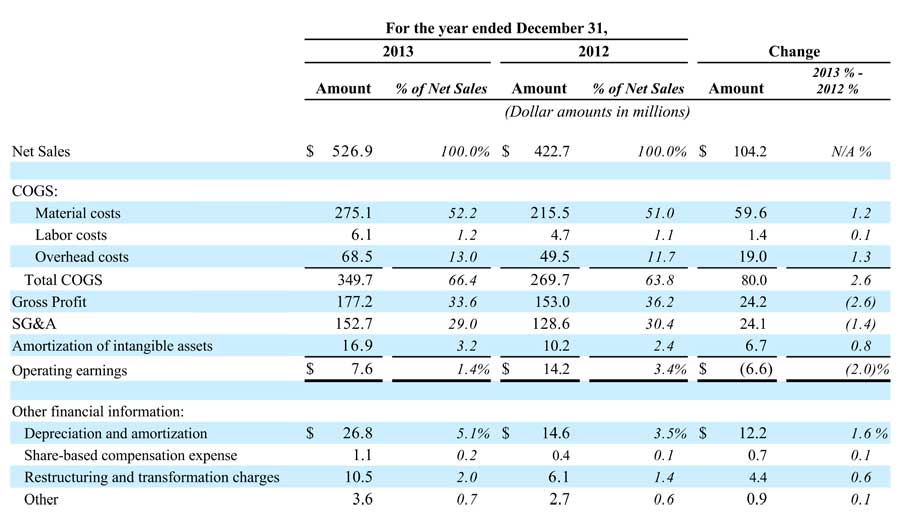 A/V sales significantly decline…
In fact, according to the company's SEC filing, security and access control products  were responsible for $40.5 million of the sales increase in the TECH segment in 2013. And A/V? Sales of "audio/video distribution products decreased approximately $24.4 million during 2013."
Much of Nortek's growth in the security side of their business was by design. On April 1, 2013, the company acquired 2GIG – a security and home automation company – in a move to bolster its security business. Nortek was already in this segment via their Linear division and, in fact, 2GIG was an OEM customer of Linear. But now they were in security in a big way.
A huge win…
According to management, in speaking to analysts on the conference call today, this acquisition has been a big win for them. Pre-2GIG acquisition, Clarke told analysts, the company was only selling 2 of the top 10 security dealers in the U.S. Post-2GIG acquisition, they are now doing business with 8 of the top 10 security dealers in the U.S. – an achievement that is especially impressive when you consider that it hasn't been even a full year since the acquisition.
"Acquiring the 2GIG business is one of the year's major milestones," Clarke said. "Both 2GIG and Linear, our existing security and access control business, exceeded our growth expectations for 2013. We also launched a number of exciting new products during the year that have the potential to accelerate Nortek's organic sales growth."
Not much to say about A/V…
Throughout the conference call – and in the prepared materials – we could not find much information about the A/V side of their business. This too, troubled us. In past conference calls, Clarke has openly and enthusiastically discussed their A/V initiatives such as their launch of the Korus wireless systems. But this time, there was almost no discussion of A/V.
In a slide show presented to analysts, the company only faintly mentioned what could be considered an A/V-related initiative – the company's support of the Z-Wave alliance. But even this was presented in connection with a garage-door opener. In fact, on a presentation slide showing the company's outlook by segment, Clarke only mentioned two items for tech: 1) Growth in the security and home automation markets is expected to continue; and 2) Nortek is "cautious" in their outlook for Residential and Pro A/V with "some strength" expected for "certain technologies."
For more information on Nortek, visit: www.nortekinc.com.
See more of our Nortek coverage…
See more of our extensive coverage of Nortek by clicking on "Nortek" in the Tag Cloud in the sidebar on the right-hand side of this website. Also see our Core Brands coverage by clicking on "Core Brands" in the Tag Cloud in the sidebar on the right-hand side of this website.