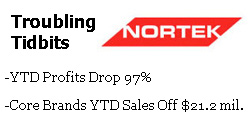 On Thursday last week, Nortek, Inc. released the financial results for its third quarter (ending September 28, 2013) as well as their nine-month YTD results – and on the following Friday convened a conference call with analysts to discuss them. While management put a positive spin on these results, one didn't have to look very hard to see some glaring bumps Nortek is experiencing on their challenging road to success through restructuring and reorganization.
You can almost hear it in Michael J. Clarke's voice when he said: "Nortek's net sales and underlying operating performance for the third quarter were consistent with our expectations." Not exactly the rousing proclamation of success we typically hear on their conference call for industry analysts.
What are the "bumps" Nortek's hitting on the road to success?…
The company did have a lot of very positive results to talk about, such as sales for the quarter growing 5.7% from $557.4 million in 2012 to $589.2 million this year. Gross profit margin last year was 28.4% while this year it came in at 29.7%.
Year-to-date sales for the nine-month YTD period shows equally good news with sales increasing 2.54% to $1.739 billion from $1.696 billion last year. Gross profit dollars for the same nine-month period came in at $505.7 million, up 3.58% from $488.2 million last year.
Beginning to feel it…
Not only did sales increase, but CEO Michael J. Clarke told analysts that the company is beginning to feel the advantage from their "strategic sourcing" initiative which has resulted in lower material costs impacting their cost structure. Labor costs have also declined, presumably as a consequence of the major reorganization which has  resulted in a labor force reduction as redundancies were eliminated.
Materials from the company noted that the company completed two acquisitions affecting their results in this report: 2GIG, a supplier of residential security and automation products; and Gefen Distributing, the principal distributor of Gefen products in Europe. These two new acquisitions added $12.8 million and $5.6 million to quarterly sales and operating earnings respectively; and $71.4 million and $11.7 million to nine-month sales and operating earnings respectively.
Nine-month profits dropped 97%…
Yet with all of these positives to report, the company announced disturbingly negative results for both their operating earnings and net earnings. Net earnings in the quarter dropped almost 11% from $4.7 million last year to $4.2 million this year. And, even more dramatically, net earnings for the nine-month period came in at only $0.6 million – down a alarming 97% from $22.0 million last year.
The company is still in the middle of a wrenching transformation, investing heavily in multiple restructuring processes including overhauling their production base by opening a new joint manufacturing facility in Mexico, revamping their distribution and logistics systems by closing warehouses and moving to outsourced suppliers, and continuing to combine subsidiaries to better leverage overhead and materials purchasing power.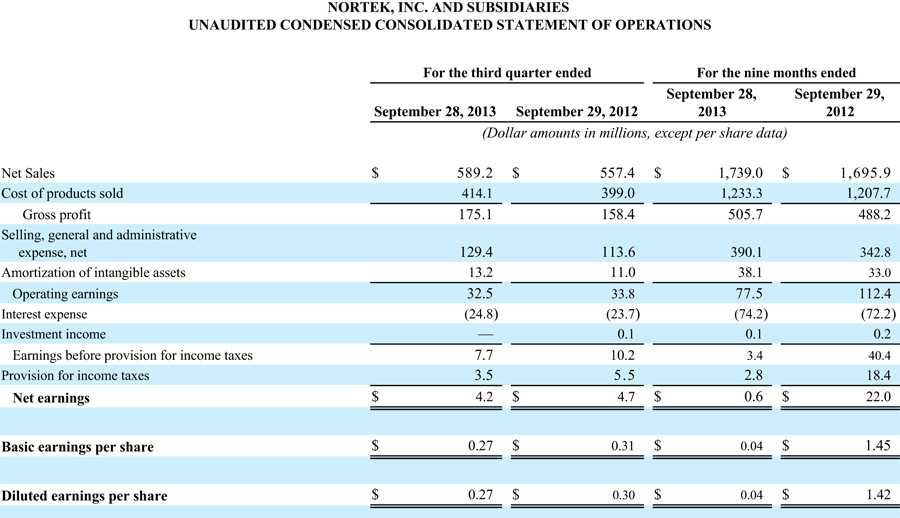 The cost of consolidation…
Take for example, the TECH segment's continuing consolidation, with which many of us in the custom integration industry are very familiar. According to the company, the estimated overall cost of the TECH restructuring is expected to be between $13 million – $13.5 million. In this nine-month YTD report, the company disclosed that it has paid out $7.7 million of that total.
The restructuring of their manufacturing base which largely benefits their RHC (Residential Heating and Cooling) and CES (Custom & Engineered Solutions) business segments received an investment during the YTD nine-month period of another $7.2 million.
Resources for restructuring continue to flow…
The company has also launched "operational improvement initiatives"  which will help them improve the company's efficiencies and lower costs for both manufacturing processes and administrative functions. Nortek invested a total of $10.8 million for this part of their restructuring during the YTD nine-month period.
The continuing investment in their restructuring is expected to continue through the 2015 fiscal year, the company told industry analysts on the conference call. However, Nortek executives exuded confidence that these investments and initiatives will dramatically lower their overhead, improve their efficiency, better leverage their fixed overhead, and increase their purchasing power to lower procurement costs. In fact, on this last point, the company noted they are already seeing a reduction in their cost of goods sold (COGS) as a percentage of net sales largely due to reduction in both materials and labor costs.
A tricky course…
But it is a tricky course that Nortek finds itself on. For example, the company rightly points out that their lower COGS drove in increase in their gross margins – in fact their gross margin dollars were up a total of $16.7 million for this quarter as opposed to last year. But, unfortunately, their selling, general, and administrative (SG&A) costs increased almost as much adding another $15.8 million in costs as many of their restructuring charges hit this category – offsetting much of their gain from lower goods costs.
It is interesting to note that even though the sales growth for the company appears solid, it is largely due to the positive effect of the inclusion of their two new acquisitions this year: 2GIG and Gefen Distribution. Nortek's sales grew by $23.4 million and $88.3 million in the quarter and YTD periods respectively. But 2GIG and Gefen Distribution alone were $12.8 million and $71.4 million of that growth.
Sans acquired companies, more modesty…
So without acquisitions, sales growth was much more modest. Most of that growth, the company says, came from organic growth in their security and access control products. Little wonder then that Clarke was pretty enthusiastic about their recent acquisitions.
"It's been six months since we acquired 2GIG and I'm very pleased with the integration of its business and its results," Clarke told analysts. "Both 2GIG and our existing security and access control business have performed well."
Clarke dwelled  on the results of both 2GIG and its Linear division, which at one time was Nortek's division that was a primary supplier to 2GIG…formerly one of their large customers. Strategically, though, Clarke sought to emphasize that acquiring 2GIG was a good long term strategy.
"We're seeing new players such as the telcos and cable companies jumping on board with security offerings, many of which include web-based automation features," Clarke explained. "2GIG and Linear are well positioned in this market."
The big surprise…Or is it?…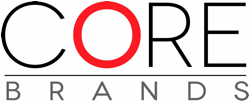 The big surprise, however, was buried on page 42 of the financial report. It was here that the company admitted that sales of audio/video distribution products – really the primary domain of Nortek's Core Brands division – actually dropped $4.7 million in the quarter and a full $21.2 million in the YTD period.
In discussing the TECH segment's results, Clarke was almost dismissive when he got to Pro A/V, saying it is "the smallest part of the segment." He went on to suggest that this division fell behind as it was apparently ignored and under-resourced for years. "We've got some catching up to do," Clarke admitted.
Got some catching up to do…
"In the Pro AV, the smallest part of the segment, we continue to focus on creating an organization structure that best fits our end markets, as well as rolling out new products," Clarke stated. "In residential A/V, our recently consolidated Core Brands organization has six months under its belt since its integration was completed. Our focus now is on developing new products that will drive future profitable growth."
Still, Clarke remained optimistic, if measured, telling analysts about Core Brand's Korus line of wireless speakers, saying the company is "expanding our wireless footprint." The Korus products, he said, launched "to excellent reviews."
Watch us next year…


Next year, Clarke pitched analysts, Core Brands will expand their wireless audio capabilities "with products geared to the custom installation channel."
"These are great products," Clarke exclaimed, trying to convince analysts. "And I hope you'll go online to check them out at korussound.com – that's Korus with a 'K,'" he added, sounding a bit like a TV pitchman.
Given the company's reliance on acquisitions, analysts questioned the company executives on whether they should expect to see further acquisitions. Clarke was quick to jump in and say there was no immediate acquisition target in their sights at the moment.
Another $5 million surprise…or bump…
However, one other surprise – or bump in the road –  was the announcement that the company had to book an unexpected $5 million charge related to an product liability issue on older products.
"These charges were for issues related to products manufactured in prior years," Clarke explained, somewhat mysteriously. "We're taking this very seriously and putting procedures in place to mitigate these types of issues going forward."
There were no details provided on just what the issues were, but in the end, it was just another bump on Nortek's turbulent road to success.