Nortek, Inc., a diversified manufacturer that through its Core Brands division markets several brands in the custom integration channel, released this week its fiscal 2015 fourth quarter and full year results. Overall, the results were mixed, as the company continues to struggle through a huge consolidation and experience shifts in its sales mix.
But one thing that remains clear is that their AVC segment, the segment that contains the Core Brands businesses, is continuing to struggle with a dramatic sales decline (27.1% decline in the quarter – 20.5% sales decline for the year) and increased losses ($20.8 million loss for the year as compared to a $19.2 million loss for 2014, ).
See more on the continuing struggles at Nortek…
Management at Nortek remains irrepressibly optimistic, saying that the organization is on the tail end of reorganization costs and, because of this, it sees signs of improved operating performance as efficiencies improve profitability. But when grinding through their numbers, it is hard for investors to feel equally optimistic. In fact, one popular investment company – The Street – is recommending investors not invest in Nortek due to its troubling high debt-to-equity ratio.
For the fourth quarter, Nortek saw sales drop $5.8 million or about 1% to $631.0 million as compared to sales of $636.8 million in the quarter last year. Notably, acquisitions contributed $10.2 million to those sales.
Q4 Sales & Profits Decline
Operating earnings in Q4 also declined, coming in at $28.1 million as compared to $29.1 million in the same quarter in 2014. And finally, the company saw net profits decline as well, coming in at $3.9 million in the quarter, or 15.2% lower than the net profit of $4.6 million in the same quarter in 2014. On a per share basis, Q4 net profits were $0.24 per share versus $0.29 per share in 2014.
So in the fourth quarter of 2015, Nortek saw both sales declines and profit declines. Are we excited yet?
"The underlying business fundamentals in the fourth quarter were positive," said President and Chief Executive Officer Michael J. Clarke. "2015 was an important year of transition for Nortek and marks the conclusion of a multi-year restructuring and transformation period. With the right people and processes in place and restructuring costs largely behind us, we believe the business is positioned for growth and improved profitability in 2016."
In a brief overview of segment performance in the fourth quarter, we learn that their Audio, Video & Control Solutions (AVC) segment had a stunning sale decrease of 27.1%. The company said the sales decline was largely due to "lower sales of commercial A/V products, which is a product category the Company is rationalizing." If you exclude the divestiture of this business – their "organic" sales still declined by 17.2%.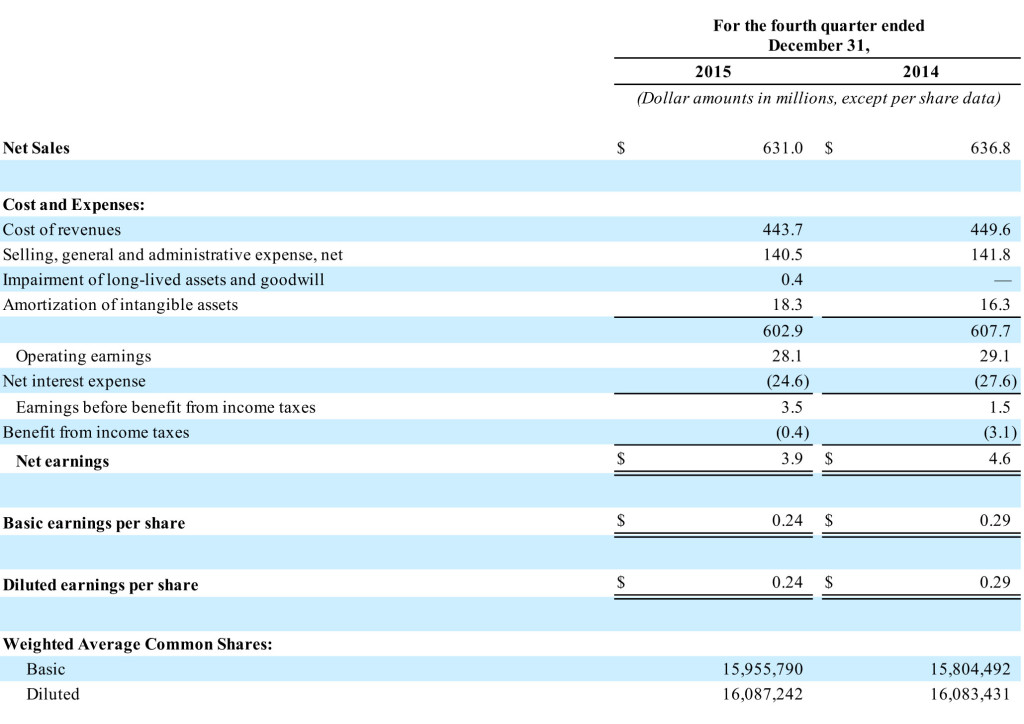 The Q4 performance of their other segments:
Air Quality & Home Solutions (AQH) segment saw sales INCREASE 2.8%
Residential & Commercial HVAC (RCH) segment saw sales DECREASE 11%
Custom & Commercial Air Solutions (CAS) segment saw sales DECREASE 4.6%
Security & Control Solutions (SCS) segment saw sales INCREASE 7.1%
And the current rock star of the company is their Ergonomic & Productivity Solutions (ERG) segment which saw sales INCREASE 22.6%
So of the total of six business segments at Nortek, three showed declines, and three showed increases. The biggest decliner at -27.1% was AVC. After so many restructurings at AVC/Core Brands, the continued decline is disappointing.
For Fiscal Year: Flat Sales and Lower Loss
So what were the financial results for the entire fiscal year? For the year, Nortek's sales came in $2.526 billion, down $20 million or essentially flat as compared to sales the previous year of $2.546 billion. If you exclude acquisitions, divestitures and the impact of foreign exchange rates – for an apples-to-apples comparison – the company saw sales decline by a more substantial 3.3%.
However, operating earnings grew to $85.4 million, well over the $42.9 million in 2014. The biggest contributor to this jump in operating earnings appears to be a decline in impairment charges or less write-downs of assets and goodwill for under-performing businesses. So less negative charges are positive…but why were there negatives in the first place?
Less Loss = Moving in Right Direction
As far as net profits, well the company says there's good news there as well. They did lose money with net profits coming in at -$26.7 million. However, they lost more money in 2014…a total of -$45.6 million. On a per share basis, in 2015 Nortek lost $1.67 per share as compared to a loss of $2.92 in 2014. So less loss is positive direction.
"Looking ahead to 2016, we are encouraged by the underlying fundamentals of our business segments, which we believe sets us up for improved financial performance," Clarke said in a prepared statement. "We have a strong slate of new product introductions and favorable tailwinds in our end markets, which contribute to our positive outlook."
These mixed results do not seem to paint a compelling picture of a company on a rebound. Although thinly covered by investment analysts, pre-announcement estimates for the Q4 results were for EPS of $0.19 and revenues of $615.1 million. So in the world of Wall Street, Nortek performed above expectations and therefore, did well. But did they really perform well? Or are they simply masters of setting (and then exceeding) diminished expectations?
Needing More
We are firmly in the camp of wanting to see Nortek replace empty promises with real positive numbers demonstrating operating improvements. So much has been promised by this management team before, and yet some of those initiatives have fizzled. Just two examples:
For all of the effort by management – not to mention the millions of dollars spent on outside consultants – not all of the company's restructuring efforts have paid off. For example, as we pointed out in our discussion of their 2015 Q2 results (see "Nasty Surprise #1), this management completely restructured the company's logistics and warehousing operations. This process included selling off warehouses and terminating company employees. They then outsourced warehousing and logistics to a 3rd party company that this team selected.
The result? A disaster. Long story short, the company had to scramble, buy out the 3rd party warehouses, employees, and assorted machinery and vehicles. This re-insourcing cost them plenty…but mostly it cost them dearly in terms of lost delivery of cooling equipment during the heart of the season. This lost "share of wallet" will take time to recoup.
Clarke likes to talk about the tremendous new products the company is developing. Finally, they've gotten rid of the dead wood and an all new "refreshed" assortment, as he likes to put it, is ready to drive their volume to exciting new heights of revenues. But we've heard all of this before. Clarke personally gave a pitch to analysts and investors on a conference call about how Korus, a new line of wireless products, was the latest, greatest thing. Yeah, they don't talk that way any more and market sources tell us that Korus did not do well for the company.That pitch by Clarke was on an analyst conference call back in November 2013. To analysts, Clarke said, "In residential A/V, our recently consolidated Core Brands organization has six months under its belt since its integration was completed. Our focus now is on developing new products that will drive future profitable growth."Next year, Clarke told the analysts on that call, Core Brands will expand their wireless footprint "with products geared to the custom installation channel. These are great products," he exclaimed. Well, we now know that in 2014, AVC saw declines…followed by further declines in 2015.

Nortek fiscal 2015 revenues and earnings by business segment for the last three years. Note the troubling trend for AVC.
More Debt Funding Than Equity Funding
To these concerns we add a new one – the company's growing debt. In 2012, Nortek had current debt of $3.1 million and long-term debt of $1.1 billion. This load has grown in 2015 to current debt of $7.4 million and long-term debt of $1.4 billion.
Why does this matter? Over the same span of time, shareholder investment declined from $94.2 million in 2012 to $12.3 million in 2015. A key metric of corporate financial health that compares the ratio of a company's debt financing to equity financing is called the debt-to-equity ratio. This ratio is calculated by literally dividing total debt by total stockholders investment.
In Nortek's case, this ratio has been creeping up over the last three years. In 2012, the company reported a rather benign debt-to-equity ratio of 11.7:1. But this key ratio has risen to a surprising 113.2:1 in 2015.
Debt Level Causes 'Concerns' in One Investment Newsletter
In an article last month on TheStreet.com written by Devesh Kumar, he noted the company's high debt-to-equity ratio which he said "concerns us." The report was written before this latest financial report from Nortek, so the analysis was done based on the financials of the first three quarters of 2015.
Kumar's assessment was pretty severe, ending his analysis by saying:
The company is striving to deal with problems in its HVAC unit. Nortek has transferred additional residential HVAC production to Mexico, applied a bit of strategic sourcing movements and is trying to win back a portion of the consumer wallet.

Now this is clearly easier said than done.

With a pitiful $27.8 million in cash on hand at the end of 2015's third quarter, and over $2 billion in liabilities, Nortek is not a good stock to buy into at this time."
More Convincing
Nortek could debate this point and rightly point to investment analysts who think more positively about the moves that company has made. A recent report said that in a survey of three investment firms, two of the three had a "buy" rating on the company.
Somebody's right and somebody's wrong. But one thing is certain. The company's share price has declined in the last 52-weeks from a high of $92.96 per share to $42.50 as of mid-afternoon trading on March 2nd. It would appear from this that investors need more convincing.
"We feel really good about our business heading into 2016," Clarke declared.
See more about Nortek at: www.nortek.com.