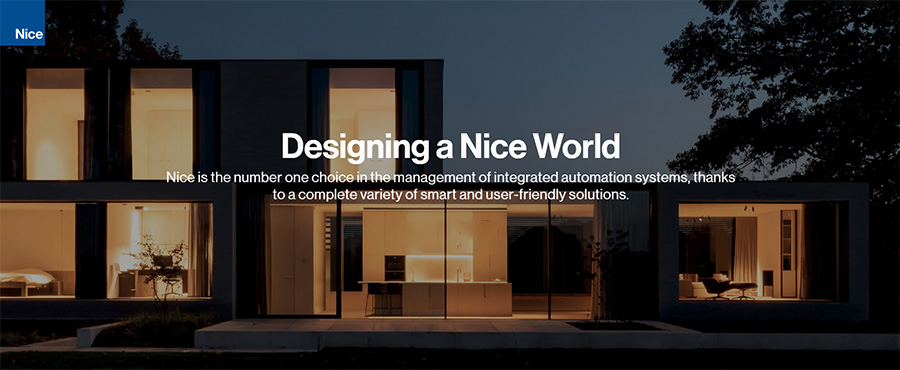 Nice North America, part of the globally significant Nice S.p.A. of Italy, announced this week that it has implemented what it calls pivotal changes within its North American operations (U.S. and Canada) that it believes will "further boost growth and innovation." It is the first major structural change here in the U.S. since Italy's Nice acquired Nortek Security and Control from Melrose PLC back in October 2021.
See the changes Nice is making in North American Ops
Nice is the entity that holds some significant smart home brands it acquired from Melrose, including Elan, 2GIG, Furman, Gefen, SpeakerCraft, Proficient, Panamax, Intellivision, and more. At one time, certain of these brands were structurally significant pillars upon which the entire custom integration industry was built. Under Nortek and Melrose control, many of those brands diminished, but the company maintains an overall significant role in the industry.
Now the company says it is entering the "next phase of [its] evolution." Announcing several changes, the company is clearly looking to shake things up and reinvigorate its growth. As such, it is establishing a new Board, which it says will "provide strategic oversight of regional operations," and which it claims demonstrates its "commitment to increasing shareholder value." Also, the company says this move will improve corporate governance and drive strategic growth.
New Board with Targeted Committees
Nice says this Board will feature four "specialized committees," each focusing on a specific target area – ESG (environmental, social, and governance), People Strategy, Audit & Compliance, and Strategy.
Leading the coordination of the Board will be Luca Longhin who has been appointed President of Nice North America. Previously, he was Deputy Chief Executive Officer and has been with Nice in America since 2019 – and Nice in Italy since 2008. He is obviously a trusted executive by the parent company, although he comes from an unusual background that is deeply based in Human Resources.
New President Said to be Experienced in Merging Ops and Strategy
Longhin has been directly involved in the post-acquisition activities of merging the old Nortek operations with the new Nice management and new strategy. The company says he is "a long-standing contributor to the mission of Nice." He has worked hard on the vision and strategy for growth in North America for the often struggling former Nortek entity.
Nice has also announced a new Chief Executive Officer (CEO) who also comes from an unusual background. The new CEO is Emanuel Bertolini who comes from General Electric, where he has held a wide variety of management positions around the globe in a career that has spanned almost 17 years. He was most recently involved with GE's Off Shore wind turbine business.
New CEO from General Electric
Nice says that Emanuel's leadership shows a "dedication to fostering a culture of teamwork, safety, and compliance [that] align[s] perfectly with the values and mission of Nice."
We are excited about the organizational developments and future of Nice North America. Luca's history of success, not only in the region but also throughout his career with Nice, will continue building on the solid foundation established. We are also thrilled about the appointment of Emanuel, a highly regarded leader, and are delighted to welcome him to Nice. His global expertise working across a range of industries make him an excellent fit for the role in driving continued success to achieve the company's strategic objectives.

Roberto Griffa, Nice Group CEO
Bertolini's appointment will officially take effect on August 7, 2023. The company says he will report to the new Board. And, as is often typical of large corporations, he will also report to Nice CEO Griffa and the overall Nice Executive Committee in Italy. While that may sound like a somewhat clunky reporting structure, the company says that it is "designed to accelerate the progression of Nice in North America…"
New Structure as Brand Expansion and Convergence Take Place
I am pleased to embark on this exciting journey with Nice, a dynamic and globally recognized company. The clear mission, exceptional team, and diverse portfolio of innovative products and solutions position us strongly to achieve success in the marketplace. Together with Luca, the Board, and our dedicated team, I look forward to collaborating with the talented individuals at Nice to deliver outstanding value to our shareholders and our customers.

Emanuel Bertolini, Nice North America CEO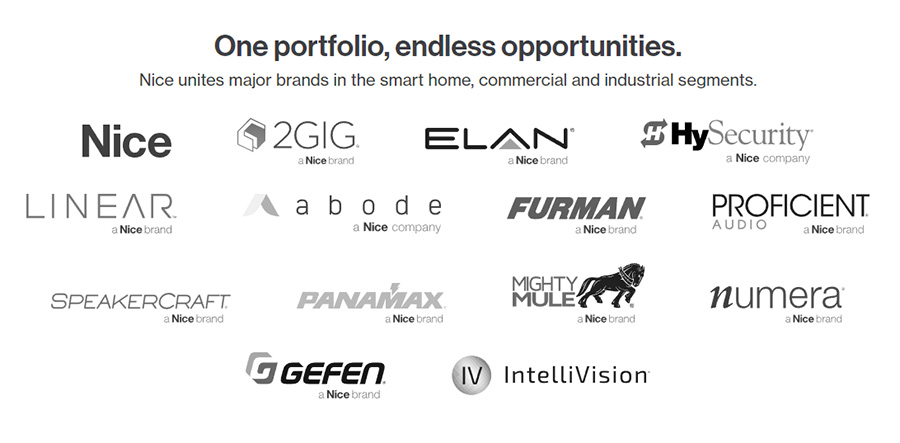 Nice notes that implementing this new structure is taking place as the company continues its expansion and convergence of brands – refining its portfolio and the presentation of its lines to the market. It notes that these changes are beginning with ELAN, SpeakerCraft, and Panamax brands. This "convergence," the company says, will "create a more powerful whole home solution by the end of 2023."
Learn more about Nice by visiting www.niceforyou.com.