Nearly 90% of Consumers Expect a Recession Because of COVID-19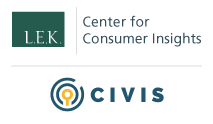 New research conducted this month shows another major impact of COVID-19 Coronavirus – the crash of consumer sentiment. A statistically significant survey of a representative sample of all Americans has reached concerning conclusions about consumer sentiment now and likely to prevail for months after the COVID-19 crisis passes.
See how COVID-19 has impacted consumer sentiment…
Alarming new research from L.E.K. Consulting, a global consulting firm, in conjunction with Civis Analytics, a data science specialty firm, shows a significant shift in consumer sentiment, largely about the future. The change in consumer confidence is so forceful in fact, that the researchers themselves call their results "dramatic."
For example, between 80%-90% of Americans believe the U.S. will be in recession within the coming year because of the COVID-19 epidemic. Fully 89% believe their geographic area is "affected" by the epidemic.
A Cross-Section of Americans Tell You How They Feel
The research partners surveyed 2,608 consumers selected to demographically represent a cross-section of Americans. The goal of the survey was to discover "how consumers' habits, spending and sentiments are being affected by COVID-19."
"COVID-19 is, of course, first and foremost a human and social crisis. Since businesses play such critical roles in employing, supplying and responding to individuals and society, we think it's important to contribute insights on what consumers are thinking, how their spending is changing and how they can be better served. While the true net effect of the outbreak is impossible to determine at this point we believe moment-in-time snapshots are helpful, and we will endeavor to provide those."

Manny Picciola, Managing Director at L.E.K. Consulting
Travel Spending Hit Hard, Both Now & Down the Road
While the findings cover a wide range of industries, the travel industry was particularly highlighted, with the researchers saying, "The findings portray the dramatic prospective effect on travel." A large majority of 89% of the respondents – those who said they are being affected by the COVID-19 situation – went on to say they have already canceled or ruled out between 50% and 75% of their planned 2020 travel spending.
Of those who said they are not yet in an area impacted by COVID-19, even they say they have cut their planned 2020 travel spending by more than a third (37%).
"We are in truly unprecedented times, with a level of uncertainty that many of us have never experienced. Data can help us regain at least some control, allowing us to understand not only where people's heads are at right now, but eventually predict where people's heads will be – meaning businesses can make better informed decisions about the future."

Ellen Houston, Managing Director of Applied Data Science at Civis Analytics
Overall Americans Spending Less, But Most Concerned Group Spends More
The survey reveals that while certain categories of purchases, like the previously mentioned travel spending, have been heavily impacted by the pandemic…consumers say their spending overall is off about 4%-to-6%. And in a bit of a revealing result, those respondents who say the COVID-19 situation is a "critical" one (about 18% of all surveyed) report that they are actually spending about 17% more at the moment.
Researchers say this is most likely due to this group "stockpiling" – you know, like the famous case of the world running out of toilet paper. The analysts also suggest that the more moderate spending cut by the overall group is likely due to restrictions in leaving their homes impeding spending on outside-the-home goods and services…such as restaurant dining.
Even In-Home Related Spending is Off
Another interesting finding is that consumers are cutting spending for categories that are in-home connected. According to the survey, top in-home related category declines are:
Consumer Electronics – consumer spending is off 25%-to-30%
Takeout/Delivery – spending is down 10%-to-15%
Beauty – spending is off 5%-to-10%
Certainly, consumers find themselves in uncharted territory and spending patterns have changed dramatically and are likely to continue to do so as they continue to adjust to this new and strange world in which we all find ourselves. However, it is interesting and instructive to note that not all categories have seen spending cuts – there are areas of increased spending.
Here is Where Spending has Increased
As you might imagine, with millions of Americans told to stay home and self-isolate, consumers are finding ways to adjust to this new reality. As such, they are spending money in certain categories to help them wile away their time.
Here are the categories of products where consumer spending is increasing.
At-Home Fitness – up 35%-to-40%
Medicine and medical supplies – up 20%-to-25%
At-Home Entertainment – up 15%-20%
Groceries – up 15%-to-20%
Pet Supplies – up 10%-to-15%
The increase in At-Home Fitness may seem logical. As does the increase in medicine and medical supplies. Even spending more on groceries is unsurprising with everyone home around the clock. But what about the increase in At-Home Entertainment and Pet Supplies?
Consumer Electronics Spending is Down, In-Home Entertainment Spending is Up; What's Up with That?
Now don't get too excited about that At-Home Entertainment reading which at first glance may seem to conflict with the decline in consumer spending on consumer electronics. The analysts explain that the increase in this category is more related to signing up for more streaming services for more content at home – rather than for more hardware at home.
But one bright spot in the survey for family pets is that as the family is forced to spend more time with them, they are apparently also increasing spending on pet related products, such as toys and treats. Way to go Fido!
To see more on this consumer sentiment survey, visit: www.lek.com or www.civisanalytics.com.