Economic Storm Clouds Continue to Build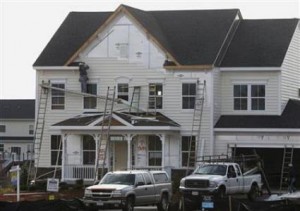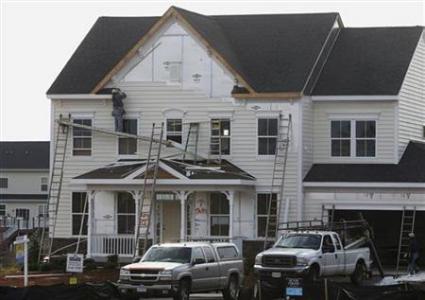 In what many feel is yet another sign of a brewing economic storm, sales of new single-family homes in October showed a significant drop of 8.9% below the rate of home sales in September, according to new data from the United States Census Bureau. With this result, the inventory of new homes available for sale jumped to 7.4-months, a 14% jump in unsold newly constructed homes.
See more on this troubling report on housing…
I first raised the specter of a looming recession earlier this year based on multiple variables, but including housing which is a major component of the U.S. gross national product (GNP). The last major recession in 2007/8 was predominantly driven by a collapse in the housing sector, exacerbated by absolutely loony mortgage lending practices.
More and more indicators are emerging to suggest that housing has begun a serious downturn – putting the economy at risk of a recession. Now this latest Census data adds more fuel to that slowdown scenario.
Fool Me Once, Shame on You…Fool Me Twice, Shame on Me
Most Strata-gee readers know that I consider single-family housing and residential construction to be one of the top drivers of the custom integration industry. So this report says sales of new single-family homes dropped in October to a seasonally adjusted annual rate (SAAR) of 544,000. This number is a significant 8.9% below the September rate of 597,000 and fully 12% below the rate for October 2017 of 618,000.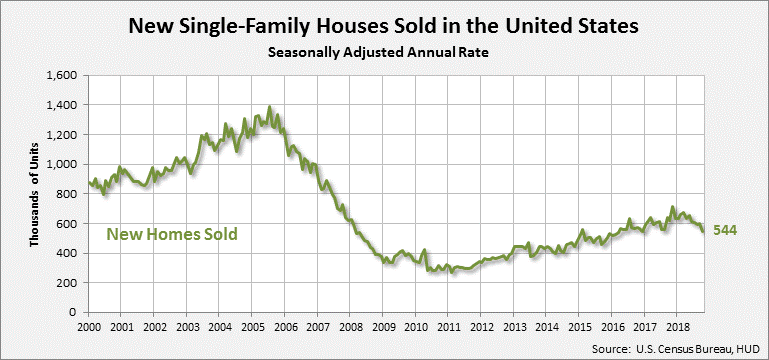 To a certain degree, I was fooled by a bump UP in the rate in September. Since May of this year, the rate of sales of new homes has been declining monthly. Then, in September, we saw the rate jump from 591,000 in August, to 597,000 in September. This appears to have been what financial analysts call the "dead cat bounce" – a statistical anomaly where after months of decline, there is a short bounce up, only to begin declining again.
Overall though, the rate of new-home sales has actually been declining since the peak for 2018, which was in March with a rate of 672,000. Since then there were a couple of minor bumps up in May and September – but an overall downward decline since March.
Inventory of Unsold New Homes Increases
As a result of declining sales, the existing inventory of newly built homes available for sale has grown from a 6.5-month supply in September, to a more substantial 7.4-month supply in October. Making matters worse, mortgage interest rates are increasing, making homes less affordable for buyers.
Separately, CNBC is reporting that a separate report by the National Association of Realtors indicates that pending home sales, those existing homes upon which a purchase contract has been signed, have also declined in October – the tenth month in a row that home sales declined.
Expectations for a stronger housing market in October fell short. Pending homes sales, a measure of signed contracts to buy existing homes, fell 2.6 percent compared with September, according to the National Association of Realtors. Sales were down a steeper 6.7 percent compared with October 2017. That makes the 10th straight month of annual declines.
Other Industries Showing Signs of Stress
More industries, such as automotive, are showing similar downturns with GM announcing this week that it would close five North American factories and layoff nearly 15,000 workers. Megatrends are affecting the automotive industry, and that certainly is part of this equation. But more and more, we are discovering sectors describing downturns.
Finally, remember that new, higher level of tariffs being imposed by the U.S. government take hold this January, less than two months from now. If you haven't read my recession warning report from August, you may want to read it now. It contains five suggestions for ways to prepare for an economic downturn which is increasingly looking imminent.