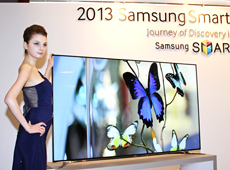 A story that has stunned many in Japan, the partnership between two former arch-rivals Sharp Corp. and Samsung Electronics Co., continues to churn out surprising new details of the backroom drama worthy of the most melodramatic soap opera. As the Japanese press digs up more of these stories, it is clear that Sharp – as desperate as it had become – was nervous, measured, and a little tentative in approaching the new pact.
See some of the surprising behind-the-scenes drama that is emerging from this unusual partnership…
Several Japanese newspapers (and Japanese offices of international news organizations) have begun churning out a copious amount of details from the backroom dealings that resulted in an agreement for Samsung to invest a substantial amount of money into Sharp. Many of these details paint a picture that includes facets such as shrewd strategy, back-against-the-wall cash-strapped needs, hand-wringing, lost opportunity, and betrayal worthy of the juiciest TV soap opera.
The players in this drama include Samsung Vice-Chairman Lee Jae-young (eldest son of Chairman Lee Kun-hee and heir apparent), Sharp President Takashi Okuda, Sharp Chairman Mikio Katayama, and Hon Hai Precision Industry Co. Chairman Terry Gou (Hon Hai is better known as Foxconn).
Hardly inevitable…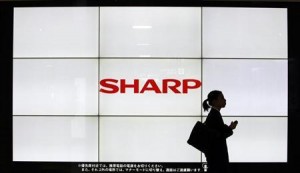 In an article in the Nikkei, a chronological replay included several new details revealing the sensitivity that Samsung and Sharp both felt in trying to put this deal together. Samsung is said to have made the first move – although Sharp's rather public financial difficulties certainly cleared the way for an offer.
Still, this was hardly an inevitable conversation. Many industry observers, including some of the most senior management staff at Sharp, blame Samsung – a brutal competitor – as the reason Sharp found itself in financial difficulty. Not only that, but Sharp and Samsung spent years battling not only in the markets, but in court in long, costly LCD technology patent disputes.
Samsung had been planning for months…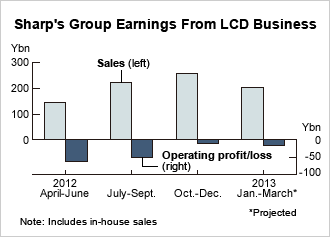 Originally, it was reported that the first meeting took place in January of this year at the Consumer Electronics Show in Las Vegas, NV. But in fact, the Nikkei has learned, the conversations actually began in December when the Samsung Vice Chairman – who speaks perfect Japanese – paid a "courtesy call" on the Sharp President and Chairman.
The Sharp executives didn't know it – but Samsung had been planning this approach for months. Why so cautious? Samsung had been successfully recruiting a large number of skilled engineers from various Japanese manufacturers. The Korean giant was concerned that any further moves on Japanese companies would "raise fears of another technology outflow from Japan."
A specific goal in mind…
Lee's purpose in this approach from Sharp was far from a courtesy call – he had a much more specific goal in mind. Samsung, in this first meeting, proposed an investment in the Sharp large-panel LCD plant in Sakai. The Samsung Vice Chairman, in order to calm any nervousness, made it clear to the Sharp executives that Samsung would NOT seek their proprietary IGZO (indium-gallium-zinc-oxide) display technology.
Lee also told them that Samsung would quietly withdraw their offer if anyone associated with the Japan Ministry of Economy – or in Sharp's executive ranks – objected to the deal. Finally, he reassured them that Samsung had no intentions of sending executives to Sharp's management.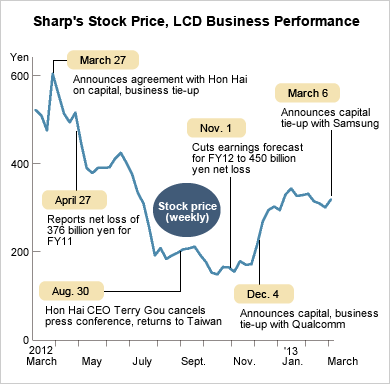 Instant rejection of the offer…
Sharp, however, surprised at the approach from a competitor – instantly rejected the offer. The reason they gave was that they had already sold a significant share of this plant to Foxconn. Then another Sharp board member present at that meeting, Toshihiko Fujimoto suggested to the Samsung Vice Chairman that maybe Samsung should invest in Sharp itself. Three months later, the deal was done.
Sharp had previously cut a deal with Foxconn, initially for a share of the Sakai plant – but ultimately was to include a significant investment in the company overall. However, when Sharp's stock dropped precipitously last year, Gou insisted on re-opening their negotiations. As these new negotiations dragged on for months, Sharp began seeking new partners.
Oh-oh, Foxconn found out…
Gou learned about the deal between Sharp and Samsung the day before it was formally announced (and not from Sharp apparently). He was in town to meet with Sharp and was furious. He immediately cancelled their meeting at the last-minute. Sharp was caught with their pants down. They had intended to inform Gou about the Samsung partnership at this meeting, which was scheduled to take place just prior to the public announcement.
Alarmed by this turn of events, and by Gou's last-minute meeting cancellation, Sharp executives scrambled to reach out to Gou's team. Sharp sent over a letter from Okuda with all of the details on the Samsung deal, along with the pack of information that was to be distributed to the press the next day – the day of the announcement. Ominously, Sharp never heard back from Gou.
Betrayed!…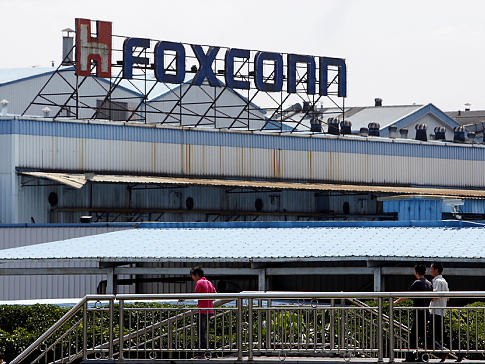 While it is likely that Gou felt betrayed by Sharp's decision to cut a deal with Samsung, the fact is he may have been his own worst enemy. Reports have portrayed Gou as a tough negotiator. In this case, he may have felt he had Sharp at a disadvantage and was pushing hard – maybe too hard – for concessions from Sharp.
And while Gou can probably be excused from foreseeing a deal developing between Sharp and Samsung happening – the fact is, the Foxconn chairman took too long, pushed too hard, and lost in the end. You see, press reports suggest that the reason Foxconn was looking to invest in Sharp was to gain an advantage against one of THEIR toughest competitors – Samsung. So the outcome of a Sharp/Samsung deal is particularly galling for Foxconn.
Not the only betrayal…
But Foxconn's Gou is hardly the only party associated with this deal to feel betrayed. Apparently, several of the senior managers at Sharp were against the company jumping into bed with the enemy…especially the one that was most responsible for the decline at Sharp.
All of the tension surrounding the deal made Sharp very nervous. They needed cash, but from ANY source? Samsung initially offered a ¥40 billion investment (approx. $417 million) deal. And as bad as Sharp needed cash, their nervousness about this partner caused them to negotiate Samsung's investment down to ¥10 billion for 3% of the company.
Sharp says 'no' to selling copier and printer division also…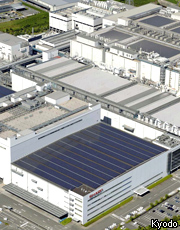 Samsung had also offered to buy Sharp's copier and printer division. Here again, Sharp turned the Korean giant down. This Sharp division manufactures photocopiers, printers, and fax machines for the office market. But the division is said to be profitable for the company. It also generates good cash flow. Whether Sharp made this decision to not sell it to Samsung for business reasons (to keep a profitable division) or political reasons – it is yet another example of the extent Sharp went to create a measured relationship with Samsung.
The end of this month is the end of Sharp's fiscal year…and its been a challenging one. The company is expected to report a net loss – for the second year in a row. Their flagship factory in Kameyama, Mie Prefecture, is said to be the main drag on the company's profits. And their number two plant (also at Kameyama) was only running at 30% capacity this past fall due to slumping sales.
Something big happened in December…
However, surprisingly something happened in December. "We were surprised by a sudden increase in the production of panels for Samsung," a worker told the Nikkei.
Now, just a few months later, the number two plant at Kameyama is running at 60% capacity, double the production rate of this past fall. The plant is now mainly making panels for Samsung TVs.
We would have gone under…
But the story is a little more somber at the number one Kameyama plant. It's production has been dramatically scaled back. What does this plant make? It is dedicated to making panels for Apple's iPhone 5.
One Sharp executive, speaking anonymously, told the Nikkei, "If our tie-up talks with Samsung had fallen through, we would have gone under."
The drama continues…