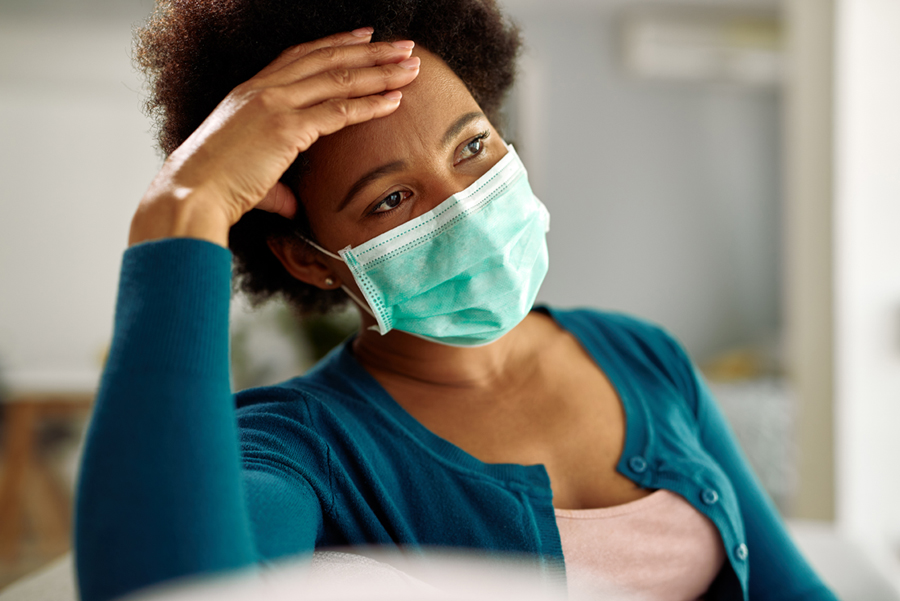 Results Pose a Threat to Economic Recovery
A new poll shows that the latest flare-up of COVID-19 – which is generating infections, hospitalizations, and deaths at a rate that exceeds those of the worst of readings from this last Spring – are causing an outbreak of another type…anxiety and dread amongst consumers. This sobering data suggests that an increase in anxiety in consumers could result in stalling our economic recovery.
See this new poll on growing consumer dread…
A new reading of an ongoing tracking poll conducted by political newsletter Axios and researcher Ipsos (Axios/Ipsos), offers a troubling read on the state of mind of the American consumer. As long time Strata-gee readers know, I watch consumer sentiment closely, as it is a widely recognized indicator for the direction of the overall U.S. economy. Simply put: when consumers feel good, they spend…and when they feel bad, they don't spend. And since fully 70% of the US GDP is based on consumer spending, it is an important piece of the overall economic picture.
The poll results show that consumers are filled with dread and believe that we are facing a long, hard winter ahead with COVID infections and deaths surging. Every day now, the news is filled with stories about record levels of infections, hospitalizations, and deaths – and while a vaccine is coming to help us deal with this, most experts say it won't be until Summer – or perhaps even the Fall – before the majority of Americans will have the option to receive it.
3 out of 4 Americans Know Someone Who Contracted COVID-19; 1 out of 3 Know Someone Who Died from It
Add to this growing anxiety political inaction on a new stimulus package, phasing out of current enhanced unemployment benefits and other stimulus programs – and you have consumers worrying about paying their bills, putting food on the table, and staying in their homes. This is not exactly a set of circumstances that screams out for the consumer to go shopping.
But the media is not solely to blame for the deepening funk in which consumers find themselves mired – many have direct experience to thank. According to the poll's data, 3 out of 4 Americans (75%) know someone who has contracted coronavirus. Worse, fully 1 out of 3 (30%) of Americans know someone who has died from it.
More Than 7 out of 10 Americans Say Pre-COVID Routines Would Be a 'Risk to Their Health'
On top of all of this, some companies are talking about bringing employees back in to central office locations, even though the pandemic is even worse now than when they implemented a remote work routine in the first place. According to Axios, more than 70% of respondents said that if they were to go back to their pre-coronavirus routines, it would be a large-or-moderate risk to their health. That number has risen fully 7% since just October. Think about that for a moment, that is more than 7 out of every 10 Americans who feel that way.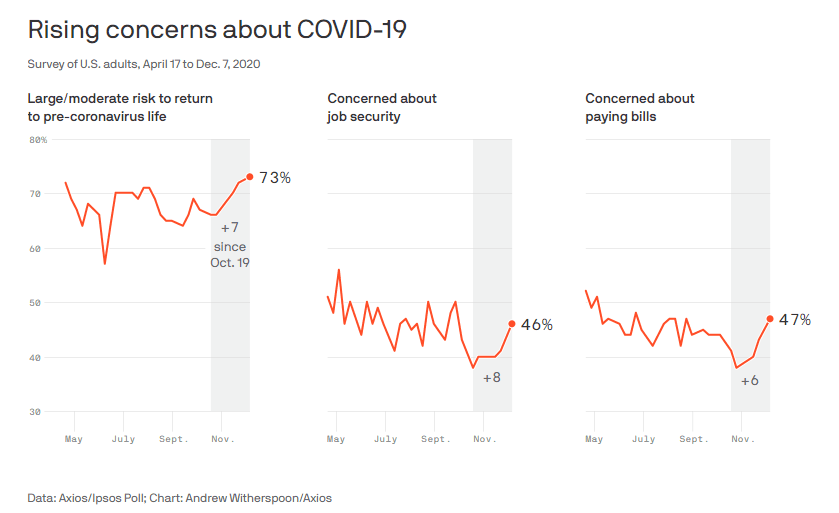 The poll also found that there is strongly growing stress over finances. Almost half of all Americans (46%) are worried about whether their jobs are secure. The number of survey respondents who feel that way has increased 8% since October. And just slightly more than that figure, 47% of respondents, say they are worried about being able to pay their bills – a number that has increased 6% since October. Fully 15% say it's already getting harder to make their monthly rent or mortgage payment.
Clearly, COVID remains a potent threat to our health and well-being…AND to our economic recovery.
See Axios' analysis of the poll here…
And for those who really want to take a deep dive, see all the poll details on Ipsos here…