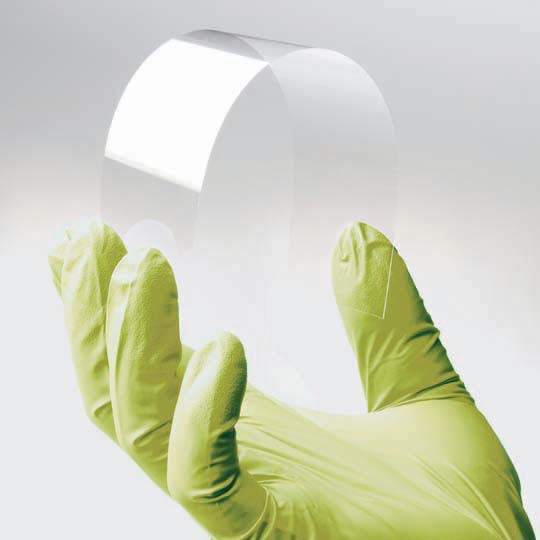 Corning Inc., the American glass manufacturer deeply involved in providing glass for flat-panel TV and mobile device manufacturing, said this week that they have developed a glass so thin, it's flexible. And this new glass, they call it Willow Glass, is so flexible it can help create a whole new class of consumer electronics devices with glass shaped into curved surfaces.
When will new CE products appear? Soon…
Corning has sent out samples of Willow glass to manufacturers this week. The remarkable glass can actually be processed on rolls – much like newspaper [see video below] – which is said to dramatically lower the cost of manufacturing.
Corning envisions a whole new class of CE devices that will take advantage of its ultra-thin design…and its ability to fully perform even in a curved configuration.The company put out a breathless press release which said that Willow "could revolutionize the shape and form of next-generation consumer electronics technologies."
Because Willow can support thinner backplanes and color filters for both OLED and LCD displays, Corning says it is the perfect solution for high performance portable devices such as smartphones, tablets, and notebook computers. But then there's the added capability of applying the ultra-thin Willow in a conformable (curved) or non-flat situation…giving Corning a high performance alternative to their arch-enemy – plastics.
Sharing in the enthusiasm of company press materials, Corning Chief Financial Officer James Flaws was ebullient.
"We're hopeful that by 2013, just a short 7 months away, it'll be available in consumers products," Flaws told Bloomberg News this past Monday. "There's a revolution coming in new types of displays — displays will be more conformable."
Created using a proprietary "fusion" process, Corning says that they can produce a piece of glass only 100 microns thick – or about the thickness of a piece of paper. Yet this is real glass and has properties important to manufacturers such as hermetic sealing for sensitive components while maintaining excellent optical,  thermal, and surface properties.
For more information, see www.corning.com/WILLOW.