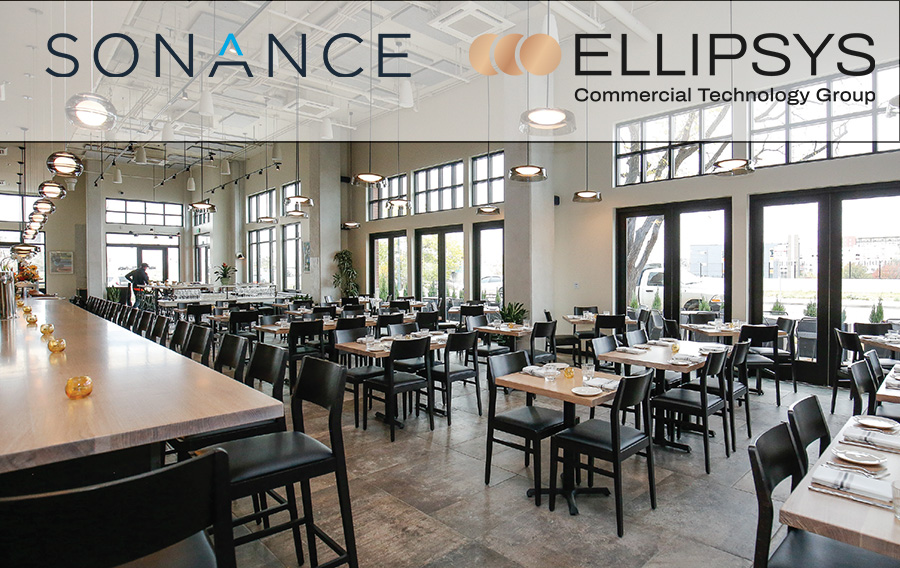 Ellipsys Commercial Technology Group, part of the Nationwide Marketing Group family of dealer buying groups, announced ahead of CEDIA Expo 2023 that it has sealed a big deal with industry leader Sonance as a founding vendor partner for the new group. The news will surely provide a big boost to the young, rapidly growing, commercial integrator buying group.
See more on the Ellipsys partnership with Sonance
I first told you about the launch of Ellipsys by Nationwide back in June when the group made its initial announcement and participated in a "soft launch" of the new group at InfoComm in Orlando. Chris Whitley has been appointed as Executive Director of the new group and is said to have already begun the process of signing up several new members.
Now, in relatively short order, the new group has scored a partnership with Sonance, one of the industry's leading brands of commercial integration products including both speakers and electronics. The move is likely to be seen as a strong endorsement for the nascent, but rapidly growing group by the commercial integration industry.
A Strong Endorsement of the Emerging Ellipsys Group
The significance of the news was not lost upon Ellipsys who said in their official release announcing the news: "Still in its infancy, this marks an important first step for Ellipsys as the group continues to build out a compelling offering for both commercial systems integrators and the vendor partners who support them."
We are thrilled to welcome Sonance as a founding vendor partner. Adding a renowned brand with a reputation of high quality, exceptional support and elite design aesthetics means a lot as it is. But more importantly, we're welcoming a partner whose philosophy and approach to doing business perfectly aligns with our own. I look forward to seeing how we can collaborate with our integrators to build a foundation for success.

Chris Whitley, Ellipsys Executive Director

Sonance & Ellipsys Partner on Both Products and Support
The group says that Sonance will provide Ellipsys commercial integrators access to its full slate of premier commercial audio solutions. Not only that, but members will also be able to take advantage of the brand's free technical support, field coaches, design services, and more. This added level of support includes its remarkable Sonance Design Gallery interactive tool.
Sonance is proud to be a founding vendor partner of Ellipsys. Chris Whitley is a known leader in the commercial channel, and his leadership style complements our philosophy of responsible diversification well.

Michael Bridwell, Sonance Vice President of Commercial Sales
Ellipsys Members to Receive Training at Sonance Design Center
The partners say that in the near future, Ellipsys commercial integrators will have the opportunity to attend Sonance's famous in-person training at its spectacular San Clemente, California design studio. While there, the Ellipsys dealers will be hands-on with Sonance's extensive product line and interact with interior design partners.
I have been to, and through, the Sonance training in their design studio and it is spectacular. A fully immersive experience, there is no better way to learn not just about the company's extensive line of products, but also about its business philosophy and enlightened approach to the market. Everyone who goes through these sessions comes out a little bit changed for the better and a lot enthused about the company's unique mission.
See Both Ellipsys & Sonance at CEDIA Expo & CIX in Denver
For now, however, all dealers and members of Ellipsys can get face-to-face with Team Sonance in Denver at the CIX show co-located with CEDIA Expo at the Colorado Convention Center from September 7-9, 2023. Find Ellipsys in booth 1301 and Sonance in booth 3501.
Learn more about Ellipsys Commercial Technology Group by visiting www.ellipsysgroup.org.