Consumer's Front Door an Impenetrable Barrier to Online Delivery People
Gifted visionaries like Jeff Bezos can image amazing products and convenient services. For example, like designing the world's easiest online shopping site…and, dreaming of having consumers purchase goods online to be delivered IN their home. Today, in 37 cities across the United States, Amazon is launching its new delivery service where deliveries are placed past your temporarily unlocked front door and placed into your home…thanks to a special $250 door lock and cloud camera packaged solution that can be temporarily opened for the delivery person, called Amazon Key.
See what Amazon Prime subscribers think of Key in a survey by Recode…
Looking at it from Bezos' perspective, Amazon Key makes perfect sense. Every year around the holidays we are regaled with stories of deliveries of UPS or FedEx boxes being stolen right off of consumers' front porches…sometimes during the light of day.
If the delivery person could have a way to unlock your door, he/she could set the boxes in your home and then shut the door which would automatically lock. Problem solved!
Purchase Groceries from Your Desk, Find Them in the Fridge When Returning Home
Not only that, but now that Amazon owns Whole Foods, which raises the possiblity that they could be considering a home delivery service where the delivery person literally goes into your kitchen and puts perishables in the fridge and other items right into your pantry. You come home after a long day at the office and your home is fully stocked with fresh groceries that are already put away…ready for cooking tonight's dinner.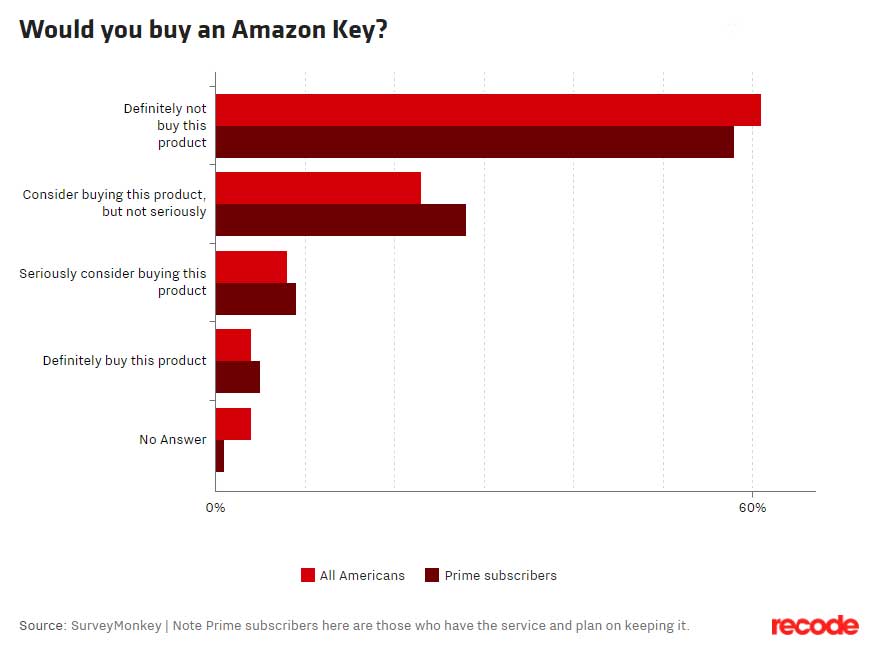 But many consumers say while this solution closes the door on one form of crime, it opens the door to a whole new set of possible crimes. Many online commenters deride the service…some calling it creepy.
Prime Subscribers = Amazon Fans…Right?
But how about Amazon Prime subscribers? Surely, they are big fans of Amazon, ready to jump on the next big thing from the company…right? Apparently not. In a new survey conducted by technology media site Recode, 58 percent of Prime members say they "definitely would not buy Amazon Key." That is surprisingly close to the results with the general public, of which 61 percent say they would definitely not buy Amazon Key.
The service is, Recode says, "broadly unattractive."
In fact, of Prime subscribers, only 5 percent said they would definitely buy Amazon Key. That's a little better than the general public…only 4 percent of a broader group of consumers including non-Prime subscribers said they would definitely buy Amazon Key.
Survey Conducted Just Days Ago
Recode notes the idea is a new one, and many people are skeptical of new products and services. They cite, for example, Airbnb, the idea of allowing strangers in your home, as unthinkable "not long ago." But now Airbnb is widely adopted throughout the country.
Recode's survey is pretty fresh – conducted October 30 to November 2, 2017 online with a nationally representative panel of 7,566 respondents (adults). The survey included an explanation of what Amazon Key was for those who may be unfamiliar with the new service.
What do you think? Would you let delivery people into your home, potentially when no one was there?