<December 28, 2011> Earlier this month, eMarketer released a report showing that online video viewing has reached a key milestone with more than 50% of the entire U.S. population watching video on the Internet. And the market research company forecasts that the trend will only continue to rise over the next three years.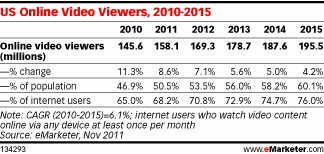 Saying "online video viewing is now a mass-market pursuit," eMarketer says that this number will eventually grow to more than 60% of the general U.S. population by 2015. Among Internet users, the percentage watching online video is – not surprisingly – even more pervasive. In 2011, 68.2% of Internet users watched video online and this number will grow to 76% by 2015.
"Audience growth over the next four years will come from all demographic segments, but it will be more pronounced among preteen children, older boomers and seniors," said Paul Verna, eMarketer senior analyst and author of a forthcoming report on premium video content in a prepared statement. "These groups have traditionally lagged teens and younger adults in their video viewing activity, but the gaps will start to close as the market matures. This will give marketers opportunities to take advantage of growth pockets among viewers at either end of the age spectrum."
eMarketer also noted that there is strong support for online viewing of premium content. Their data indicates that 49% of US online video viewers watched full-length TV shows on the web at least monthly this year. The researcher is forecasting that this percentage will continue to increase to 62.8% by 2015.
And 37.1% of online video viewers downloaded or streamed a full-length movie at least once per month in 2011. This share is expected to also grow to 54.1% by 2015.
eMarketer also noted that there is a strong growth trend of online video viewing via mobile devices such as smartphones, tablets, and other mobile devices. The researcher expects this growth to also continue over the next four years.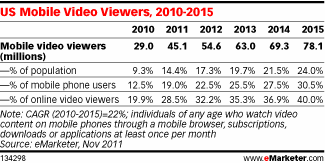 "As tablets attract a larger share of video viewing, smartphones are benefitting because most tablet users also own smartphones and typically have the same apps on both devices," noted Verna. "With more video content flowing to these apps, users are choosing their preferred screen at any given time. Often this means toggling between tablets and smartphones, or between laptops and any number of entertainment devices."
More information on this and other research is available at www.emarketer.com .