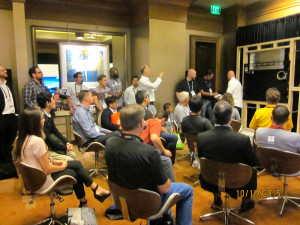 Richard Millson, owner of Millson Technology and founder of the new Millson Custom Solutions, didn't see as much of the 2015 CEDIA Expo as he had hoped. The reason? He was behind closed doors with rotating groups of integrators in a continual series of mostly standing-room-only presentations of his latest creation…CinemaFrame™. And judging from the level of interest the company received from integrators – the company has hit the ground running in this, the official launch of an all-new product concept.
See more on this unique new product that is a powerful solution for clients…
We first told you about CinemaFrame in our exclusive report in September (see: Taking Integration to a Whole New Level…). When we first learned of CinemaFrame, receiving a verbal description of the product, it instantly clicked. Usually, the most successful innovations are those where you slap your head and say to yourself – Why didn't I think of that?
CinemaFrame is the perfect solution for video-centric consumers looking for a robust 7.2-ready home theater installation…but want it to be completely invisible. You see, while audiophiles love to put the components of their systems on display, most non-audiophile end-users want it to be unobtrusive…even unseen. The custom integration industry has cut its teeth on this desire by creating in-wall and in-ceiling speakers. And while these types of speakers may be unobtrusive, they are not completely invisible.
Complete Concealment
In the case of CinemaFrame, Millson has created "the world's first completely concealed home entertainment system." (You can see more about the details on the CinemaFrame product here…) We were instantly intrigued, so it was with great anticipation that we visited Millson Custom Solutions in the High Performance Audio Rooms of the Omni Hotel at the Expo. And maybe we were even a little nervous. Sometimes innovations look great on paper…but when you finally have the opportunity to go hands on, well they are disappointing in person. However, in this case…we weren't disappointed.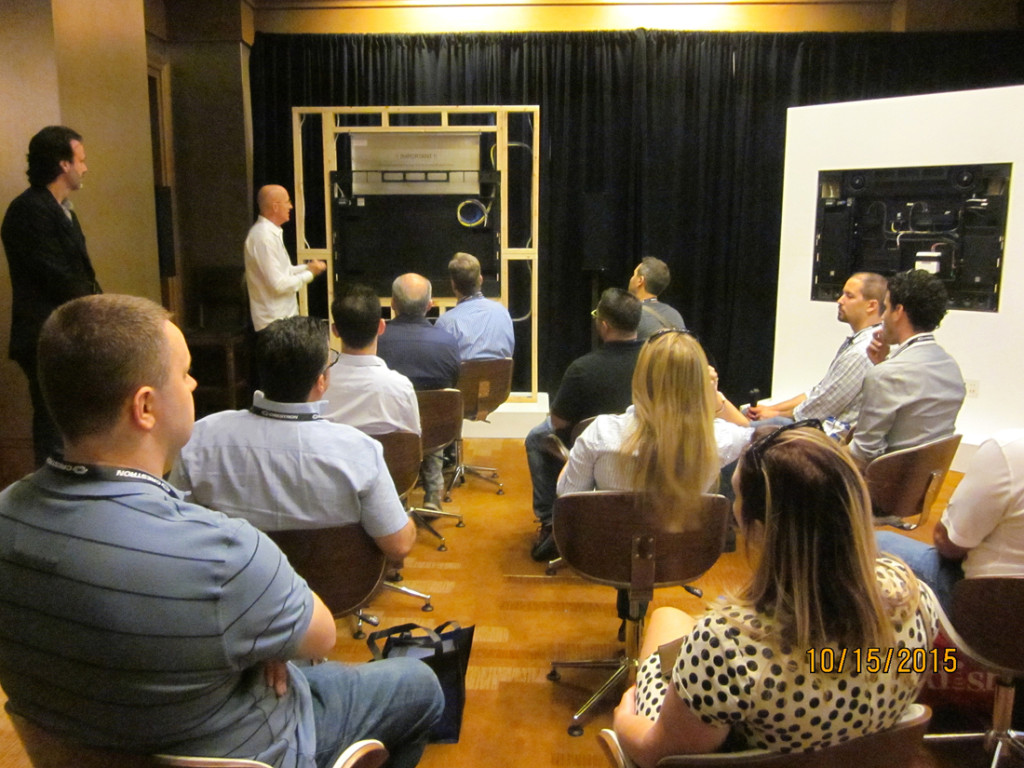 In Millson's room at Expo, the company showed CinemaFrame in multiple stages – its raw components, it's rough-in kit level, its trim kit level, and finally…its fully installed finished level. Millson himself gave us a full tour…and we struggled to maintain our air of professional detachment – as Millson has clearly thought of everything. It was hard not to get excited.
Small Size, Big Weight
We only had to lift up one of the front L/C/R speakers to realize that looks can be deceiving. Although cleverly designed for its small share of the product footprint…the speaker module was heavy…really heavy. It was also easy to see the heightened level of engineering. These weren't just four drivers stuck in a box…they were precisely aimed and accurately controlled by the system's DSP technology.
From there we moved to the rough-in kit display. The way Millson engineered CinemaFrame, you can instantly see that this is a product designed by integrators…for integrators. Every element of the design is top-notch: aircraft-grade aluminum framing, locking mil-spec connectors, intelligent power handling, provision for mounting a variety of source units, and more. They even built in easy and remote reboot options, to simplify the process of resetting the system…should it ever need to be.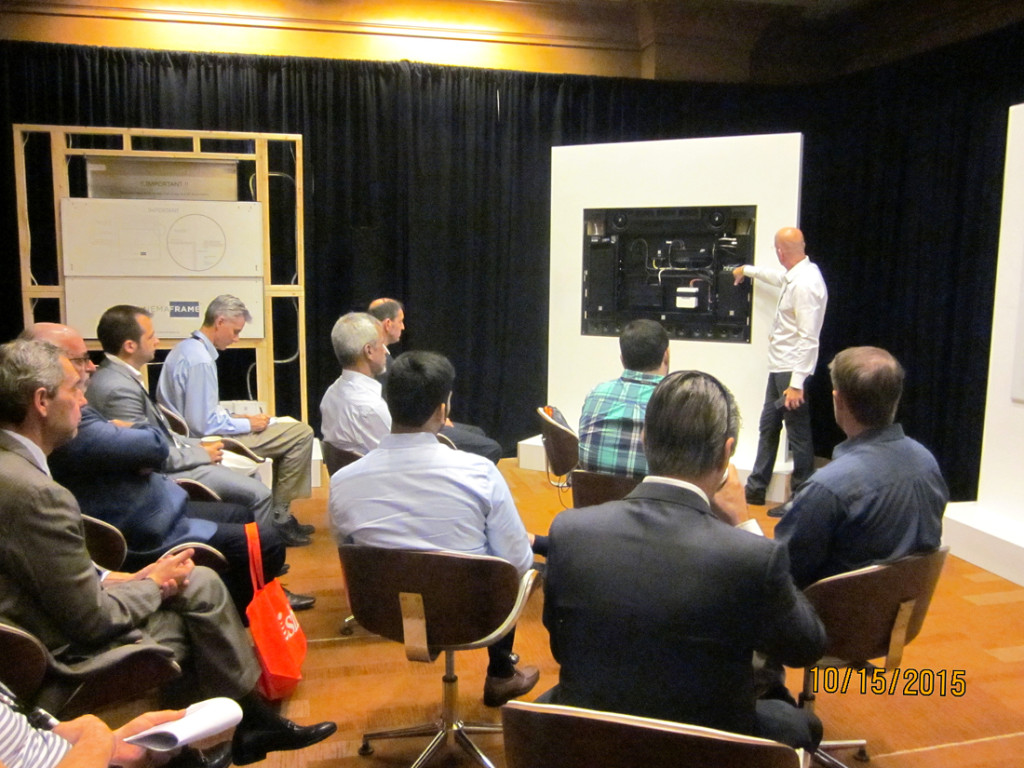 Limitless Configuration
Most manufacturers tend to design their systems in a vacuum – only considering elements that optimize their product…the rest of the system be damned. Millson clearly engineered CinemaFrame to not only be bullet-proof (extra truck rolls erode profits) – and they also considered integration with other outboard equipment and provided for an almost limitless configuration flexibility.
From here we moved on to the trim level display. Millson pointed out the power handling and distribution system…power pathways and signal paths…component connectivity…a mounting pegboard for adding options, etc. We tried our best to trip him up…but that clever Canadian was always a step ahead of us with a quick answer to any question or concern we brought up.
Beautifully Unremarkable
Finally, we saw the final installation. It was beautifully unremarkable…in other words, exactly what many clients want. What the end-user sees is their flat-panel TV with a fabric surround of just a few inches wide and perfectly matched to the decor. In fact, the fabric of the frame is so perfectly matched that it basically disappears. That's when it hits you – CinemaFrame is so smart-looking, so infinitely configurable to any taste or desire, and so seamlessly easy to operate. Turn on your TV…and prepare to get blown away…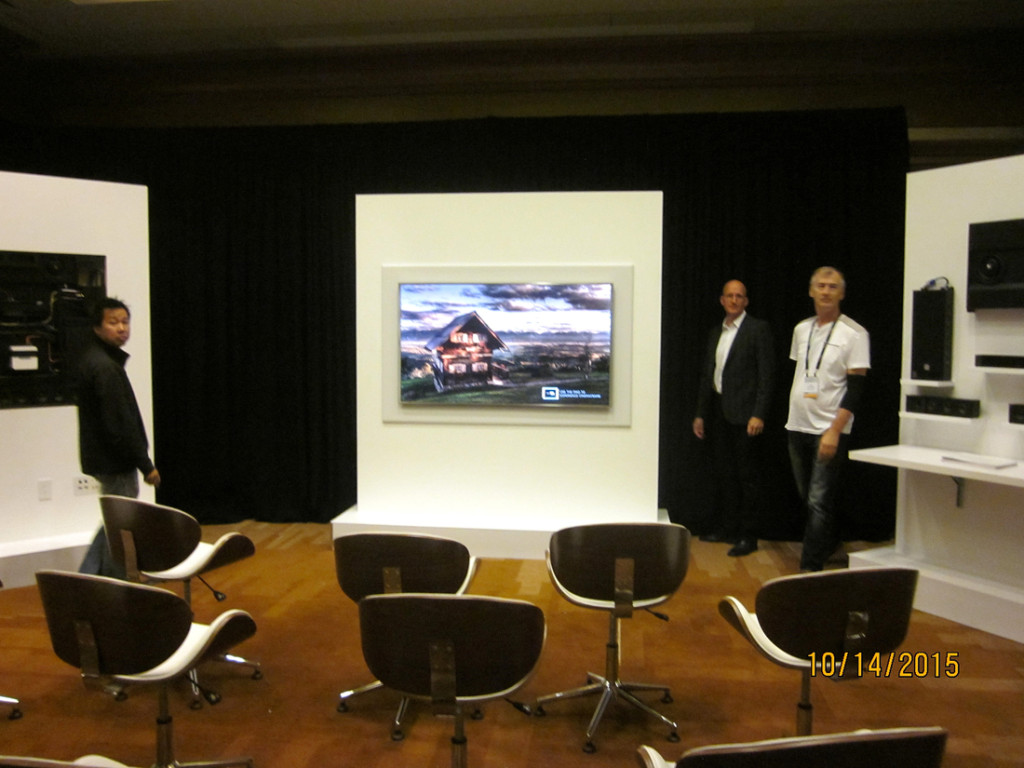 We asked Millson how the response has been from integrators during the Expo. With great enthusiasm, he told us that response has been phenomenal and they expect to sign up many dealers here in the U.S. (In the days following the show, the company told us that they have begun signing up dealers who saw CinemaFrame at Expo.)
No MSG…er, MSRP
We pushed a little harder – what resistance have you run into? No product is perfect, surely there mush have been some friction points. Millson told us about the only objection he's received is some have questioned the pricing…CinemaFrame is not cheap.
We can't really comment on the price issue, as Millson is not quoting MSRP on the system. Due to the fact that so many elements of the system are custom (the frame fabric, for example) and final configurations depend on the integrator-included options – that the company feels it is almost impossible to quote set pricing.
Not for Everyone, the the Perfect Solution for Some
We were not completely surprised to hear that CinemaFrame is priced for a relatively highly qualified customer. One look will tell you that it is clearly not a mass-market item. With incredible engineering and robust construction – CinemaFrame is clearly designed to offer a higher level of performance over a longer system lifespan. And that doesn't come cheap.
But consider this: you can walk into any cellphone retail store today and walk out with a smartphone for free. And yet, millions of people will stand in line to pay $750 or more for a new Apple iPhone 6s. Why? When the customer determines that the product is the perfect solution, price becomes a secondary consideration.
CinemaFrame is likely the perfect solution for a number of customers. Just how many potential CinemaFrame customers there are out there…we don't know yet. But as Millson knows from their success in selling the product in Canada…they are definitaly out there.
To learn more about CinemaFrame, see: www.millsoncs.com.