Meridian Audio and LG have partnered on a line of upgraded soundbars, launching them at CES 2019. These new soundbars offer upgraded technologies, like Dolby Atmos and DTS:X for a better sound experience for LG TV buyers (and others).
See more on this Meridian Audio and LG partnership…
Meridian Audio and LG first came together in 2017 to build better audio products to complement LG's high performance video products. Now the two have created a series of three soundbars that should delight LG video customers.
The partnership, Meridian says, goes well beyond joint feature selection and maybe a little fine-tuning. In this case, the two companies actually jointly engineer the products taking advantage of the unique knowledge set that both partners bring to the table.
Meridian/LG Soundbars at CES 2019
For CES 2019, the partners have launched three new soundbar models – the SL10YG, SL9YG, and SL8YG.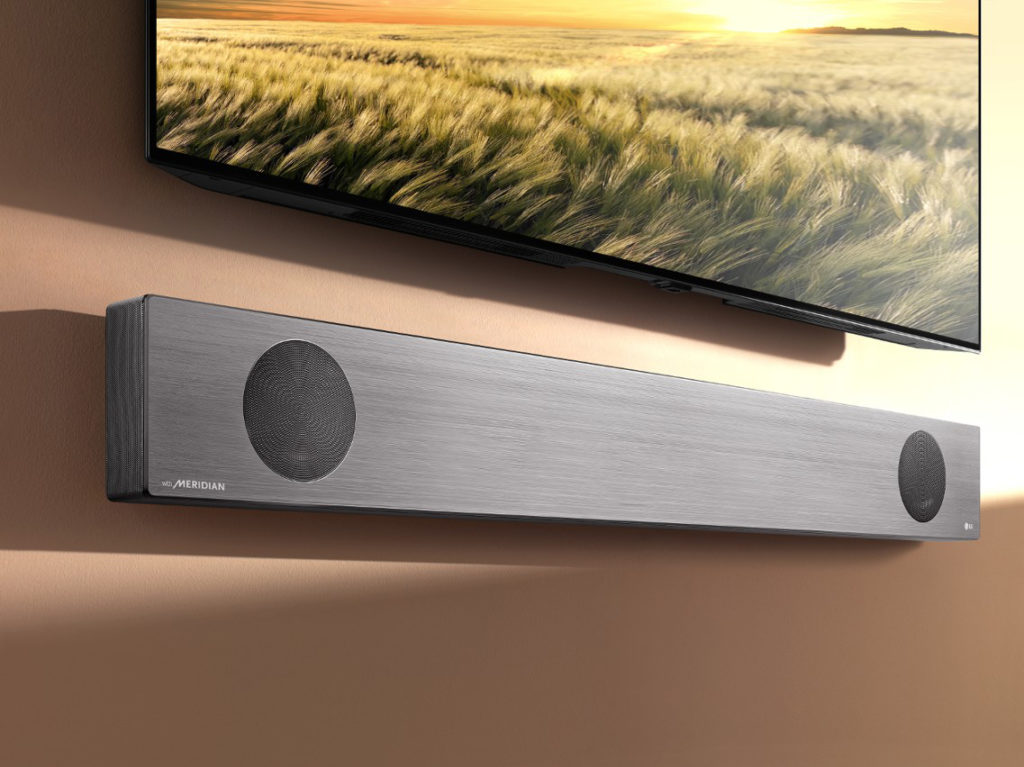 "From the start of our partnership in 2017, Meridian and LG have combined our expertise to produce pioneering audio solutions for more people to enjoy around the globe. We're delighted to now offer more of Meridian's innovative technologies for LG's 2019 soundbar range, creating a more authentic, immersive and thrilling home theatre audio experience.

John Buchanan, Meridian Audio's Chief Executive Officer
Meridian Technologies in the New LG Soundbars
Meridian "Bass & Space" – a technology that improves the soundstage and reinforces bass response, a weakness in many soundbars
Meridian "Image Elevation" – a technology that adds to the realism of the performance by using psychoacoustics to make the position of the sound seemingly match the image position on the screen
Meridian "Upmix" – a technology that is said to improve the overall soundstage of the entire system in a way that increases the "sweet spot" and provides a sense of immersion
"Our 2019 soundbars deliver amazing sound and the convenience of smart AI connectivity, fine-tuned in close partnership with Meridian Audio. The high-quality sound and versatility of our 2019 line-up takes home entertainment to a whole new level. These compelling offerings satisfy growing demand for premium soundbar solutions that provide impressive listening experiences, greater convenience, and stylish, modern aesthetics."

Seo Youn-jae, head of the Convergence Audio and Video Business Division at LG's Home Entertainment Company
For more information, visit: www.meridian-audio.com/about-meridian/meridian-partnerships/lg-audio/