Masimo Corp. [NASDAQ: MASI] shareholders voted to elect two new independent board candidates nominated by activist investor Politan Capital Management, including Politan's Chief Investment Officer Quentin Koffey, as reported by Reuters. The election took place on Monday, June 26th at the annual stockholder's meeting, and it was announced late in the day that the Politan candidates prevailed.
The news is a shocking repudiation of the existing Masimo Board and CEO Joe Kiani – and it puts Sound United's future with the company in serious doubt.
Learn more about Masimo stockholders voting with Politan
The Reuters News Agency called the Masimo/Politan proxy war "one of the year's biggest board room challenges." Both sides fought hard, but when the votes were counted Politan succeeded in winning enough stockholders' votes to succeed in replacing two of the existing Masimo board members with its own nominees.
A Dramatic Turn of Events
It is a dramatic turn of events that undeniably clouds the future of Sound United (now called Masimo Consumer), as Politan has made no bones that acquiring Sound United was a bad move by Kiani and the board that cost the company $5 billion in lost market value that it has never recovered. This acquisition, along with what Politan says is truly poor board oversight – are the two main pitches the activist investor made to Masimo stockholders.
Reuters initially reported on Monday morning that a quick straw poll had suggested that the votes received at that point indicated a clear Politan win. With this panning out, it seems a clear sign that investors are still unhappy with the Sound United acquisition, and Kiani and the board did a poor job of explaining the rationale for the $1 billion buy, losing the confidence of investors.
A Clear Mandate from Shareholders
There was no comment from a Masimo representative.
Earlier this month, I told you about how Politan had nominated two candidates for the Masimo board of directors – Michelle Brennan and Quentin Koffey. Brennan looked like a really qualified candidate with a long illustrious career at medical giant J&J in their medical devices division. And Koffey is the activist investor who started this initiative and who is said to have lots of experience in helping businesses make better capital allocation and other strategic decisions.
In contrast to this, Masimo looked to renew the terms of two members of its board, H Michael Cohen and Julie A. Shirmer Ph.D. Shirmer has been on the board since 2019 and Cohen has been on the board since 2018. That means that both of them were on the board when the decision was made to acquire Sound United – a decision much criticized by Politan. And, as I reported at the time, the company suffered a massive and stunning $5 billion drop in market value the day after the acquisition was announced.
So the choice was clear, more of the same…or a fresh new approach. Masimo shareholders chose change.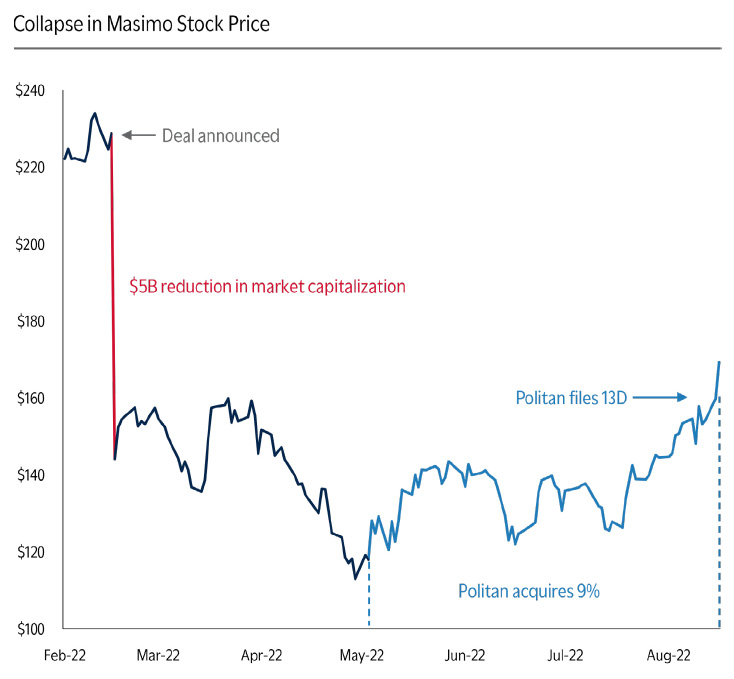 A Nasty Proxy Battle was Waged
For weeks now, the companies have engaged in a nasty back and forth proxy fight, although Politan tended to try and stick with a more professional tone, providing investors with damning analyses of their investment in Masimo, post-Sound United acquisition. On the other hand, Masimo tended to send stockholders large data dumps that contained analyses of either a measurement period before the Sound United acquisition or a more inclusive study that watered down the impact of the acquisition. For example, using a chart showing the TSR (total stockholder return) since the company first went public many years ago.
Masimo's pitches also got very personal, focusing directly on Koffey calling him "woefully unqualified," inexperienced, with "bad ideas," and more. Masimo's pitches seemed more defensive and emotional in their tone – telling stockholders that in all but one of Koffey's investments, he succeeded in replacing the CEO within one year.
Masimo Suggests Leaders and Engineers May Leave Company
In a recent letter to stockholders, Masimo said: "Electing Mr. Koffey would derail Masimo and risk the loss of its senior leadership and engineering teams."
Early on, Politan succeeded in generating a lot of press from organizations like Reuters, Bloomberg. CNBC, and many more. Some of these reports were quite glowing. CNBC, for example, had this to say: "(Masimo) is a company in desperate need of shareholder representation on the board."
Add to this positive publicity the fact that it began to collect support from other organizations, such as the California State Teachers Retirement System (CalSTRS). A powerful investment group in its own right, and a Masimo stockholder, CalSTRS is a $311 billion fund that both joined Politan in its litigation with Masimo, as well as backed its board nominees.

Large Shareholders Began Siding with Politan
And one of Masimo's largest shareholders, The Vanguard Group, also came out in support of the Politan board nominees. Large well-known and professionally run shareholders like Vanguard and CalSTRS tend to influence other shareholders as well.
Politan also collected support from a couple of proxy advisory firms – Institutional Shareholders Services and Glass Lewis. Both of these groups urged shareholders to vote for both of Politan's board nominees. Firms like ISS and Glass Lewis are said to have a lot of influence with stockholders looking for objective insight.
For its part, Masimo pitched shareholders on its "Mission-Driven Innovation" and provided a lot of carefully curated data to try to counter some of Politan's damning analyses. But mostly they attacked Koffey relentlessly,
Masimo Went on the Attack
For example, in a recent letter to Masimo stockholders dated June 12, 2023, the company began attacking Koffey starting at the fourth sentence and continued its attacks through much of the rest of the four-page letter. Some examples are:
As we have said from the beginning, Politan's agenda isn't about what's best for Masimo's shareholders – it's about Quentin Koffey's personal self-interest.
If Mr. Koffey is elected to the Board, his efforts to 'fix' Masimo are far more likely to harm the Company.
Paired with his history of replacing CEOs and win-at-any-cost tactics, Mr. Koffey's ill-informed plans to meddle in Masimo's R&D strategy threaten to irrevocably damage the Company's value-creating culture and endanger its future.
At every turn, Mr. Koffey has failed to demonstrate that he has anything to offer Masimo shareholders but substantial risk. He has no relevant experience…he is out of his depth in the industry.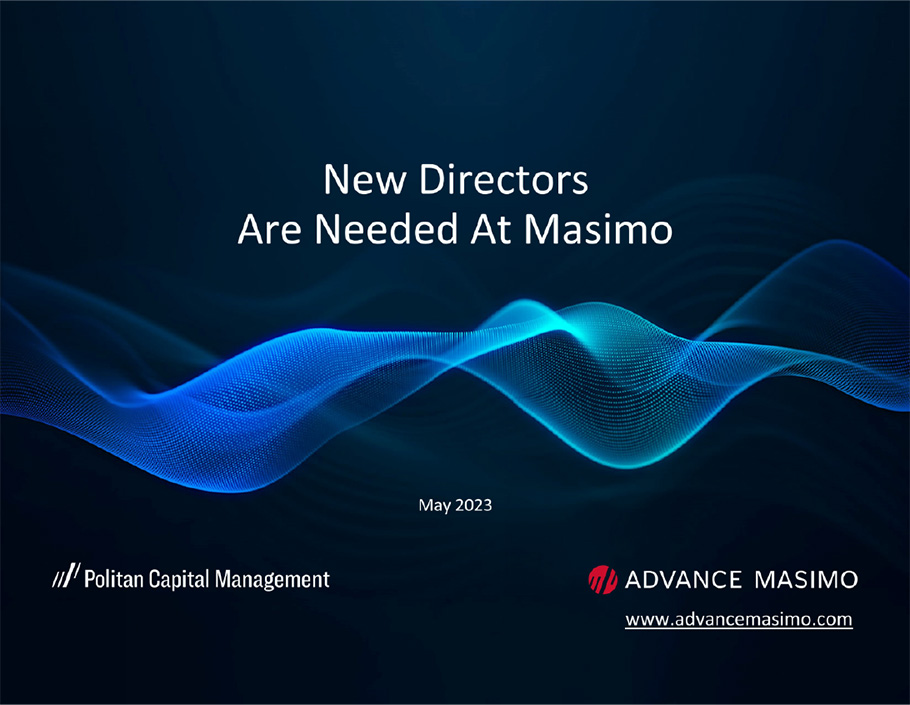 Employees and Customers Say They Support Kiani
Most of the attacks are ad hominem with no details or facts offered, just conclusive statements about Koffey. In most cases, there are no direct examples of Koffey's actions provided. At one point, the Masimo letter compares Quentin Koffey to Bill Ackman, another activist investor [not connected in any way to Koffey] who "promised investors he would fix J.C. Penney and instead ran it into the ground."
In another mailing to stockholders, Masimo provided signed statements from each of several engineers in the Masimo engineering group praising Joe Kiani's leadership. Yet another mailing contained copies of letters from certain hospitals or other medical groups who are customers of Masimo praising Joe Kiani. In the end, this approach turned out to be unsuccessful in persuading Masimo shareholders to stick with the two Masimo candidates, both current members of its board.
The Vote Wasn't Even Close
In a statement about the election results, Politan noted just how significant this win was. "Based on preliminary analysis from Politan's proxy solicitor, each of Politan's nominees received at least 70% of the total votes cast, with 17 of the top 20 (and 43 of the top 50) shareholders voting for both Politan's candidates." Clearly a significant vote of support by a strong majority of Masimo shareholders. [Note this analysis excludes votes from Masimo insiders.]
Michelle and I would like to thank our fellow shareholders for their support and engagement throughout this campaign, and we look forward to continuing this dialogue as directors. We believe this election represents a clear mandate from shareholders that significant change is needed at Masimo. We are now fully focused on putting the election behind us and working constructively with the incumbent directors to improve the Company's corporate governance, enhance capital allocation and instill better strategic oversight. We look forward to helping Masimo reach its full potential for all its stakeholders.

Quentin Koffey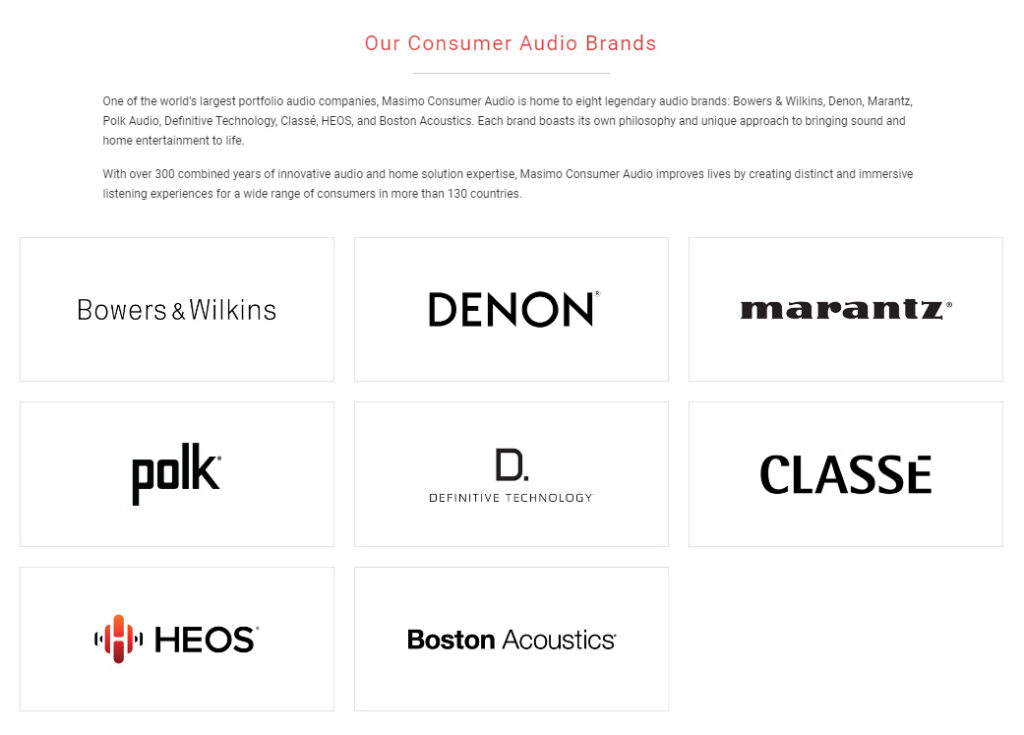 What This Means for Sound United
Politan, which owns 9% of Masimo's shares, has long criticized the company's capital allocation and board oversight and expressed particular concern about last year's $1 billion purchase of consumer audio device maker Sound United.

Reuters
This result means a new day is coming to Masimo. Keep in mind that Politan now controls two seats on a five-person board of directors. While not a majority, it certainly represents a position of strong influence going forward. On a practical basis, the two independent directors only have to gain the support of one of the remaining directors to have a majority.
This result clouds the future of Sound United – the whole reason that Politan made a play for Masimo. While nothing is likely to happen instantly, I will monitor the evolving situation closely. It seems quite likely that Sound United is on the bubble…
To learn more about Masimo, visit masimo.com.