Masimo Corporation (NASDAQ: MASI), a global designer and producer of medical products and associated services that recently acquired Sound United, reported its second quarter fiscal 2022 results this week. With this filing, we get to see real data on the size and performance of Sound United, which the company acquired in April.
Learn more on the Masimo report, including the Sound United results
Masimo reported its second quarter fiscal 2022 performance and the numbers looked pretty strong – at least the revenue numbers. Of course, a major contributor to Masimo's overall performance was definitely the addition of Sound United. Masimo signed a deal to acquire Viper, Inc., Sound United's parent company in February 2022. That deal finally closed on April 11, 2022, a few days into Masimo's second quarter.
I want to take a moment and remind the reader that when Masimo announced its acquisition of Sound United, investors reacted negatively – with the value of Masimo stock closing down 35% the day after the announcement was made. Investors were apparently skeptical that this was a good move by the company.
Revenues Up 85+% Thanks to Sound United; But What About Profits?
This week, I heard some of that skepticism in discussions with analysts on the earnings conference call. Earlier this month, I reported that Masimo had terminated Kevin Duffy, former Sound United CEO and now former Masimo consumer group President. That topic surfaced in questions from analysts. More on this later…
Masimo reported consolidated revenues of $565.3 million in the second quarter, up 85.3% over revenues of $305.1 million in the same quarter last year. Of that total, Sound United represented $208.3 million or 37%.
Two Reporting Segments: Healthcare and Non-Healthcare
Masimo now reports its numbers broken down into two logical segments: Healthcare (the traditional Masimo business up to now) and Non-Healthcare (the Sound United business). The Healthcare segment generated $357.0 million in revenue which represents a 17% rate of growth over the same quarter last year.
In their list of business highlights during the quarter, Masimo noted their substantial revenue growth, the fact that they shipped 77,100 technology boards and instruments, and the launching of the Masimo W1 biosensing health watch. Other key accomplishments include:
Closed on the Sound United acquisition on April 11, 2022
Spent $401 million to repurchase 3 million shares of Masimo stock
Launching a program to repurchase 5 million more shares over the next 5 years
Generated non-healthcare revenue of $208 million (Sound United) which on a pro forma basis was $215 million or 4% growth
Bowers & Wilkins launched the new Px7 S2 headphones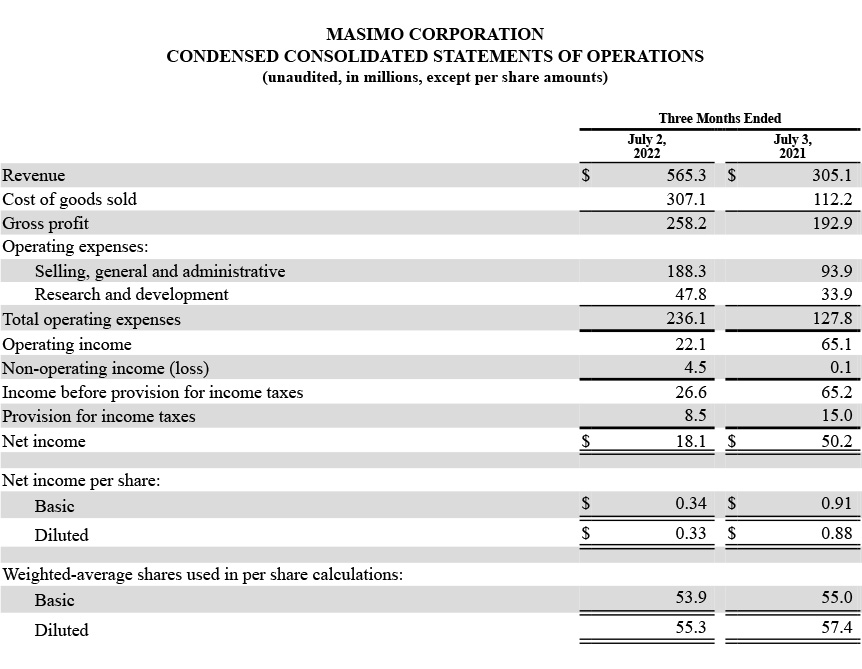 Net Profit Drops 64%
Not as positive – the company reported net profits for the quarter were $18.1 million, fully 64% below the net income of $50.2 million in the quarter a year earlier. The company tends to refer to its non-GAAP profit targets rather than this GAAP net income figure. On a non-GAAP basis the company experienced $107 million non-GAAP operating profit (+49%) and $1.35 non-GAAP earnings per share (+44%).
One factor that seems to be vexing the company – and investment analysts asked about it on the earnings call – is a drop in the company's blended Gross Margin number…both on a GAAP and non-GAAP basis. According to Masimo, the Healthcare segment generates a non-GAAP gross margin of 66.3%. The Non-Healthcare segment generates a non-GAAP gross margin of 34.8%.
Is Sound United's Gross Margin…er…Gross?
These two figures combine for a blended non-GAAP gross margin of 54.7%. Now, most in our industry would be happy with a 54.7% gross margin. But this is lower than what Masimo has historically generated and management appears to be not happy about this number. They told analysts that Sound United prices may be increasing to improve margins.
Overall, though, Masimo felt they had a great quarter.
We delivered strong performance in the second quarter with revenue and earnings exceeding the high end of our guidance range. Our healthcare business fulfilled most of the delayed shipments from the first quarter by increasing manufacturing output, which boosted our growth in the second quarter. As a result, our healthcare business delivered 11% constant currency revenue growth for the first half of the year. We are raising our financial guidance on a constant currency basis for fiscal year 2022. I'm excited about the expanded potential to address new markets with our recently acquired consumer business, which will advance solutions for our customers at hospitals and at home."

Joe Kiani, Masimo Chairman and Chief Executive Officer
First Appearance for Sound United in Masimo Earnings Report
The new Non-Healthcare segment – Sound United – made its first appearance in this quarter for Masimo and it received a fair share of focus both in the company's presentation…and in the questioning by analysts. During his prepared statement, CEO Kiani said, "As we closed the consumer business transaction in April, we've been moving at full speed to create many exciting new consumer health products with the collaborative R&D effort that draws expertise from both sides of our business. We now have combined teams of engineers who are working diligently to develop very exciting new products."
From what I can gather, Masimo is banking heavily on introducing new health-centric watches, the W1 watch and the upcoming Freedom smartwatch. These are their first products clearly targeted at both the hospital market and consumers' homes.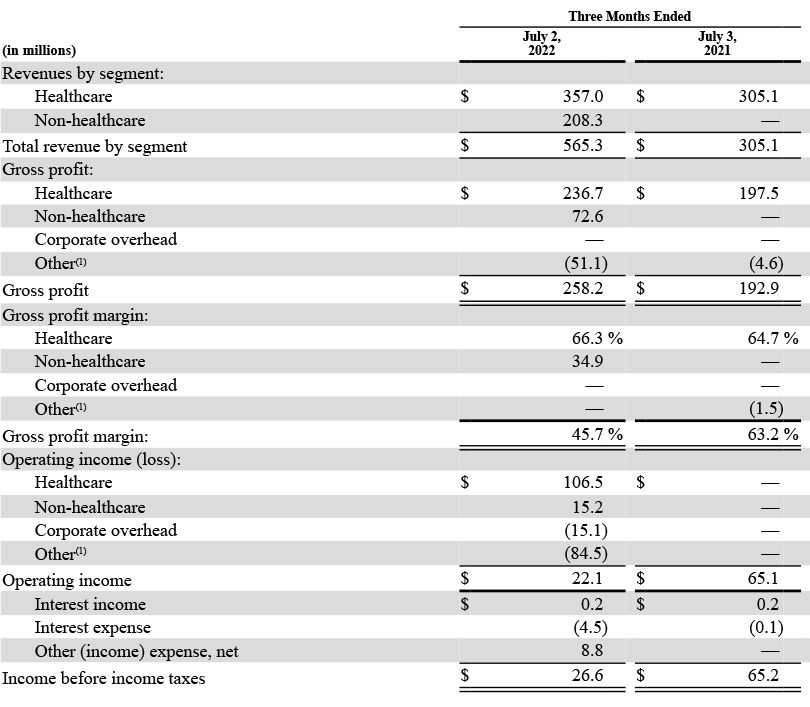 Health-Centric 'Biosensing' Watches and Smartwatches
In fact, a pilot effort on the W1 biosensing watch has already been launched to test the waters. So far, Kiani says consumers love the product as it does things for them no other watch does. However, some analysts are nervous/skeptical as this puts Masimo head-to-head against major smartwatch brands like Apple and Samsung, both of which include substantial health-centric features.
In fact, Masimo is now engaged in patent litigation with Apple over various watch patents. How that works out could have a material impact on their plans, but so far Kinani says things are going well.
For Masimo, Sound United's All About Selling Watches
The Sound United acquisition was clearly a key element that Masimo had in mind as an important connection to the consumer tech market for their upcoming watch products. He is hopeful that the Sound United team can turbocharge their access to the consumer market.
What was interesting was that Masimo released some pro forma numbers that tell us more about Sound United's business. Micah Young, Masimo's Executive Vice President and Chief Financial Officer said that Sound United's revenues for the quarter were $208.3 million as reported and $215 million on a pro forma basis, as if it had been on board the entire quarter.
How Much Business is Sound United Really Doing?
Young also said this represented a growth of 4% over Sound United's revenues in the same quarter a year earlier. That calculates to revenues of $206.7 million for the second quarter of 2021. Sound United, Young emphasized, "had solid growth across all regions and categories led by premium brands of Denon, Marantz, and Bowers & Wilkins."
For the third quarter, Young went on to project Sound United revenues of $195 million-$215 million. This compares to a pro forma revenue of $227 million in the third quarter of 2021. Why the decline? Young said that the guidance figures in "currency headwinds," meaning an unfavorable foreign currency exchange rate due to the strong dollar. On a "constant currency" basis, they expect Sound United's business to be flat with last year.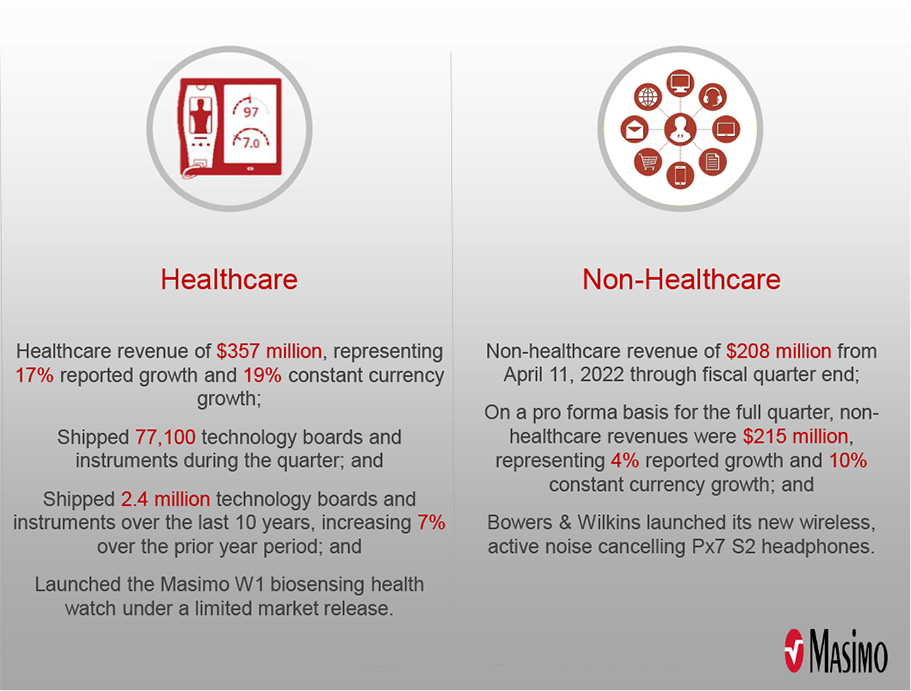 Sound United's Full Year Numbers
Young said Sound United, "…is facing its toughest year-over-year comparison due to an exceptionally strong third quarter of 2021, which was above trend line due to new product stocking orders at a large retail customer in combination with the fulfillment of backorder products."
For the combined Q3 and Q4, the Masimo CFO is projecting that Sound United revenues will be in the range of $655 million to $700 million. On a pro forma basis, Young says that Sound United's annual revenues would be in the range of $913 million to $958 million for fiscal 2022. In 2021, Young says that Sound United had total revenues of $909 million.
Most of Sound United's Business is Done Outside the U.S. Masimo Says
One last point came up about Sound United in the analyst Q&A session. In talking about how foreign exchange (FX) issues dog the whole company, CFO Micah Young said that FX is even a more significant issue for Sound United. Why? He says somewhere between 60%-66% of their revenues are generated outside of the United States, so FX has a larger negative impact on their numbers.
CEO Joe Kiani wrapped up the prepared presentation with this summation:
Our strategy to be a leader in the deployment of clinically relevant monitoring devices within the hospitals and home settings is now taking shape as we initiate the development of new products that integrate our healthcare technologies with our consumer non-healthcare technologies. These innovative products are intended for home health and wellness use, as well as hospital and healthcare use.

Joe Kiani
Analyst Question-and-Answer Session
Several analysts asked about the smartwatch and consumer business strategy. They seemed skeptical and asked for some kind of business projection from the company – which, apparently, Masimo executives were not prepared to make.
The first analyst, Mike Matson with Needham and Company, started with questions about the W1 watch and the Freedom smartwatch. His questions elicited answers, but it was not clear if he was satisfied.
Analyst: You Told Us Retaining Talent was Top Priority, What Happened with Duffy?
Then came analyst Jason Bednar with Piper Sandler who asked about the termination of Sound United's former CEO Kevin Duffy. Bednar reminded Kiani that when the acquisition was first announced, Kiani had made the point "…that retaining Sound United leadership and talent was the top priority and is what you saw as the biggest risk to a successful integration or outcome from the acquisition. Could you help us understand what changed in the three months post deal that required this leadership transition? And also maybe help us feel comfortable that the risk level here hasn't risen and fill us in on what you have planned in terms of backfilling that leadership position."
Kiani sounded hesitant. "Sure…sure…well… I think as you go through this journey and you're working side-by-side sometimes it feels like it's a good fit and sometimes it doesn't feel like it's a good fit. And it wasn't a good fit…for either Kevin or us."
CEO Kiani: The People Below Duffy 'Have Really Been Running the Business'
Kiani went on to say the parting was "amicable" and that Duffy has been "wonderful in the exit process."
"The good news is we have a very strong team below Kevin that have really been running the business. The way that business is run, there are five, basically, presidents. These are brand presidents that were responsible for Bowers & Wilkins…one of them…one for Marantz, one of them for Denon, one for Definitive Technology, and the other one for Polk. Overall, we're very happy with that team."
Kiani added that there is a "wonderful head of engineering" and a Chief Operating Officer that the brand Presidents reported to." Also, he noted, Sound United has an "incredible" supply chain and operations leader. So underneath Kevin is "a very strong bench."
A Suspiciously Long Answer
Masimo, Kiani said, is "obviously going to do our best to keep everyone that we really think we need for the journey." And then, coming full circle, Kiani added, "So to be honest with you, I did not believe we would be parting ways with Kevin. But it is what ended up happening, and we're going to be good."
His suspiciously long answer – and what I've presented here is edited down a little – makes me think that Kiani recognized that analysts are concerned about this quick about-face and termination of a key leader at Sound United.
Replacing Kevin Duffy from Within Sound United
Then he added, "We're going to be naming a new leader to lead that team [chosen] from the Sound United team, and we're just going through the process right now. We have a lot of good candidates to choose from."
As did the first analyst, Bednar also asked for more information about the biosensing watches, would Kiani "dig a little deeper…about the mass market consumer watch? Just ANY details that you're willing to give us…" Bednar asked about price points and go-to-market strategies and how much the rollout is going to cost. And finally, he asked the question that became obvious that more analysts were wondering about – how much is this business going to bring in to Masimo?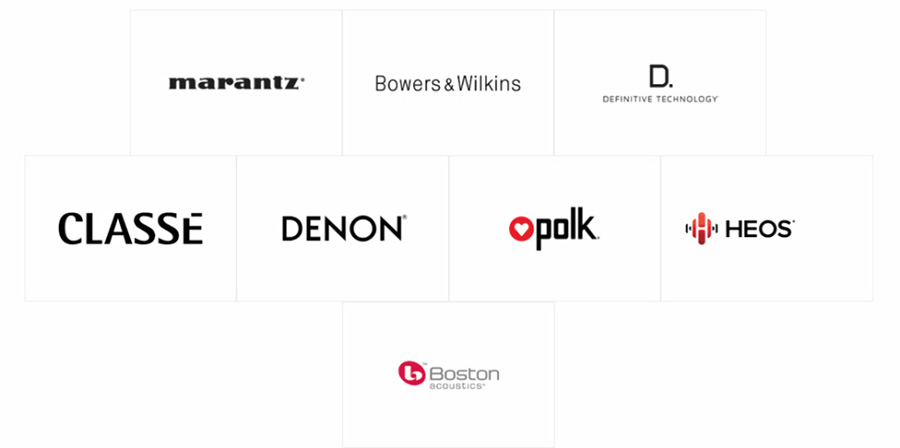 I Can't Tell You, Competitors May Be Listening
Kiani demurred, worried about revealing too much information when competitors may be listening. He did speak at length about largely hazy prospects which will be great because they'll have a thousand salespeople and 20,000 distribution points…and on and on. But no specific info about market size, market share potential, or anything like that to suggest a bulletproof marketing plan.
Perhaps sensing the rhetoric was not connecting with the analysts, Micah Young stepped in. "I think you know, we're always thoughtful and prudent with our guidance. We're still learning a lot about how we're going to commercialize some of these new consumer health products, sizing the markets and also the target consumers for those products. So we don't want to get ahead of ourselves."
Answering a Question You Don't Have the Answer To
This sounded like the real answer – they just don't know. A surprising concept to the ex-manufacturer in me. But seems real considering how much stumbling around Kiani was doing trying to answer a question that he didn't have the answer for.
Next up, Jayson Bedford of Raymond James. Guess what he wanted to know? "The full market release of W1, what does that entail?" When a question keeps coming up, over and over, it means that the analysts feel that they are not getting answers.
Analyst: When Can We Get 'A More Fulsome Answer?'
A little later, another analyst asked, sounding almost exasperated, when can "we get a deeper sense of perspective on your long-term thinking? We're getting some bits and pieces tonight for sure. When do you think we might hear from you about your longer-term vision? Yes, I'm sure that's part of the Freedom and the W1 launch. But when should we expect to hear from you in a more fulsome manner?"
Kiani's answer? "I think you're going to get a good, healthy dose of what we're thinking this December at Investor Day."
There were, of course, other questions on other topics, such as questioning rising debt levels, asking the status of the lawsuit with Apple, etc. Many of those questions were answered more fully and the presentation was finally wrapped up.
One Thing is Certain
After hearing CEO Kiani speak, it is clear to me that Sound United is on a whole new journey that involves reorienting its engineering to focus more on healthcare-related products and technologies. Likewise, Sound United's sales teams will be tasked with opening doors at retailers for health-centric smartwatches and the like.
In short…it's a whole new ballgame at Sound United…
Learn more about Masimo by visiting masimo.com.