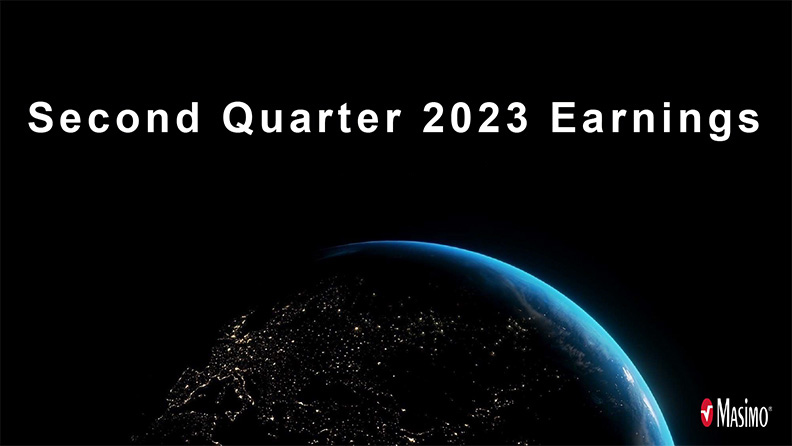 Masimo Corporation (Nasdaq: MASI) (Masimo) announced the final financial results for the second quarter of fiscal 2023, the 90-day period that ended on July 1, 2023. About three weeks ago, the company released a preliminary report on the quarter, alerting investors to an unexpected drop in revenues. As they predicted, revenues did decline, although not as poorly as they suggested might be the case.
See the actual Masimo results for the second quarter of fiscal 2023
The press release the company distributed to announce its results was a little weird. While it did state the financial results for the second quarter of fiscal 2023, you had to dig to find results from the same quarter the previous year for a comparison. The company also offered no explanations for the earnings result or the change in them as compared to the period last year.
It is a completely bare-bones report. And even when you go to the end of the report to see the GAAP (Generally Accepted Accounting Principles) financials to see what the comparable results were in the same quarter in fiscal 2022, there are no dollar or percentage differences to help illuminate the result. To be fair, the company does refer you to a separate group of slides which does offer more of this information. However, most of their analyses are done on a non-GAAP or "adjusted" basis.
As I often explain, many companies like to include "adjusted" results – which are results modified by a certain unique formula, such as additions or subtractions of various extraordinary elements – supposedly designed to present what management believes to be a more accurate picture of that result. However, I prefer the original unadulterated – SEC-mandated GAAP version of a company's numbers.
A Nearly 20% Drop in Revenues
In any event, much as they had warned in their preliminary release of projected results a few weeks back, Masimo reported total revenue of $455.3 million, a decline of -$110 million or -19.5% from revenues of $565.3 million in the same quarter a year ago. The company's preliminary estimate was that revenues would come in between $453 million to $457 million – so they did a little better than the low end of that predicted range. Still, it was a big and previously unexpected decline.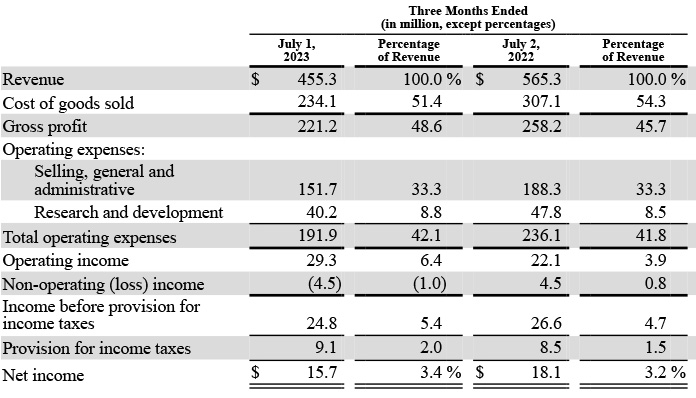 Breaking down the revenues by business unit, Healthcare booked revenues of $281.1 million, a drop of -$76 million or -21.3% below revenues of $357 million in the division a year ago. Non-Healthcare (the business formerly known as Sound United) booked revenues of $174 million in the quarter this year, a decline of -$34 million or -16.4% below revenues of $208 million in the same quarter in fiscal 2022.

The Profit Picture
Turning to profits, the company saw Operating Profits improve, reporting an operating profit of $29.3 million in the quarter this year, up 32.6% as compared to an operating profit of $22.1 million in the same quarter last year. However, Net Income for the quarter this year was reported at $15.7 million, a decline of -$2.4 million or -13.3% below the net income of 18.1 million in the quarter in fiscal 2022.
It is a "mixed" result, to say the least. And I strongly suspect Masimo CEO Joe Kiani never expected to see results like this in the wake of their acquisition of Sound United. In fact, the company has previously celebrated the revenue contribution of its new non-healthcare division that they refer to as Masimo Consumer in a previous earnings report…
Second quarter 2023 was a tale of two realities. Our healthcare revenues and earnings declined sequentially and annually, but we gained new hospital customers at a record level, despite strong results in the prior three years, and retained existing hospital customers. We are disappointed with our results this quarter. Our updated guidance assumes inpatient volumes will not return to the levels we expected this year and we will not receive some of the new large orders we are expecting for W1™, Rad-G™ and Rad-97™. I want to emphasize that because of our growth in market share the past few years, and our innovative new products, we remain optimistic about Masimo's future.

Joe Kiani, Masimo Corp. Chairman and CEO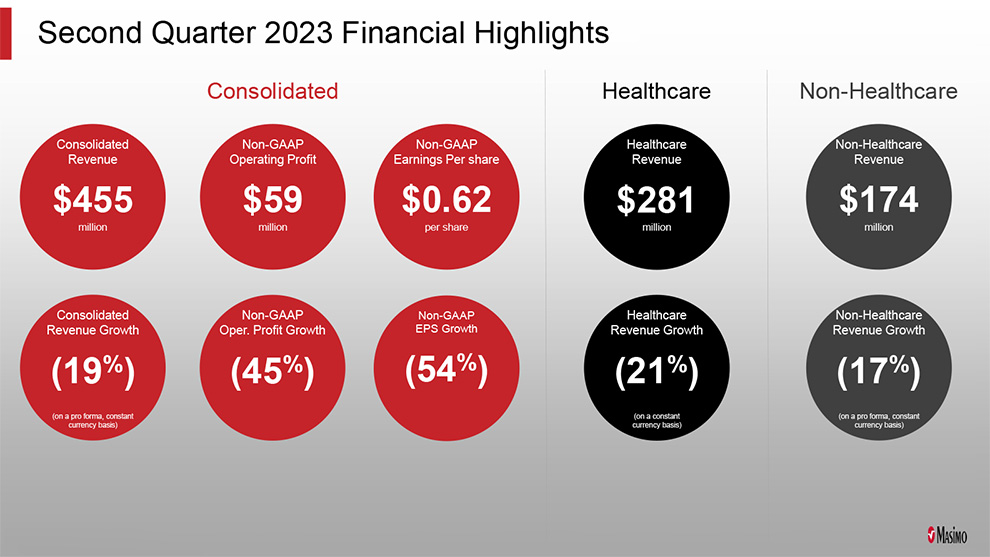 Factors Masimo Said Impacted the Second Quarter Results
As you get a taste of in Kiani's statement above, the company blames these disappointing results on a multitude of factors. These factors, in short, are shown below…
Business Outlook – "The markets in which we operate have experienced a number of headwinds, including inflationary pressures, interest rates volatility, rising energy costs, recessionary outlook, and foreign currency fluctuations, all of which has affected the global economic environment and consumer spending behaviors… In an effort to bolster our long-term financial position, we recently initiated various cost reduction actions to better optimize our cost structure with near-term revenue to enhance our operating cash flow, and improve our profitability for both segments going forward."
Global Supply Chain and Logistics – "Our global supply chain continues to be challenged by inefficiencies, component shortages, increased lead times, material cost fluctuations and logistics constraints, including most recently labor strikes from third-party transportation carriers. Recently, we saw improvements in our supply chain…"
Seasonality – "Each of our business segments is individually influenced by many factors, including but not limited to: new product releases, acquisitions, regulatory approvals, patient holiday schedules, hospital census, the timing of the influenza season, holiday seasons, consumer pressures, inflationary and recessionary pressures, consumer demand and preferences, competitors' marketing promotions and sales incentives; among many other factors."
Inpatient Census – "The 2023 flu season concluded abnormally early and faded quickly in the first quarter this year, resulting in reduced inpatient census. Healthcare facilities and hospitals experienced fewer flu-related hospitalizations and medical office visits, which decreased consumption of our single-patient use sensors and consumables. The corresponding delays in reordering for our single-patient use sensors and consumables had an adverse impact on our second quarter 2023 healthcare revenue."
COVID-19 Inventory Stockpiling – "During the COVID-19 pandemic period, we observed a broad increase in sensors purchased. The uncertainties and supply chain disruptions during COVID-19 contributed to our customers' elevated inventory levels in an attempt to ensure a stable supply of single-patient use sensors and consumables. During the second quarter 2023, we discontinued certain discounting programs; and some customers maintained elevated levels of single-patient use sensors and consumables in inventory due to the softer demand and lower hospital census, which had an adverse impact on our second quarter 2023 healthcare revenue."
Contract Conversions and Installations – "During the second quarter 2023, we achieved substantial market share gains through contract acquisitions as new hospital customers continue to switch to Masimo technology at rapid rates. However, conversions of new customers who have contracted to switch to Masimo were less than expected due to labor shortages in hospitals and our OEM partners not being able to provide the patient monitoring equipment needed to complete the installations in a timely manner; thereby impacting our second quarter 2023 healthcare revenues. Despite these obstacles, we have taken proactive measures to address the labor shortages, including engaging third-party installation service providers to assist. Our hospital business is strong, as our growth in contracting shows. We believe sensor utilization and sensor revenue growth rates will return to normal levels."
Russian-Ukraine Conflict – "We continue to monitor the developing situation in the Ukraine, and, with respect to ongoing business in Russia and the Ukraine, and are supporting existing patient populations while remaining compliant with all applicable U.S. and EU sanctions and regulations."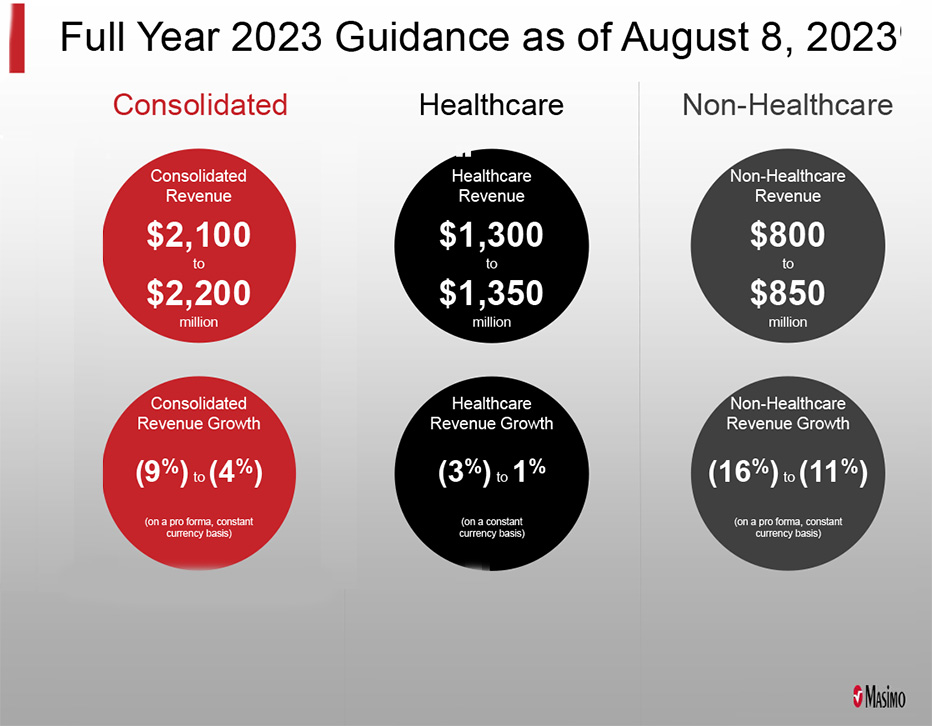 Most of the issues identified by the company above are either describing an overall company impact or are specific to their Healthcare segment. But what about the Non-Healthcare (Sound United) segment?
Factors that Impacted the Non-Healthcare (Sound United) Segment?
Well, in a section of the company's 10-Q filing with the Securities and Exchange Commission (SEC), Masimo points a damning finger squarely at unnamed competitors. And I think it especially means one specific competitor. That competitor may be unnamed, but I can hazard a guess as to who it is. Can you?
Here is what Masimo said in their filing:
The non-healthcare segment saw lower than expected demand for consumer audio products. This business is experiencing reduced discretionary spending on high-end audio systems, and a return of competitors who had previously been hampered by supply chain interruptions now being aggressive with price cuts. Although we are unable to raise prices as we had initially planned this year, we are unwilling to reduce our prices to the same degree as competitors. However, our hearables sales doubled during the three months ended July 1, 2023, aided by the successful launch of the Masimo Denon PerL earbuds ™ with Masimo AAT™. [Emphasis added by Ted]

Masimo Corp. Form 10-Q filing with the Securities and Exchange Commission
This passage is unique. I rarely see public companies so overtly address competitors. Usually they'll refer more generally to changing market conditions.
One Stock Analyst Noted a Margin Improvement
I should make one other comment on these results. You may have seen one Wall Street analyst comment that "at least" Masimo showed a margin improvement. While that is true, gross profit moved up about 2.9 points as a percent of revenues, it was for a very specific, non-operating reason. According to Masimo, this improvement was due to costs associated with the Sound United acquisition, along with some added costs due to supply chain inefficiencies that was reflected in the numbers for the quarter in fiscal 2022 – but that are not being repeated this year.
How Did Wall Street React?
So how did the market react to the Masimo news? The company announced the results for the second quarter of fiscal 2023 after the close of the market on August 8th. The value of Masimo stock at that time stood at $120.00 per share. After the announcement, its stock value dropped dramatically in after-hours trading. It opened again on August 9th with a bit of a rally, but finished at the end of the day on August 10th at $114.15. That means in two days the value had dropped just under -5% (-4.9%).
This was on an "up" day on the street when the value of all major indices increased.
Learn more about Masimo by visiting masimo.com.