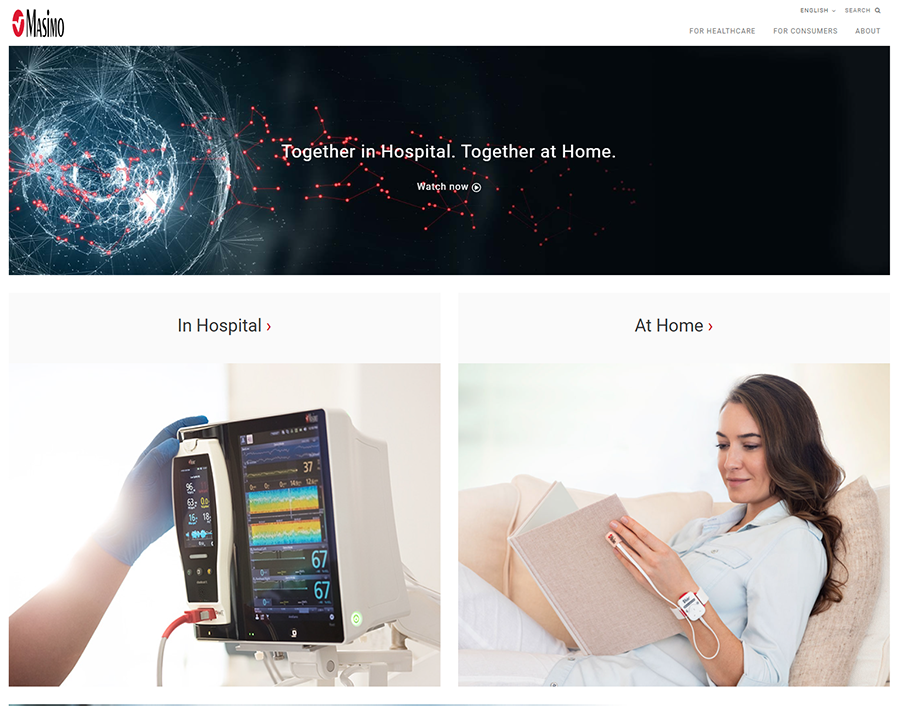 BREAKING NEWS
After the close of markets on Monday, Masimo Corporation (Nasdaq: MASI) took the unusual step of issuing a press release announcing preliminary results for its fiscal 2023 second quarter, the quarter that ended July 1, 2023. The release warned investors that the company expected to report a revenue decline in the quarter…a pretty significant revenue decline. But perhaps even more impactful than that, the company went on to add that it is forced to revise downward its forward guidance for the full Fiscal 2023 annual results. The value of MASI stock crashed nearly 26% in an early evening reading of after-hours trading in the stock.
See more on this surprising announcement from Masimo on Q2 results
Masimo shocked investors Monday when it released a preliminary reading of its upcoming fiscal 2023 second-quarter results that indicated a big revenue decline. The decline, the company says, will hit both their Healthcare and Non-Healthcare (formerly known as Sound United) business units.
The company revealed that consolidated revenues in the quarter are expected to range between $453 million to $457 million compared to consolidated revenues of $565.3 million in the quarter a year ago. That equates to a percentage decline in this year's quarter of between -19.9% to -19.2%.
Revenue Decline Disaggregated by Business Unit
Of this total, it says that Healthcare revenue is expected to range between $280 million to $282 million as compared to revenue of $357 million in the category last year. That works out to a percentage decline of between -21.6% to -21%.
Non-Healthcare revenue is expected to be in the range of $173 million to $175 million as compared to revenue of $208.3 million in the category in the same quarter in fiscal 2022. This works out to a percentage decline of between -17% to -16%. Note that the second quarter last year was the first quarter after the acquisition of Sound United, so it was not in the numbers for the entire quarter. On a pro forma basis, the Non-Healthcare division contributed $215 million in revenue in fiscal 2022.
Why Masimo's Healthcare Unit's Revenues Declined in Q2
The company attributed the decline in its Healthcare unit to a multitude of factors, some of which will continue, including:
ORDERS PUSHED BACK – Masimo said that large orders it had anticipated in Q2 "were delayed to the second half of the year"
SENSOR SALES WERE DOWN – Single-patient use sensor sales came in below expectation due to two main reasons: 1) A lower-than-expected U.S. hospital inpatient census; and 2) Larger customer inventory levels on sensors "due to discounting in prior quarters" (which the company has discontinued) and an unusually quick end to the flu season
FEWER CONVERSIONS – New customers who had contracted to switch their business from existing solutions to Masimo did so at a much slower pace than originally projected due to "labor shortages in hospitals" and the company's OEM partners "not being able to provide the patient monitoring equipment needed" for reasons unspecified
DEMAND DECREASED – The company says that demand for "capital equipment" lowered in the second quarter due to "increased hospital labor costs" that have "strained hospital budgets"
Why Its Non-Healthcare (i.e. Sound United) Unit's Revenue Declined in Q2
While the company offered a pretty extensive list of excuses for why its Healthcare division's revenues fell short, they had much less to say about the Non-Healthcare division's falter. In fact, they offered but one short sentence.
Non-healthcare revenue for the second quarter 2023 fell below expectations as the decline in demand previously seen in lower-end consumer audio categories extended into the premium and luxury audio categories and across more geographies.

Masimo Press Release: 'Masimo Announces Preliminary Second quarter 2023 Revenue Results'
Seeking to strike a more optimistic outlook in the wake of the announcement of these poor results, the company said,
Despite the second quarter revenue shortfall, the fundamentals of both businesses remain strong. Notably, on the healthcare side, new hospital customers continue to switch to Masimo technology faster than ever, increasing Masimo's share of the hospital market. Masimo drove record contracting in the first half of the year, both in the U.S. and worldwide.

Masimo prepared statement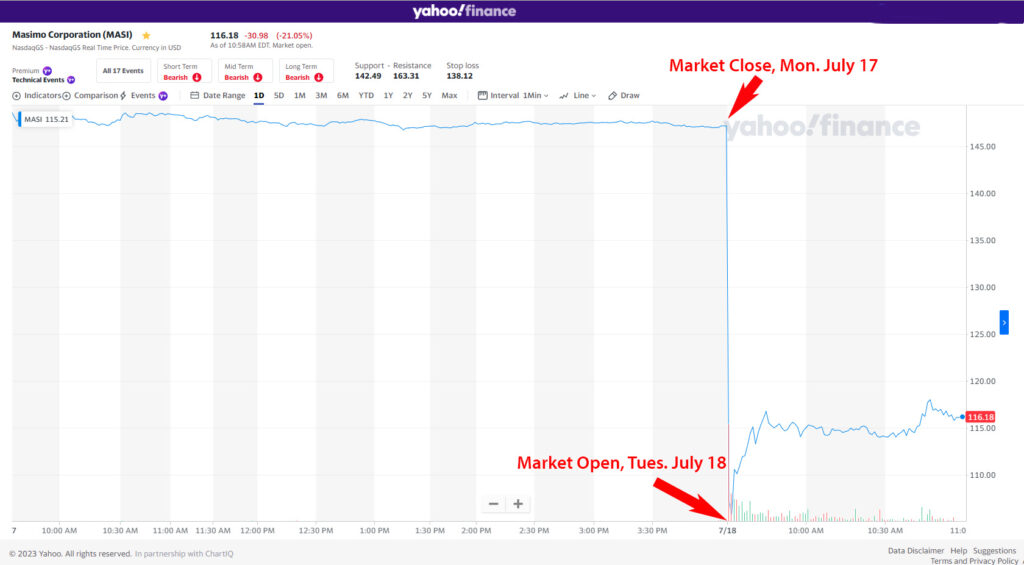 Co. Talks of "Unrecognized Contract Revenue" for Healthcare; For Consumer, 'It is Unclear'
The company then offered a pretty extensive analysis of a non-GAAP (generally accepted accounting principles) metric they like to use called "Masimo's Unrecognized Contract Revenue," in which the company offers their view on the current value of future multi-year contracts they've signed. According to their read, the value of these contracts grew 11% to 12% in the second quarter. Of course, you and I can't see that because it is "unrecognized" and therefore not in the actual numbers.
The unrecognized contract revenue analysis is only indicative of the potential impact on the Healthcare side of their business. For Non-Healthcare, also known as Masimo Consumer, the company had this to offer: "On the consumer side, it is unclear when the softness in the premium and luxury categories will improve. However, initial demand for the Stork baby monitor has been strong, as major retailers are placing stocking orders for the product. In addition, hearables sales doubled this quarter versus the same quarter last year, helped by the launch of Denon PerL earbuds with Masimo AAT."
Masimo Revises Annual Guidance Based on Q2 Performance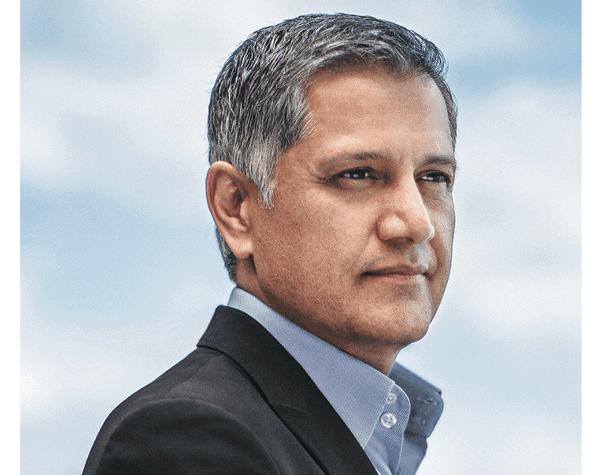 While we are disappointed in our revenue results this quarter, our hospital business is strong, as our growth in contracting shows. We do believe sensor utilization and sensor revenue growth rates will return to normal levels. We are also excited about the future for Radius VSM, Opioid Halo, Stork, PerL, W1, and our telemonitoring busineesses, all of which are in full-scale launch, except for Stork, which is in limited market release.

Joe Kiani, Masimo Chairman and CEO
Finally, the company warned that it will need to adjust its forward-looking guidance on full-year fiscal 2023 results based on this performance. It says it will need to lower the low end guidance for the Healthcare division to $1.3 billion as compared to the previously forecast $1.45 billion, which is a greater than 10% reduction. They say they may increase the upper end of the guidance but made no commitment to that at this time.
Masimo Consumer's Guidance is Cut More than Healthcare Division's Outlook
For the Non-Healthcare division, the company says it is adjusting this guidance to a revenue range of between $800 million to $850 million. Originally, Masimo had forecast a revenue range of $965 million to $995 million. That works out to a -15.8% reduction at the midpoint of the range.
Does this mean that Masimo is less confident in its Non-Healthcare or Consumer division? Perhaps…
How Do Masimo Shareholders View this Event? A Brutal Response
In any event, this is yet another event sure to inflame Masimo shareholders. At the close of market on Monday, July 17, MASI shares were valued at $147.16 having closed down 1.2% on an up day on Wall Street. After the market closed, the company released its preliminary results for the second quarter and the impact was almost immediate, as the graphics included in this post clearly show. On Tuesday, July 18, MASI shares opened at just $107.00, down a full -27.3% from the day before.
Masimo will issue its final fiscal 2023 second-quarter results on Tuesday, August 8, 2023.
Learn more about Masimo by visiting masimo.com.