See UPDATE below article…
>See a slideshow with images from the HiFiMAN press conference here<<

<January 25, 2012> One of the more pleasant surprises of the show was an opportunity to meet a company – new to me but apparently known amongst many high end aficionados for awhile now – with a name that struck me as a little goofy – HiFiMAN. But, as I was soon to learn, the name fits…owner Dr. Fang Bian is a man truly dedicated to high fidelity sound reproduction…even in the face of our portable, overly-compressed, MP3 digital music world. Bian is truly a HiFiMAN.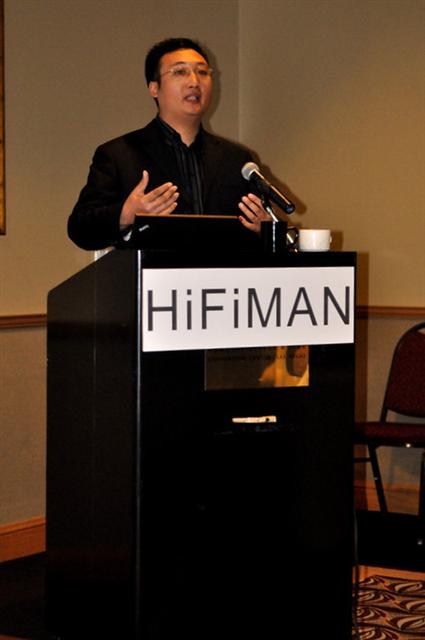 Because of a schedule conflict, I almost couldn't make this press presentation. Boy, am I glad I sorted that out and attended. People like Bian give me hope for our industry. A true engineering geek with a love for music and accurate sound reproduction, he is a bit of a throw-back to our industry's more hobbyist roots – but with a deep understanding of today's digital technologies.
A high-end guy, Bian seeks to adapt today's digital technology for more accurate reproduction – even through an iPod. OK, maybe not an iPod. But HiFiMAN offers a portable music player that offers a real solution for those audiophiles who want the convenience of taking their music with them – without compromising the sonic quality of the performance.
But, I am getting ahead of myself. First let's get to know HiFiMAN a little better.
Fang Bian is quite young, and quite passionate about what he does. With a Master's degree in Science from Nankai University (China) and a Ph.D. in Chemistry, with a sub-discipline in Nanotechnology and Materials from the City University of New York**(see update below) – he knows a little about science…and technology.
Bian told reporters that HiFiMAN has two main goals: 1) Incorporate traditional high fidelity elements into contemporary digital players (and PC audio); 2) Apply high technology into traditional products (such as headphones).
The company has existed for about six years and sells products around the world. Bian says that they have about 60 retail dealers worldwide and also sell direct-to-consumers on their website.
HiFiMAN is a vertically integrated company inasmuch as Bian has an ownership interest in his production facility in China, and maintains headquarters in the U.S. This means that he designs, manufactures, and sells his products with full end-to-end control.
At CES, HiFiMAN introduced three new products: the EF-6 High Performance Headphone Amp, the HE-400 Planar Headphones , and the HM-601 Slim Personal Audio Player. All were shown to the press….while the 601 Slim with the HE-400 Headphones were directly demonstrated for each member of the press attending the event.
EF-6 Headphone Amp
HiFiMAN calls the EF-6 a "reference quality" headphone amplifier that is available beginning this month for a suggested retail of $1,499.  The unit is said to be able to handle the most demanding headphone designs.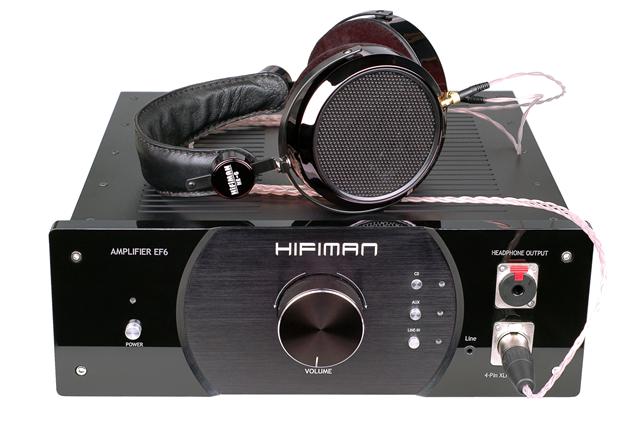 Weighing in at a full 24lbs., the EF-6 is a compact but substantial beast. Offering audiophiles a full 5 watts of pure Class A amplification, HiFiMAN says the amp design offers 95dB signal-to-noise ratio with low noise and a wide bandwidth.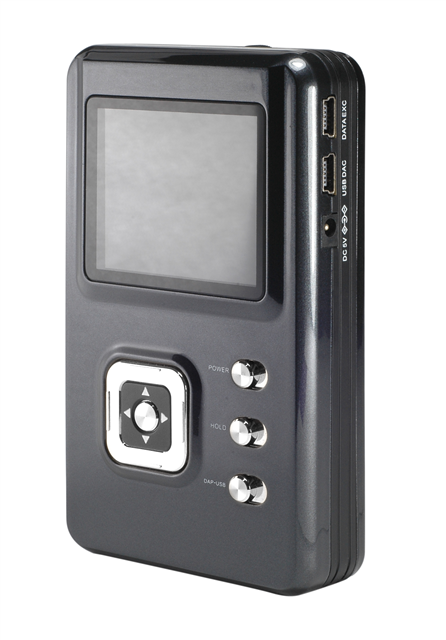 HM-601 Slim Personal Audio Player
The HM-601 is available this month in a 4GB ($199) or 8GB($249) version and is expandable via SD card up to 32GB for plenty of storage of your high quality flac, off, aac, wmv, wav, and mp3 files. A surprisingly affordable audiophile alternative to more popular i-players, don't let  the Slim's diminutive size fool you – this thing can definitely kick out the jams with plenty of oomph for just about any headphone design.
Thanks to superlative Burr-Brown DACs, when listening to a high quality flac file on the Slim, the sonic superiority over a compressed MP3 file on an iPod is breathtaking. The Slim includes a high/low gain switch, so no matter what the sensitivity of your headphones or earbuds, you are assured of experiencing this unit's full performance.
HE-400 Planar Magnetic Headphones
Also available this month, the HE-400 headphone sells for $399 and features a unique planar magnetic design. But unlike some other planars, this one features an amazing 92.5dB sensitivity so you use them on just about any system…including full reproduction when used on an iPod/iPhone.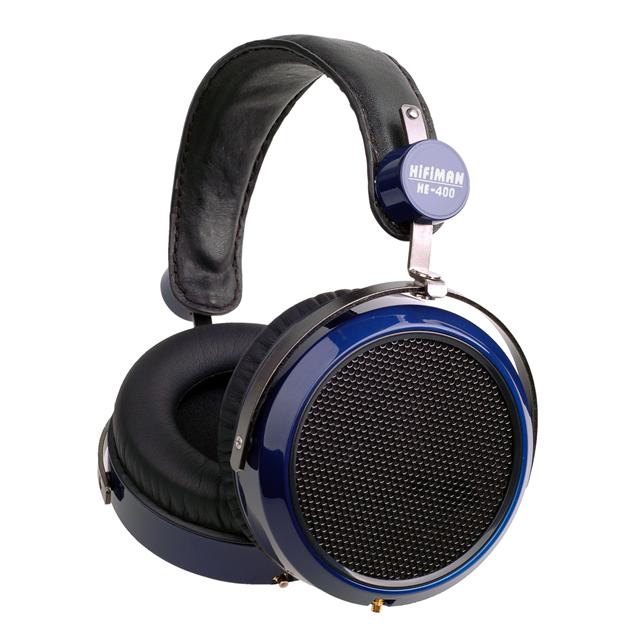 HiFiMAN uses a Neodymium magnet structure for enhanced performance. They're not the lightest headphones on the market…but they're not the heaviest either and can easily be worn for several hours without making your head feel as though it has been crushed into a figure-eight shape.
The opportunity to audition the combination of the HE-400 headphones with the HM-601 was a real eye-opener for me. As an ex-musician, I am constantly listening to music. And even though I am hard-pressed to find time to critically listen as much as I would like, it is still very enjoyable when I can.
Like many people who travel, I had come to rely on the always convenient iPod which, though not high fidelity, sounded good enough – or so I thought. When I cranked up the Slim though the HE-400s, the difference was not subtle…sort of like a sledgehammer to the forehead.
Open, airy, full-bodied, my music took on a richness I hadn't heard in a couple of years. It was enlightening to discover that I did not have to compromise sound quality for convenience or portability.
To learn more about how you can achieve audiophile performance, in a compact, easily transportable format, check out HiFiMAN at www.hifiman.com.
UPDATE
January 25, 2017 – This text has been changed from the originally published version. We have clarified Mr. Bian's educational background. Initially, we had reported that Mr. Bian held a Ph.D. in Nano Technology from the City University of New York. After seeing our report questioned elsewhere on the internet, we asked HiFiMan for an official clarification, which resulted in the modification as now shown in the article.
Mr. Fang's degree is actually a Ph.D. of Chemistry, with a "sub-discipline" in Nanotechnology and Materials.