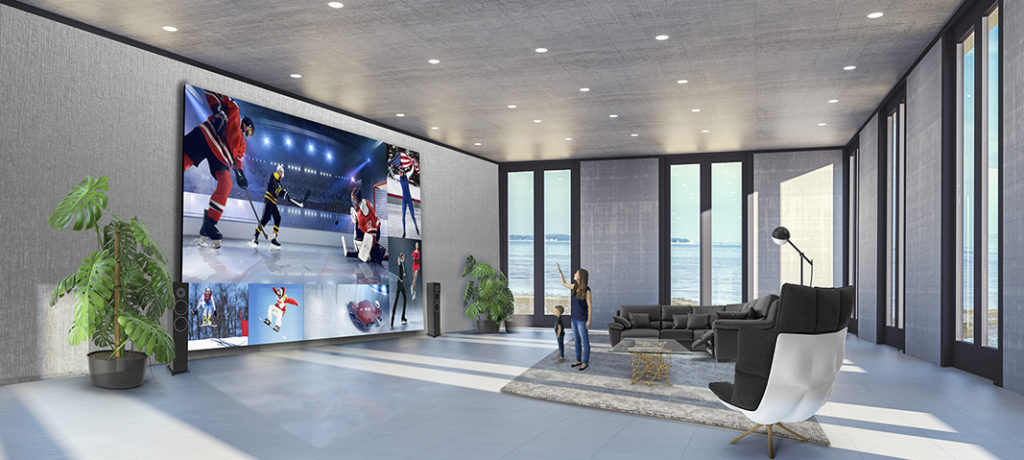 LG Electronics announced today that it is targeting the super-luxury residential market with a new wall-sized display based on Direct View LED (DVLED) technology. They call their new series DVLED Extreme Home Cinema and while they are not the only purveyor of the technology, LG says they are best positioned for success in the category due to their "years of [experience] building premium consumer electronics, keen understanding of affluent consumers and deep expertise as an innovator of DVLED technologies."
Learn more about the LG DVLED super-luxury line
LG says that DVLED is unlike any other display technology used in residential installations and uses 2 million – to – 33 million individual diodes, depending on the resolution, to deliver a stunning visual performance for end-users. DVLED offers exceptional brightness, a lifespan measured in years, ultra-wide viewing angles, and a high color gamut. And all of this visual intensity is delivered even in extremely bright rooms with lots of window exposure for high ambient light levels.
The company wants you to not confuse DVLED technology with the more common LED TVs with which you are most likely familiar. Those more common versions are really LCD TVs with LED backlighting helping to augment their performance.
Images Created 'Directly by the Diodes'
In the case of Direct View LED technology, the images you see are "created directly by the LED diodes," yielding high contrast ratios and brightness. The company claims DVLED creates "some of the most vivid images available in a video display today."
Available in 4K and 8K models, LG's DVLED Extreme Home Cinema delivers seamless 16:9 displays in sizes ranging from 81-inches to a massive 325-inches. Also available is an UltraStretch video wall-style installation that offers a seamless 32:9 display that, for example, could be used to window multiple video sources.
Can Only Be Sold and Installed by Authorized Custom Integrators; Not Available in Retailers
This new lineup will only be available through a special custom installation dealer program. The company vows it will not be available through any retail stores. To make matters simple for installers, LG has pre-packaged up to 30 different configurations in various sizes and resolutions.
LG DVLED installations not only include the hardware – shipped in ATA certified flight cases no less – but an unusually rich package of enhanced support, as well. This enhanced support includes special integrator training, upgraded customer support assistance, and even on-site help from an LG field engineer at installation. Not only that, but LG also offers: twice-a-year on-site "health checks" for the first three years, LG Connected Care software subscription (allows integrators to remotely monitor system performance), and a 5-year limited warranty on the display.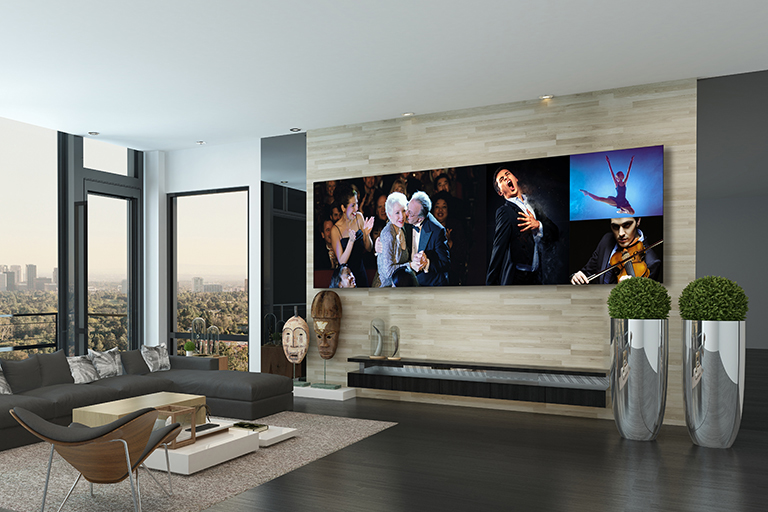 Included Enhanced Support Options Worth $30,000
The company says the value of these added support enhancements is approximately $30,000. And they only apply to the LG DVLED Extreme Home Cinema models, not any all-in-one DVLED Home Cinema models.
This truly is the supercar of home display technologies, offering hand-constructed quality and performance that appeals to those with luxury lifestyles who want something that is not only immersive, but also highly exclusive. LG DVLED Extreme Home Cinema Display technology is rated to last 100,000 hours before reaching half-life, meaniing that it could deliver stunning visuals for over 10 Years."

Dan Smith, LG Electronics USA's vice president in charge of DVLED displays
Certain Configurations Priced up to a Reported $1.7M
Also of note, the DVLED Extreme Home Cinema line operates on the company's popular webOS software and can interface with webOS-compatible content management systems enabling multi-window video viewing. While the company's formal announcement did not provide pricing, Digital Trends is reporting that prices range from $70,000 on the low end to $1,700,000 on the high end.
And good news! LG's DVLED line is available for order now. Integrators interested in getting authorized to sell and install the line can learn more information and apply for authorization at this link…