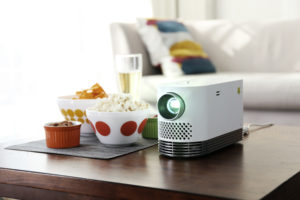 LG Electronics announced this week an interesting new compact laser projector targeted at the home cinema enthusiast. Although quite affordable, this light and compact projector –  called the LG ProBeam – features some very cool technology and features sure to delight residential movie fans.
Check out the LG's new ProBeam…
Two things really jumped out at us as we checked out LG's announcement of this new product. First, although the company's projector offerings are largely based on LED technology, the new, cool-looking ProBeam utilizes laser technology which tends to have a very bright, colorful and exciting picture quality. Second, it carries an affordable price of $1,499 MSRP making it broadly available to a wide range of consumers who may have balked in the past at projectors costing thousands more.
"As an industry leader in LED projectors, LG continually pushes the boundaries of innovation to provide consumers with affordable, high performing, and artfully designed home entertainment products," said Tim Alessi, head of Home Entertainment product marketing at LG Electronics USA. "With the ability to project up to 2,000 lumens of brightness and a picture as big as 120 inches (diagonal), the lightweight and versatile LG ProBeam can transform any living space into your very own home theater."

The LG ProBeam projector (model HF80JA) is equipped with an advanced laser engine that produces up to 2,000 lumens of brightness
Portable but Powerful
This new projector, whose technical model number is the HF80JA, is very compact and designed to be portable. Given that it only weighs 4.6-pounds, we'd say that portability is absolutely no problem.
Normally, we're skeptical of portable projectors as most integrators focus on permanent projector installations and many portable projectors are forced to make too many compromises in the technology to achieve portability. Yet this portable powerhouse utilizes a Full HD laser with an I-shaped laser engine capable of producing no less than 2,000 lumens of brightness.
Technology for Quality and Ease of Operation
Not only that, but according to LG the ProBeam also has Auto Keystone alignment technology to automatically detect and correct for any screen image distortion…delivering "ideal projection alignment. Wisely, they included manual correction for fine tuning as well – sure to be appreciated by integrators.
"Never worry about screen distortion," Alessi added.
Also built into the ProBeam is Bluetooth audio out, which allows it to be easily and cordlessly paired with a Bluetooth speaker or headphones. Also build-in is Miracast technology to project content from smart devices onto a large projection screen.
Making Setup and Content Sharing Simple
The ProBeam also includes Wireless Content Share via the LG TV Plus App which is available on either the Google Play store in Android, or in the App Store for iOS users. It is now easier than ever to stream content from your smartphone or tablet to this projector for everyone to enjoy. The app also acts as a touchscreen remote control for the ProBeam.
Some might say that with this group of features and pricing, the ProBeam is not an installer-targeted product. To that we would reply, neither is a Sonos system…but many installers sell and install it because of consumer demand.
LG's ProBeam laser projector is available now and sells for $1,499 MSRP.
Learn more about LG at: www.lg.com.