>>See a full slideshow from the LG CES Press Conference by clicking here<<

<January 18, 2012> CES Press Day kicked off this year with LG who seemed anxious to update the media on their progress in 2011. Wayne Park, President and CEO of LG USA, told reporters that although 2011 was a tough year economically, LG's revenues were up 8 percent. Park also told the group that LG had a record-breaking fourth quarter in U.S. sales.
Park also told the media that LG was especially pleased with its passive 3D TV line-up which he says is "preferred by consumers." He also confidently told reporters that the LG system is the most "comfortable approach to 3D."
Market share gains…
LG also experienced significant upticks in U.S. market share for both LCD and LED HDTV. All-in-all, despite a challenging economy, LG was quite pleased with their 2011 overall results.
Park also said that LG was continuing to strengthen its commitment to the environment. In fact, Park said that "LG is the exclusive electronics partner for Keep America Beautiful."
"What a year," Park exclaimed. "Life is still good at LG, and the best is yet to come."
8,000 engineers…
Next up was President and Chief Technology Officer of LG Electronics, Inc. Dr. Scott Ahn. As LG's "chief innovator" Ahn oversees more than 8,000 engineers at LG. Ahn wasted no time in announcing that TV technology is progressing to such advanced levels that LG was forced to create their own chipset, the L9.
Ahn was quick to point out that not every company has the ability to create their own proprietary chipset. This is a performance edge for the rapidly growing manufacturer.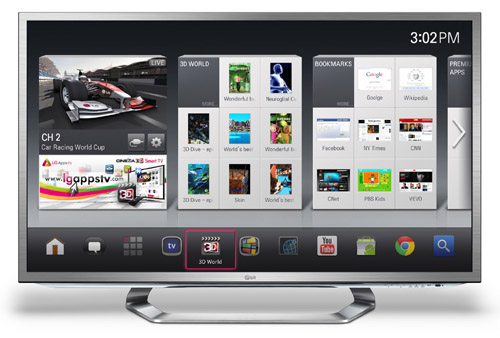 Going Google…
Ahn also wanted reporters to know that LG has pushed the boundaries in TV performance with their Smart TV, and now with their new Google TV offerings utilizing "the latest GTV  software."
LG has also made tremendous advances with their smartphone line. And it is important to note, Ahn told reporters, that LG is partnering with LTE (Long Term Evolution technology) for maximum performance.
Smarter smartphones…
LG will offer phones this year that will support dual use: both for personal and business applications. This orientation towards the business market is a new initiative for LG.
Finally, Ahn noted that LG's "hottest" new appliance was their "cool" new Blast Chiller.  The Blast Chiller will cool a warm can of soda in less than five minutes. Positioned as a value added technology – LG was clearly excited about this.
Passed Sony, coming up on Samsung…
Director of Product Development, Tim Alessi, added that LG has built the share of passive 3D to over 30% of the market. LG has, Alessi claimed, surpassed Sony and has taken aim at Samsung.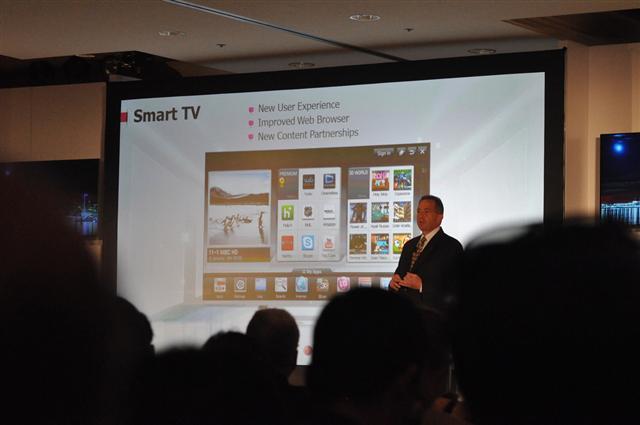 Alessi then announced that LG had been selected by PCWorld as number one on a list of their favorite Smart TV platforms (followed by Samsung, Vizio, Sony, and Panasonic). PC World specifically mentioned the LG Magic Remote as a favorite feature.
Ole' for OLED…
But undoubtedly, the biggest announcement from LG was the unveiling of their new 55-inch 3D Organic Light Emitting Diode or OLED HDTV. Saying that OLED offers a picture quality previously not achievable with LCD and LED technology, the technology uses self-lighted organic pixels with precise color, absolute contrast and what the company says is "blazing clarity."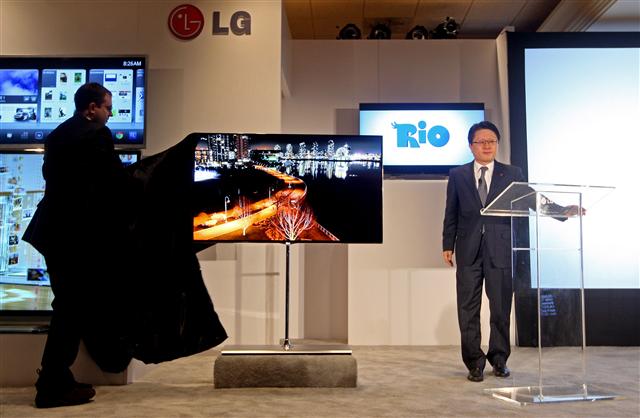 OLED was demonstrated to the press and while it looked very good up on the stage, it was not possible to draw any final conclusions without greater testing. LG says that OLED delivers a contrast ration of more than 100 million: 1 or more than 50 times greater than LED/LCD.
A trim 4mm thin, the look is indeed striking. And materials provided by LG says the entire unit weighs no more than 16.5 pounds making it perfect to hang on the wall.
No price or availability was quoted at the LG press conference.
For more information, see www.lg.com/us/
>>See a full slideshow from the LG CES Press Conference by clicking here<<