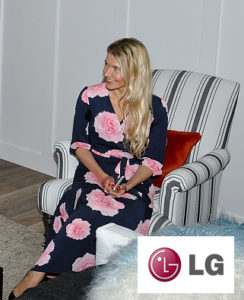 First stop on the press express at CEDIA Expo 2018 was LG – a company that offers what I have often said is my favorite core video technology, OLED. As in past years, LG did not disappoint. But their message at Expo this year was prominent and hard hitting – LG is all about custom installation.
See more on why LG says they are all about custom installation…
LG executives wasted no time diving into their message for the CEDIA crowd, saying they are committed to custom installation. And then they said it over and over again – from their advanced technologies, to their custom installation-oriented programs, to their special custom installer-only support website, to even their booth design with examples of typical installations…the company execs stayed on message that they are all about custom installation.
So let's unpack that message a bit. LG's OLED was named the Official 4K TV Partner of CEDIA Expo 2018 and they want CEDIA Expo attendees to know that they want to be your first choice in TV, video and entertainment technology. Starting with their spectacular OLED technology with its deep blacks, amazing contrast, and sumptuously deep colors, OLED is a premium technology perfect for presentation by custom integrators in any of their AV systems installations.
Premium Video Products for Integrators
LG had dramatic displays of their broad portfolio of OLED TVs including  the 77-inch C8 OLED TV, the 65-inch E8 OLED "Glass" TV and – in the very front of their booth – the very cool W8 super-thin Wallpaper TV. Also shown in the booth were their Super UHD LED TVs with AI ThinQ; and their LED UHD TVs with AI ThinQ; and finally, their 4K Ultra HD Blue-ray Disc Player with Dolby Vision.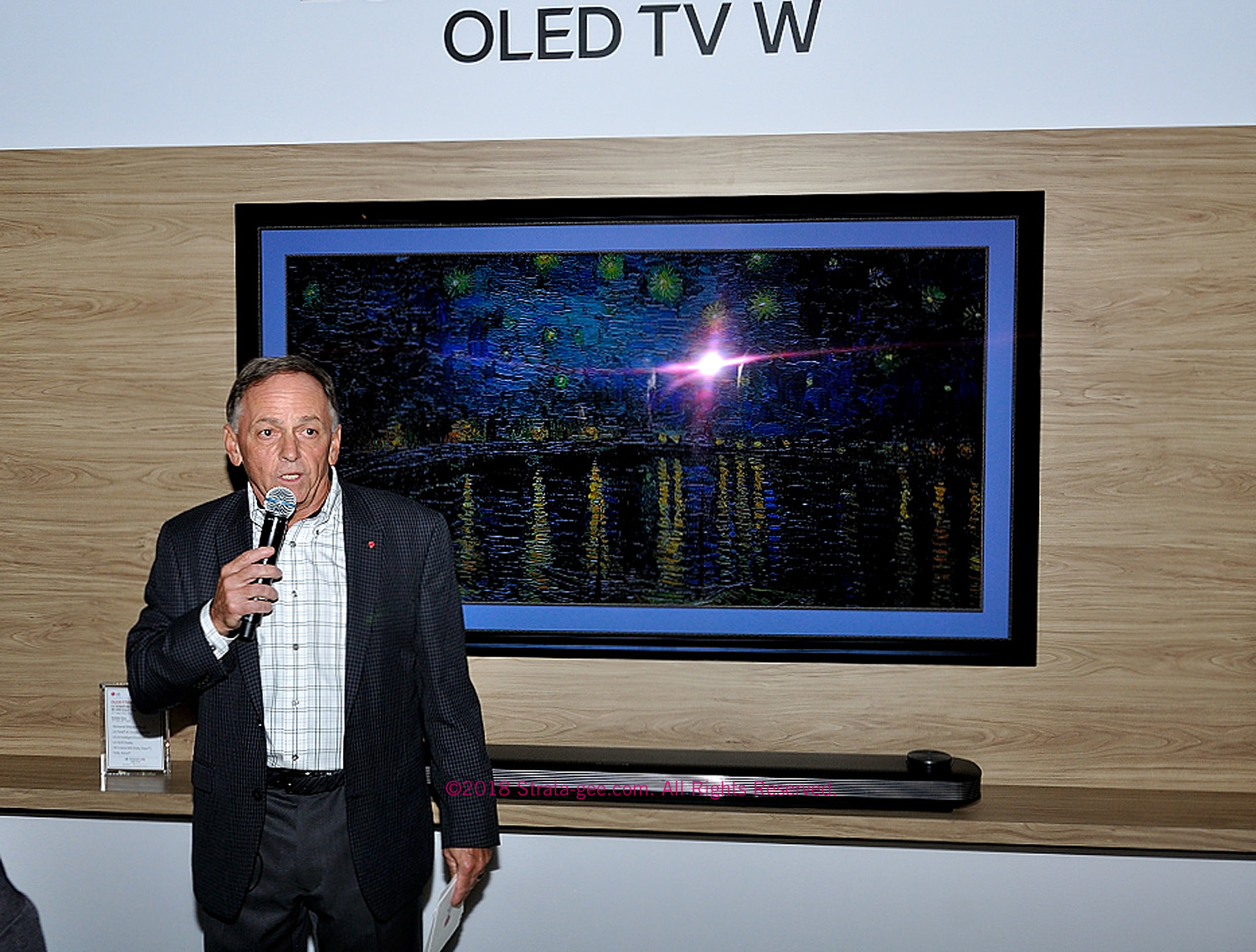 LG, in what we think may be a noteworthy announcement, also showed their first 4K projector, the CineBeam Laser 4K Projector. This award-winning projector can deliver a bright and crisp image up to 150-inches in size. This is another product clearly targeted for the custom installation community.
"LG places a very high value on our friends in the custom installation industry," said Rick Calacci, LG Electronics USA senior vice president of home entertainment sales. "Our Reach LG portal offers CI pros access to a wide range of resources to support their work, simplify integration and help them to succeed. We're also partnering with many of the leading innovators in the world of custom innovation to ensure our products meet their needs."
Show Booth Included Professionally Designed Urban & Suburban Living Space Installations
Even LG's booth design screamed custom installation – with two display areas featuring "typical" installations of their products in rooms designed by well-known designers. This idea has been tried in many a booth, but LG pulled it off by having real designers layout rooms that fairly represented real-world rooms. The company worked with integrators Osbee Industries and Value Electronics, who handled the complexities of the installations which also included control systems.
The first room we viewed was called the "Urban Room" and represented a typical urban space. Urban room was designed by Sarah Sherman Samuel and was modern, appropriately small and sparse, but tasteful. Representative of a typical condo or apartment found in large metro areas, the room featured a LG 65-inch OLED, model 65E8, shown in conjunction with a SK10Y soundbar. The system also featured a Crestron control solution with touch panel, and was nicely detailed with explanatory signage.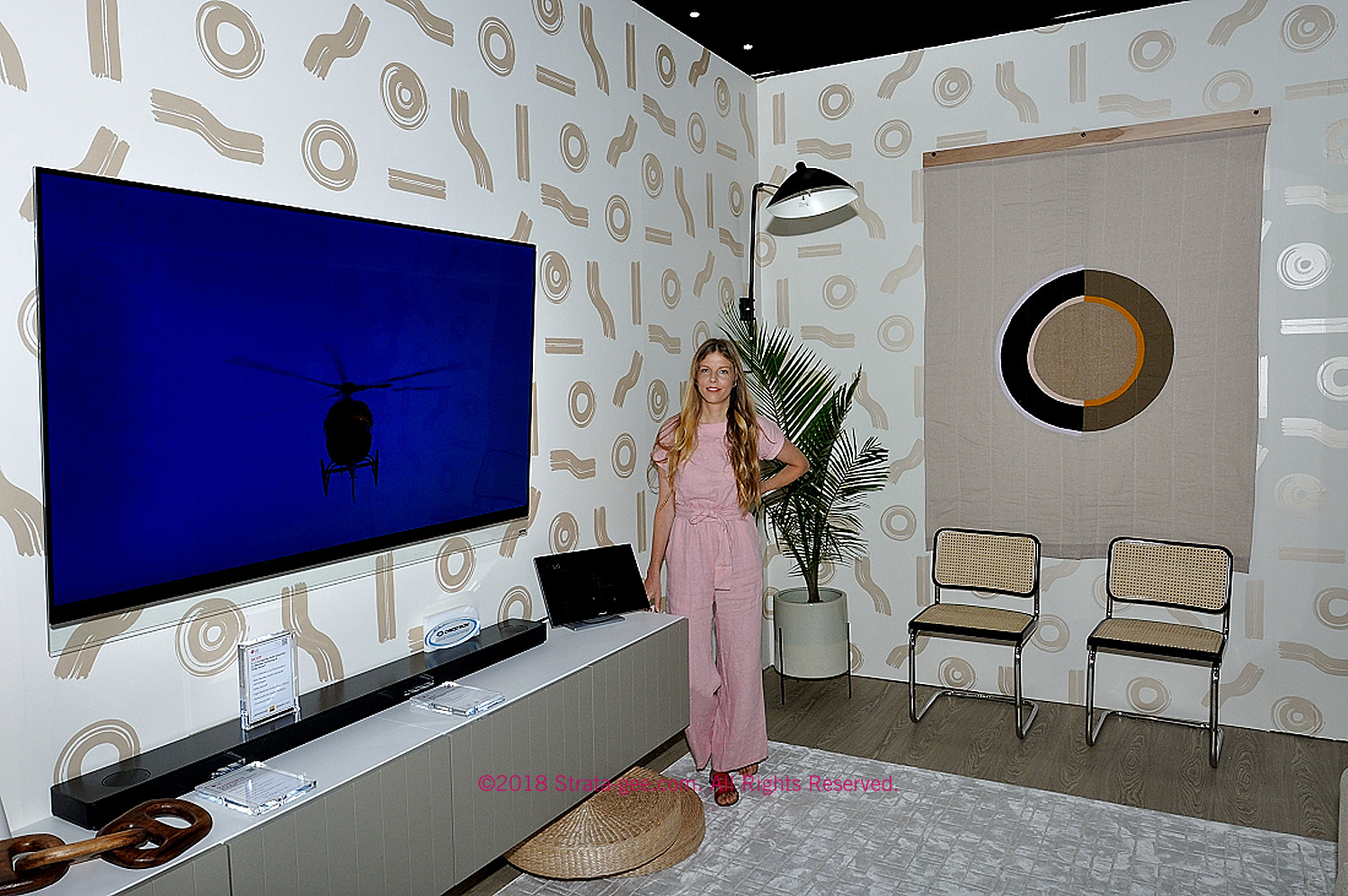 LG Partnered with Design Pros Sarah Sherman Samuel & Kate Rumson
The second room design in their booth was called the "Suburban Living Room." As you might have guessed, this design was meant to represent the typical suburban home and was a little more traditional than the urban room. The suburban living room was designed by Kate Rumson who, among other things, runs "The Real Houses of Instagram" site.
This room featured more comfortable styling with over-stuffed furniture, lots of wood and fabric, and looked quite comfortable. This room featured a LG 77-inch OLED TV model 77C8, also with the SK10Y soundbar. In this room, the control partner was Control4.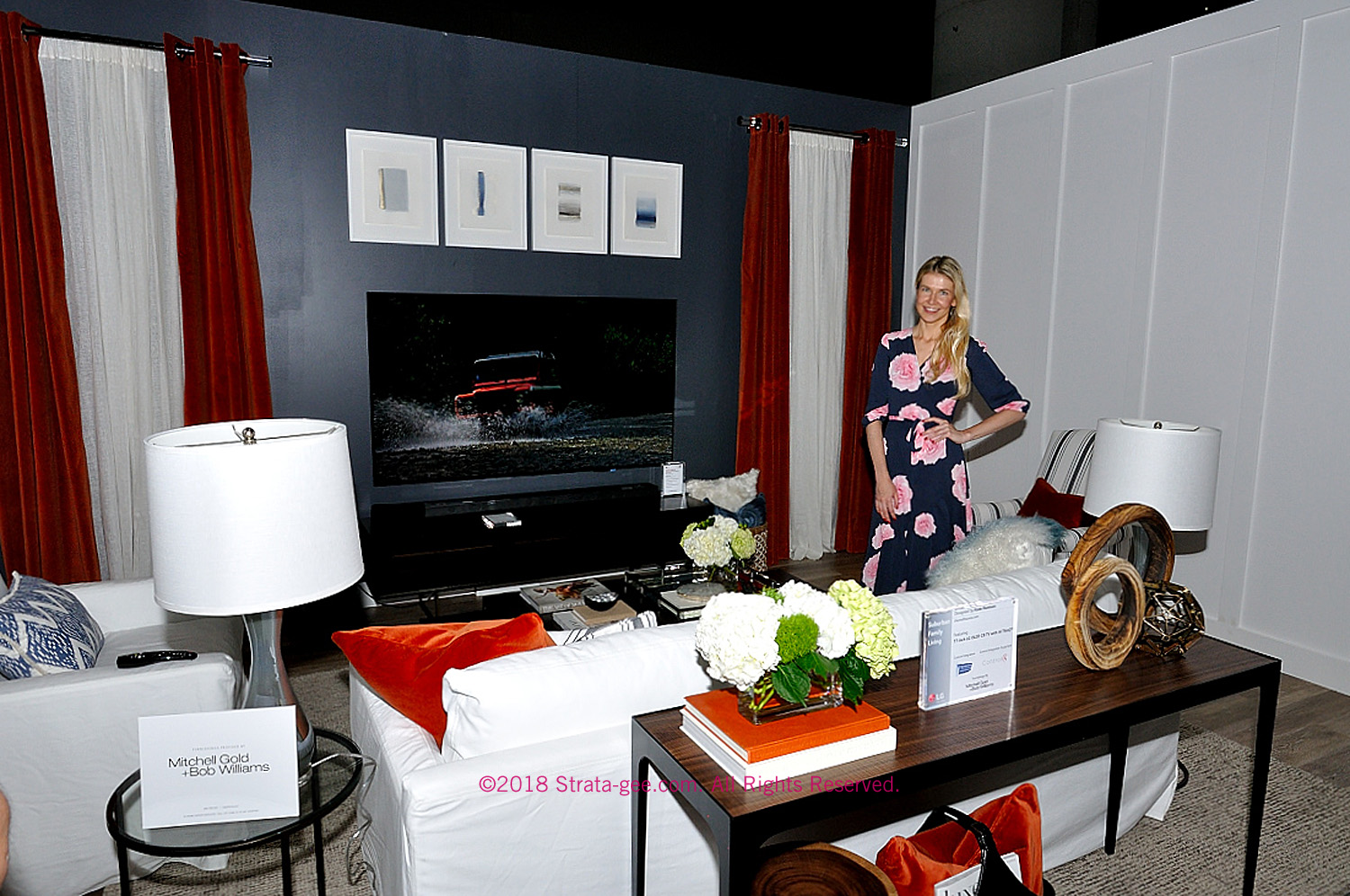 So there you have it – in oh so many ways, LG wants to be your premium TV and entertainment system supplier. And they have the products, the technologies, the programs, and CI support website to prove it.
Learn more about LG and its products by visiting: www.lg.com/tv.