Leviton announced today that it has formed a strategic partnership with Samsung's SmartThings division to offer a simple home automation starter package that will be made broadly available through distributors and the "professional dealer" market. Designed to be an affordable, whole-house, home automation solution – the package pairs products from SmartThings with Leviton Z-Wave enabled devices at discounted pricing.
See more on this new Leviton-SmartThings smart home market partnership…
Partners Leviton and SmartThings have put together a starter pre-packaged bundle, called the STKIT-000, that includes a SmartThings Hub, a Leviton VRMX1 Z-Wave Dimmer, and a Leviton VRS15 Z-Wave Switch at a specially discounted price. In addition to this, stocking orders for other Leviton Z-Wave attachment devices will also be offered at discounted prices to distributors and builders.
Leviton says this partnership makes perfect sense – SmartThings offers an open ecosystem  of IoT devices and services…Leviton, offers a line of Z-Wave compatible devices that fit perfectly into that ecosystem. The company says it offers a wide range of products that will integrate well into this system, including wireless lighting controls, fan controls, 15 amp switches, plug-in load controls, heavy-duty load controls for compressors as well as generators, sensors, and thermostats.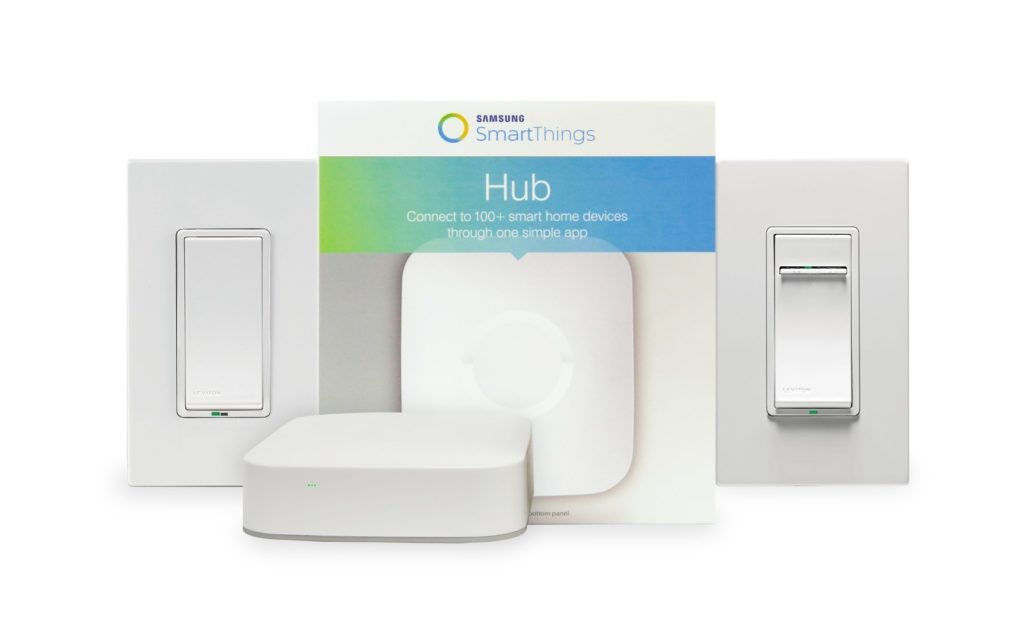 Accommodates Larger Installations As Well
Thanks to mesh networking capabilities, larger homes can easily be accommodated with dozens of integrated attachment devices for whole-house automation.
Leviton noted that the two partners have cooperated before, primarily in sales promotions, support initiativess, and co-marketing efforts. With this initiative, the two have a deeper partnership thanks to their joint commitment to this bundled solution, which is perfect for professional builders, electricians, and integrators. This bundle, Leviton says, can easily turn a regular home…into a smart home.
More Support Options to Help Build Channel are Coming
The partners plan on further filling out this offer with advanced certification of new products nad features additional support articles embedded into the SmartThings app, installation and setup videos for professionals on Leviton support websites. The partners will also offer in-person training at distributor locations.
"For many Leviton professional customers, the SmartThings relationship represents an approachable automation solution that they can easily understand and quickly implement. They've been installing Leviton Z-Wave devices, often stand-alone or with professional grade control systems, for years," said Richard Westfall, vice president and general manager of Leviton Energy Management, Controls & Automation. "For the more advanced custom integrators, this is a value offering for customers that desire a low-cost, simple to use system complete with popular integrations including Amazon Alexa and Google Home voice control, locks, cameras, thermostats, doorbell systems, sensors and more with the Works with SmartThings program."
To learn more about this new program, visit: www.leviton.com/smartthings.