In a new study by market researcher Strategy Analytics, more than six thousand consumers were surveyed about which technology brands they preferred – and the results highlight what is likely a radical market repositioning for certain tech brands that have lost market share in a challenging industry environment.
See if these results surprise you as much as some of them did me…
The survey, called "Technology Brand Preferences," was conducted in the United States and Europe. Consumers, by a wide margin, ranked Samsung as number one technology brand in overall  preference…a position that it holds worldwide according to the researcher.
Samsung was given a rating of +41% and was followed by Sony with a significantly lower rating of +29%. Rounding out the top five technology brands are: HP (+20%), Apple (+19%), and LG (+18%). Samsung's dominance over Sony has been well documented, but the levels of difference as rated by consumers did provide for some surprises.
One result that is likely to cause some to be surprised is that consumers rated Samsung more than twice as preferable as Apple. Another surprise is that Panasonic was only rated as definitely/probably would purchase by 14% of the survey respondents. And while Panasonic did not even rate in the top five of preferred brands, they fared substantially better than Toshiba which was only rated as a preferred brand by a relatively paltry +7% of consumers taking the survey – and Sharp, which received a surprisingly harsh -8% rating.
Bottom surprises as well…
The bottom five brands were: Lenovo (-37%), RIM/Blackberry (-28%), Sanyo (-26%), Asus (-16%), and Motorola (-11%). Here again, while RIM/Blackberry's problems have been well publicized, it was surprising to see how far brands such as Motorola and Sanyo have fallen.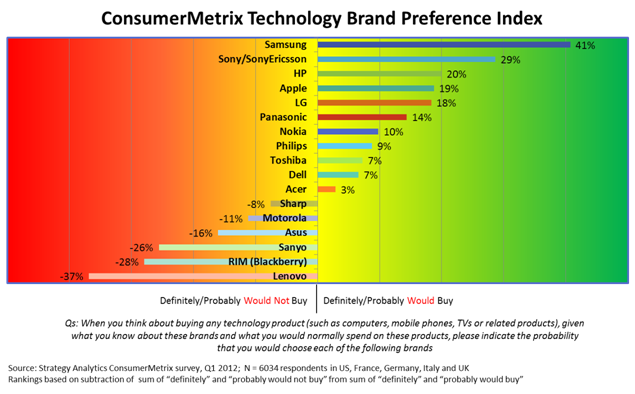 Of the six thousand survey participants, 2,038 were in the U.S. and 3,996 were in Europe. Survey participants ranged in age from 15-74 years old and results were weighted by country, age, gender, and Internet use to correctly represent the U.S. and European populations of Internet users.
Maybe NOT surprising – regional and age-related differences…
According to Strategy Analytics, the study revealed significant regional and demographic differences in brand preference. For example, Apple ranked third in Italy, but only managed eighth in Germany. Apple also saw a lot of disparity based on the age demograph – it was the second most popular brand with those under 20-years-old…but dropped to tenth with those over 65-years-old.
"Samsung has made a remarkable journey from no-name brand to global leader in less than 15 years," David Mercer, Principal Analyst and the report's author said in a prepared statement. "In contrast to many of its competitors, Samsung's popularity shows unusual consistency across geography, age and income groups and this suggests the company has a broad and balanced marketing strategy."
Bright spot for Sony?…
Strategy Analytics also noted what it suggests might be a bright spot for Sony. "In spite of its significant financial losses in its Consumer electronics segment, Sony still has a strong brand equity, which could serve as one of its greatest assets for a potential turnaround," said Jia Wu, Director, Connected Devices research.
In a blog entry by Mercer, he discusses how he was asked by the Korean press fifteen years ago how long it would take Samsung to become "a major global brand." I'll bet they didn't ask him how long it would take Sony to become a "turnaround" candidate.