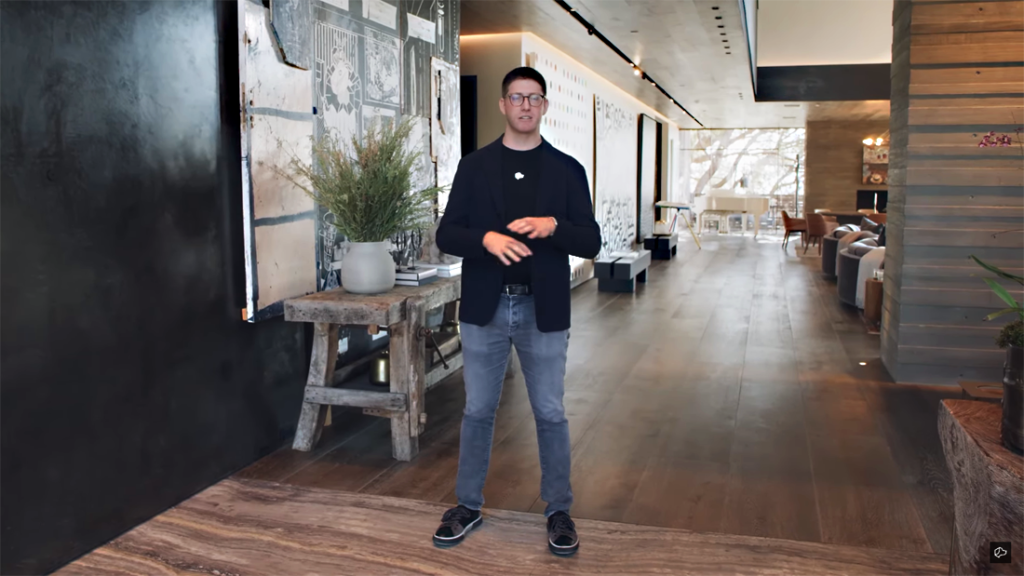 On Tuesday, specialty voice control supplier Josh.ai held an event they called their "keynote" which turned out to be a very professionally produced video presentation of a significant product launch for the company. In this presentation, the company Founder and CEO Alex Capecelatro shared his thoughts on smart home technologies, including the thought that smaller is better when it comes to smart home devices.
And with that, Capecelatro introduced their new Nano and Core products.
Learn more about Josh.ai Nano and Core…
In Capecelatro's introduction to the event, he sought to provide some context for what was about to be introduced. Josh.ai, he said, wants a smart home that is really powerful but at the same time simple…extremely simple. And they want a smart home control platform that, in addition to all of these things, is also privacy focused.
He noted that Josh's system can control all sorts of products in the home with their combination of software and hardware – not just your entertainment system. With simple voice commands, users can control just about everything in their homes including environmental systems, motorized shading, even your connected fireplace. Capecelatro also talked about how many mainstream or big tech companies have jumped into the voice control fray.
Big Tech Jumps In; Is Bigger Really Better?
Yet these big players all seem to follow the bigger is better philosophy, adding speakers and screens to voice control devices. Josh, which addresses the intersection of Design and Technology, believes the opposite path is the way to go – make smart home devices less obtrusive.
And with that, Josh's CEO introduced us to the Josh Nano, a very small circular device (slightly larger than a quarter) mounted on a wall. Since the Nano was black and the wall was black, you couldn't really see it until the camera zoomed in. And given that the device is only .12″ thick, it almost looked set into the wall rather than on it.
Nano: The World's First Architectural Microphone
The Nano, Capecelatro said, is the world's first architectural microphone. Designed to be the front end to a new elegant installation of Josh's voice interface, the Nano is smart – it knows where it is and what it controls. In this way, your installation can have multiple units spread about with none of the system confusion other voice control systems have sometimes struggled with.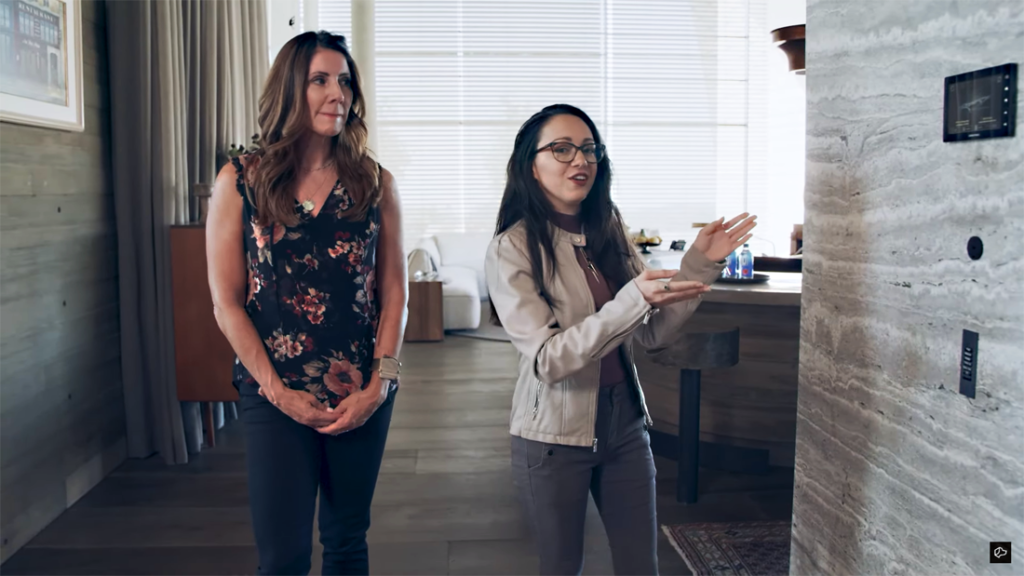 The presentation then switched to Josh.ai employee Felicia D'Ascanio, Territory Sales Manager for the East, and Josh customer Devesa Sarria of integrator Powerfull Systems who demonstrated the new Nano, shown in an extensive installation in a spectacular home in Los Angeles. The demo was as much about Josh's overall system capabilities, as it was about the Nano itself.
Understands Compound Commands, Easy 'Scene' Setting
For example, D'Ascanio showed how you can issue compound commands that Josh will fully execute. You can say, "OK Josh, turn on the lights…open the shades halfway…and let's listen to some music," and the system will fully execute each of those commands in that sequence. You can also build "scenes" verbally – and simply – with no need to call a programmer.
The system knows which room you are in and with what items you generally want to interface. And when D'Ascanio walked into the bedroom, she wisely noted that there is a small flip switch on the device to mute the microphone for full privacy – a common concern, especially in the bedroom, that many clients express to integrators.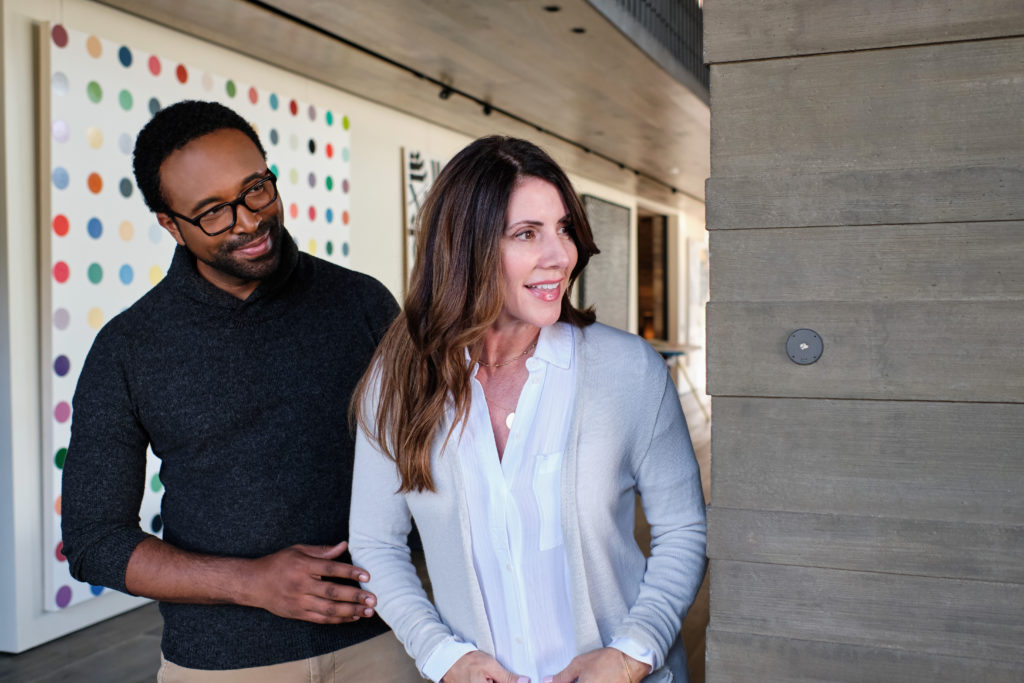 From here the keynote went to a full demonstration on the Josh.ai app, available on both Android and iOS smartphones. The app offers a logical blend between ease of use, accessing multiple system options, and a deeper level of control – say for interfacing over multiple systems in multiple properties.
Let's Get Right to the 'Core' of the Matter
But perhaps the next most exciting announcement was the launch of Josh Core. Josh Core is a smallish device that looks about the size of a mesh Wi-Fi access point – but thinner…you can fit two side-by-side in a rack space (with a rack adaptor from Middle Atlantic). The company says you shouldn't let the size fool you, when you pick the Core up it feels substantial.
Josh Core is much of the inner workings – the brains, so to speak – of the Josh voice control for smart home system, operating on site, not in the cloud. Like the conductor of a major symphonic orchestra, Core fully interfaces with all of the Josh.ai devices in a home and the app. It connects to your system via your local network – and this configuration of a Josh.ai system offers improvements in stability, power, and privacy.
Core: Powerful, Super Smart & Amazingly Scalable
Without going overboard on the technology, Josh Core has a 6-core ARM processor as its brain, supports multiple VLAN (up to enterprise grade network deployments), and is scalable to support projects with up to 100 microphones – including mixed Josh Micro/Nano implementations. Core can also respond to 1,000,000 voice and app queries. This thing is a beast…but an elegant beast.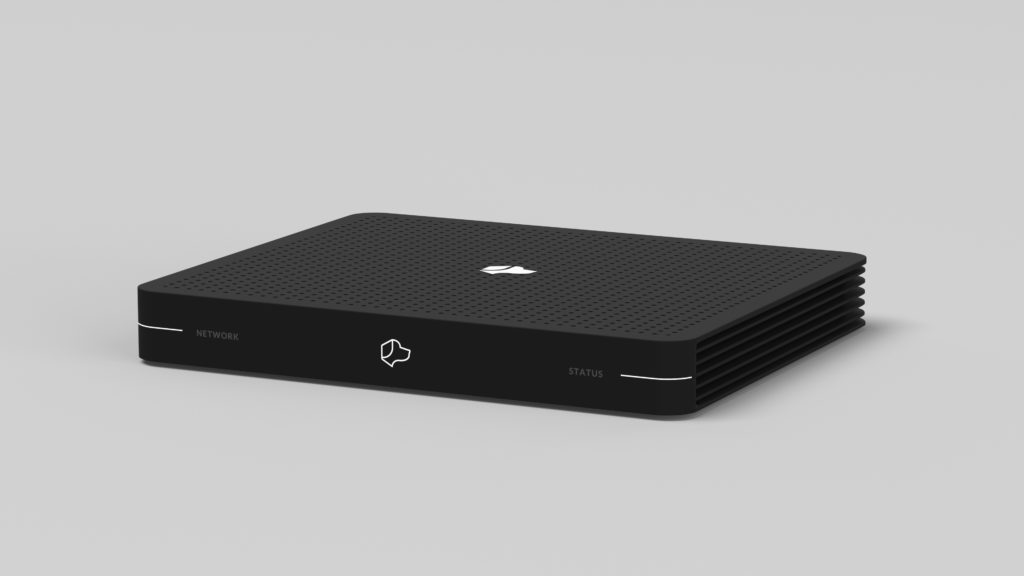 The company says you can integrate two Josh Cores into a combined system either for redundancy or for what they call "high availability" operation. Just what does "high availability" mean? In a separate email exchange, Capecelatro explained high availability.
High Availability for Super Stability and Performance
HA, or high availability, is an industry term… In short, it means setting up a redundant server so if the primary server is getting an update or has any issue, the secondary takes over to provide maximum uptime. This is not usually needed, but for bigger projects we find clients like to do this with Savant and Crestron, so we decided to offer it with Josh Core as well. Basically you have the primary Josh Core doing all the work, but if for any reason it gets unplugged or stops working or is getting an update, the secondary takes over so you have maximum uptime."

Alex Capecelatro, CEO of Josh.ai in an email
When powering up a Core for the first time, it immediately auto-discovers all connected devices in your system. It also builds a blueprint locally on the device of what it can control. This allows for what the company calls contextualization – when you ask Josh to turn on the lights, it turns on the lights in the room where you are. Two different rooms can have a scene set for a "good morning" command, and that scene plays in the room where you are without disturbing anyone else.
Multiple Commands from Multiple Sources at One Time
Core can process multiple commands from multiple sources simultaneously with no delay. So each member of an active family in multiple rooms of a home will have no delay as they ask the system to perform the tasks they need accomplished.
Lastly, I want to mention that Core also has a feature known as Voice Cast. This means that as the system is responding and interacting with users, it is NOT speaking through a small device-based speaker – but rather through your system's speakers. The effect is almost like your home is talking to you (like the computer on Star Trek)…pretty neat!
So check out these new products from Josh. You can get more details here: josh.ai/keynote.