Ingram Micro, Inc. released the financial results for their fiscal third quarter (the period ending Sept. 27, 2014) showing generally positive results. Sales for the quarter increased to $11.2 billion, a $1 billion or 11% increase over the $10.2 billion for the same period last year. According to Ingram Micro CEO Alain Monié, the increase was due primarily to "new wins" and "strong market share."
But while gross profits were up, gross margins, operating income, and net income were all down for the period…and that fact led us to take a closer look.
See our report below on the financial results for Ingram Micro…
From the looks of it, Ingram Micro had a very busy third quarter this year. And even though their results are somewhat mixed, the company is declaring victory on the sales front…and noting that they are beginning to glean benefits on the back-end (profits) thanks to, among other things, improved efficiency from their global organizational effectiveness program.
However, most of the company's analysis showing progress on the profit side of their business comes from the use of what is called non-GAAP analyses. What is non-GAAP, you ask? Public companies must report their results using generally-accepted accounting principles (GAAP) by the Securities and Exchange Commission. These are a set of rules, processes and procedures that standardize the accounting principles used by companies to calculate and report their results.
Falling into the GAAP…
However, many companies also provide investors with additional non-GAAP analyses of their results – pulling out certain variables to yield what the company suggests is a more accurate picture of their performance. For example, Ingram Micro's non-GAAP items excluded:
amortization of intangible assets
charges associated with reorganization, integration and transition costs and other expense reduction programs (like their global organizational effectiveness program)
a benefit related to the receipt of an LCD flat panel class action settlement
the impact of a reserve recorded for estimated potential charges releated to indirect tax declarations in Europe
foreign exchange gains or losses related to the translation effect on Euro-based inventory purchases in Ingram Micro's pan-Euroean entity
Looked at this way, the company said it booked a non-GAAP operating income of $161 million this quarter. That figure represents a 19% increase over the non-GAAP operating income of $135 million for the same period last year. But critics of non-GAAP reporting say it is nothing more than an attempt to mislead investors by trying to make bad numbers look good.
But looked at the other way…
Ingram Micro's picture changes, for example, when looked at using the mandated GAAP standards. In this case, operating income for the third quarter came in at $120 million – down 13% from the GAAP operating income of $138 million last year. Operating margin as well – already a razor thin 1.36% in the quarter last year – dropped another 29 basis points to come in at an even thinner 1.07% for the quarter this year.
It is the same sort of relationship with net profits as well. Third quarter non-GAAP net profits – the company says "benefited from strong operating leverage" – came in a $98 million or 62 cents per share, an 18% increase over the non-GAAP net profit of $83 million for the same period last year.
The results flip upside down…
But again, on a GAAP basis, that result flips. For the quarter, GAAP net profit was $72 million or 45 cents per share, 9% down from the GAAP net profit of $79 million or 50 cents per share for the same period the year before.
Ingram Micro noted that the quarter this year was impacted by a $16 million increase, to a total of $27 million, in reorganization, integration and transition charges. The quarter was also impacted by a $3 million increase, to a total of $15 million, in amortization of intangible assets.
Says Alain Monié, CEO of Ingram Micro, in a prepared statement:
"We delivered strong third quarter financial results as we continue to take advantage of market opportunities to drive very solid revenue growth, improved returns and robust earnings growth and leverage. Revenue grew 11% and strong operating leverage led to a 19% increase in non-GAAP operating income. We are benefiting from new wins and strong market share and we are enhancing earnings power through disciplined cost management and execution on our global organizational effectiveness program. We also maintained our focus on optimizing the balance sheet, generating cash flow from operations for the quarter while growing the business significantly,. I am very pleased with our third quarter performance, which reflects the strength of our diversified geographic reach, solutions portfolio, world class partnerships and strong execution."
The company additionally noted eight key accomplishments during the quarter:
The company acquired Turkish distributor Armada
Ingram Micro now sells IBM SoftLayer cloud services
The company has partnered with Microsoft to sell its Cloud Service Provider
Ingram Micro's CloudBlue IT asset disposal company won a contract with a Fortune 100 company to provide asset disposal services in India
The company went live with its Shipwire web-based logistics platform at its Sydney facility
Ingram Micro expanded its device recovery service operations in Plainfield, Inc. It expects to refurb or recycle 40,000 mobile devices every day in North America
The company added Google's Chromebook; And it signed agreements with 65 channel partners to sell Chromebook into the K-12 education market
Ingram Micro added Alcatel One Touch handsets in India
However, a deeper dive raises questions…
CEO Monié said in his statement that their earnings power was enhanced thanks to "disciplined cost management and execution on our global organizational effectiveness program." But in a deeper dive in the reams of financial data…it's hard to share his enthusiasm. In the GAAP financial report for the quarter, for example, each and every operating expense item increased at a pace faster than revenue growth.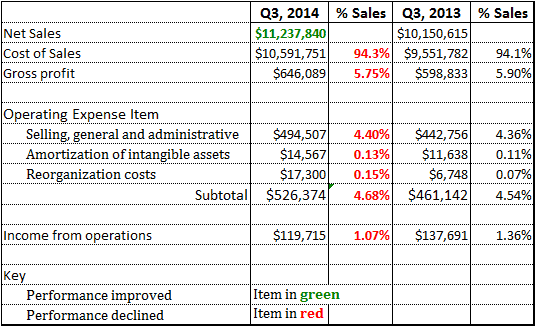 Every operating expense increased both in real dollars – and as a percentage of sales. This means that every one of these expense items is taking a larger bite out of every revenue dollar generated this quarter…as compared to the same quarter last year.
Reorganization costs are way up: Breaking up is hard to do…
Notable among these expense items is reorganization costs which came in at $17.3 million in the third quarter. That is an astonishing 156% higher than the $6.7 million in reorganization costs the same quarter last year.
Not only that, but with the only exception of net foreign currency exchange, every cost in the "other expense" category also increased. And, as we mentioned, these all served to cause the net income to decline as well.
Product line mix issues depresses gross margin…
Ingram Micro noted that the gross profit margin declined slightly due to "a greater mix of high volume sales, particularly in mobility and systems." Presumably, "high volume sales" is a reference to lower margin items as mobility products are known to exhibit.
In a conference call with analysts and investors, Bill Humes, Ingram Micro CFO said, "During the quarter, we had very strong new sales into Verizon channels which was accretive to the consolidated operating margin, but had a negative impact of around 10 basis points to Q3 gross margins."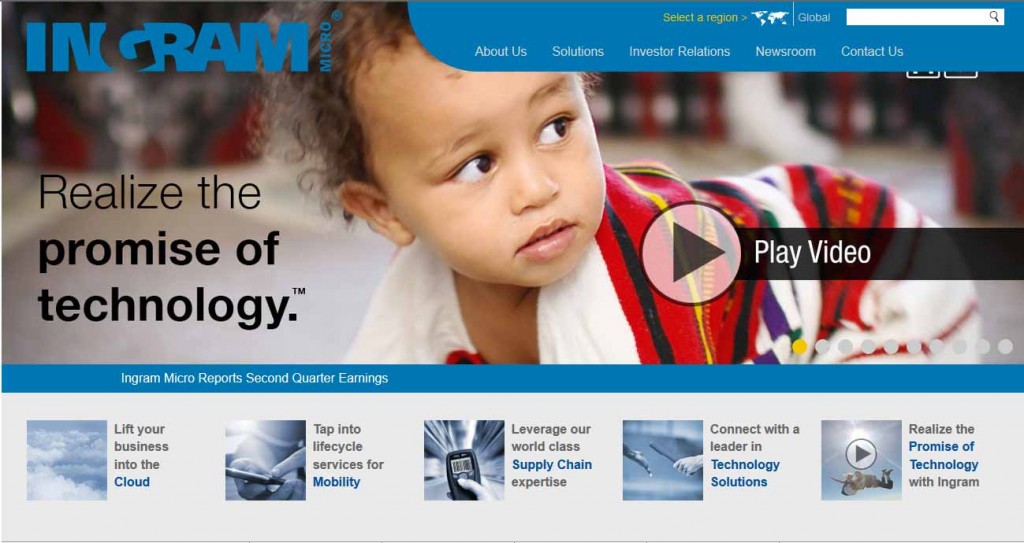 The business model is changing…
Ingram Micro is in the middle of a significant transition to its business model. This transition includes adding in-house services and selling services for itself and many of its partners. These sales tend to have higher margins and could become a major contributor to overall margins. But clearly this is still a work in progress.
"We continue to benefit from stronger sales in higher margin strategic areas, such as mobility services, advanced solutions, supply chain services and cloud – all of which are growing at or above our longer term annual compound growth rate targets," Hume told analysts. "While growing strongly, revenues from these business are relatively small."
Still, mostly a box mover…
So Ingram Micro still remains largely a box mover. The executives during the Q&A period – at times sounding slightly defensive – noted some of the stresses and strains to its results as it "invests in growth." And by this reference they mean, for example, the increasing shipments to Verizon retailers as well as ramping up some of its previous acquisitions.
"Obviously we have to continue to invest in structural costs when you have nearly a 200% growth rate in an area," Hume said in response to a question from an analyst from Citi. "And [we have to] be prepared to serve the business going forward in its magnitude that it is. Overall I would expect we've built up our structure fairly well – its very profitable, even with that."
In addressing the big picture, the company expressed satisfaction with its results to date. And it is optimistic going forward – forecasting a Q4 increase in revenues of between 8% to 12%. But for earnings, Ingram Micro gave a guidance only for non-GAAP earnings per share, saying they will come in between $0.95 to $1.02.
For more information on Ingram Micro, see: www.ingrammicro.com.