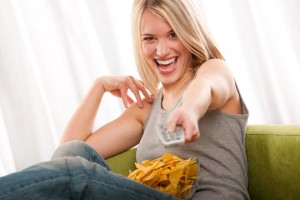 One of the more interesting stops we made during our rounds at last month's 2012 CEA Line Show was to see a new company with a brand new product not yet on the market…but coming soon. That company, Engage Audio Design, has announced and shown a simplified total home theater package called Unity Home Theater. If the actual shipping product adheres closely to the prototype shown at the show – they just may have a real winner on their hands!
What's so great about Unity? You've got to read on…
It's a simple concept really. Owner Todd Beauchamp – a man with an interesting background (see below) – wanted to create a complete home theater system that was easy to set up, easy to connect, easy to use, and sounded good. Simple…right? Like a home-theater-in-a-box (HTIB)…right? Wrong!
Not your father's HTIB…

First of all, HTIB's are often not simple to hook-up. Due to their typically designed-by-committee process, most HTIB's are ugly, come in all kinds of different configurations, and are necessarily designed with complex "jack pack" flexibility since they don't know what type of equipment it will be hooked up with.
Oh yeah, and as our industry always likes to do…most HTIBs are designed to hit popular price points and manufacturers are only too happy to compromise on sound quality and convenience in order to do so. You still have a rat's nest of wires dangling, along with multiple remotes to operate your various devices, confusing hook-up, ugly design, and all-too-often, poor sound quality to boot.
Unity's secret formula…
Unity reworks the formula. All you do is place any make or model of flat panel HDTV (up to 60-inches in size), on top of the Unity stand…plug in one HDMI cable…and then you have to…wait a minute, you're done! From everything in boxes to enjoying your favorite Blue-ray movie is only 15 minutes, according to Engage.
Basically, Unity is a nice, contemporary-design TV stand with a high quality home theater – electronics and speakers – built-in. And this isn't just a cheap setup with crappy components. Included in the electronics are a Blu-ray/DVD player, full Dolby and DTS surround formats, 100 watts x5 Class D power, Bluetooth technology, iPod/iPhone connectivity, and Ethernet.
Powerful system…hidden wires…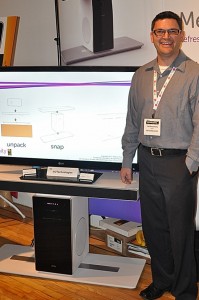 Add to this, fully integrated dual 10-inch subwoofers, dual downward-firing 5 ¼-inch mid-bass drivers, and left/center/right speakers built-in the shelf holding the TV. Also included in the system are two wireless surround speakers whose drivers are matched to the front channel speakers. All-in-all…a relatively compact powerhouse.
AND (my wife would love this)…since all of the interconnections are done internally – no visible rat's nest of dangling cables. This provides for a very clean visual – which is heightened by the very attractive finish. Unity Home Theater is available in an attractive, high-gloss white or black finish. MSRP is expected to be $999.


Oomph…
Because of the noisy and cramped environment, we were unable to objectively audition the Unity. But from what we could hear, it sounded very promising with full range frequency response, plenty of oomph for sound effects, intelligible dialogue…we are favorably impressed with what we WERE able to hear.
Elegant design…high quality performance…simple operation – does this remind you of anyone?? Remember I mentioned that Todd Beauchamp had an interesting background? Beauchamp, before he became President and Founder of Engage Audio Design, worked for Apple. And at Apple Beauchamp ran their Acoustic Labs and was directly responsible for product development and testing for more than 20 Apple inventions such as iPads, iPhone, and iPod. Acoustics is his occupation…home theater is his passion.
For more information on Unity Home Theater, see: www.in2technologies.com/engageunity/