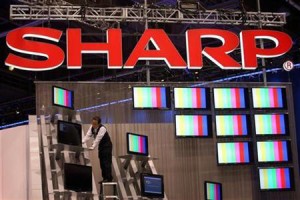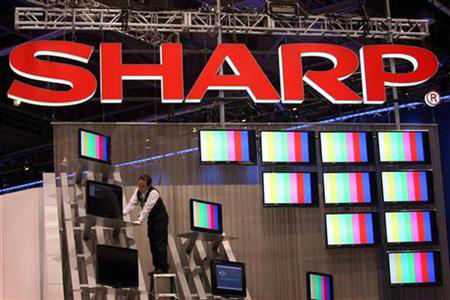 Sharp Corp. announced this week the worst net loss in its long corporate history for the fiscal year that ended March 31, 2013. Booking a net loss of ¥545.35 billion ($5.4 billion), the company has aggressively moved to shake up the company management replacing both the President and Chairman in a rare (for a Japanese company) public rebuke of company leaders. And in what may be a signal to the market, the new President has no ties to the company's TV business…and he's talking tough.
See more on this worse-than-expected result…
The fact that the struggling electronics behemoth ended up with a net loss for the last fiscal year was not a surprise – but what was a surprise was how big the net loss was. Analysts were expecting a net loss on the order of about ¥450 billion, which would have been bad enough. But this was much worse, and it represents a real black eye considering how hard management appeared to be working to improve their operations.
As a result, the company has announced it will replace the current President Takashi Okuda with Executive Vice President Kozo Takahashi, 58. This move caps a year where Okuda spent the bulk of his time in a global scramble to raise cash through a variety of deals from around the world with Taiwan's Hon Hai Precision Industry Co. Ltd., America's Qualcomm, and South Korea's Samsung. Yet in spite of his efforts, the company remains in a cash crunch and dependent of further debt borrowings to continue operations.
The clock is ticking…
The clock is ticking – or is that a time-bomb – as the company, to obtain significant loans, has signed restrictive covenants with a major banking consortium that promises it will achieve profitability in fiscal 2014 – that's THIS year. They are already a month-and-a-half into the new fiscal year and reforms enacted by the company have not yet driven them to the promised profitability.
It is unclear what the consequences would be if the company failed to adhere to their financing covenants – but its safe to say that nothing good would come of it. The banks are so concerned that they have assigned bank executives to operating roles within Sharp management – a highly unusual move that indicates the degree of the bank's anxiety.
The right move…at the wrong time…
As Takahashi moves into Okuda's old President's seat, Okuda will replace Mikio Katayama who is Sharp's current Chairman. Katayama, according to Dow Jones, was the executive who, as a former President, oversaw the company's aggressive move to open a huge LCD manufacturing plant just as that market was about to hit a downturn in sales and profits. The company spent billions of dollars building the state-of-the-art facility, but most analysts view this move as a failed strategy.
In another sign of the short leash to which Sharp executives find themselves tethered, Okuda will become a Chairman without representative rights. This makes his position largely ceremonial.
Both the President and Chairman changes will take place after Sharp's shareholder's meeting on June 25th.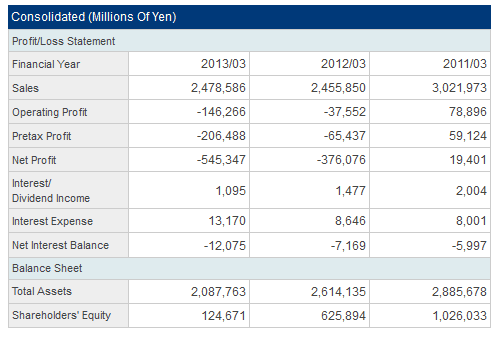 An accelerating trend…
This large net loss indicates an accelerating trend as the company lost ¥376 billion the previous year. Similarly, the company generated an operating loss of ¥146.3 billion which was substantially worse than the ¥37.6 billion loss the previous year.
Sharp, like many of the other Japanese television manufacturers have struggled over the last year or two with intense competition by aggressive rivals such as Samsung and LG. This hyper-competitive environment depressed flat-panel TV profits while at the same time consumer demand began to roll off. In addition to this, the dramatic appreciation of the yen versus other world currencies, hurt Japanese companies competitiveness and profitability.
It can't get worse…or can it?…
But on top of all of these factors, Sharp is one of the more significant suppliers to Apple, Inc. And as Apples has seen demand for their iPhone and other products roll-off, suppliers like Sharp have been hit hard.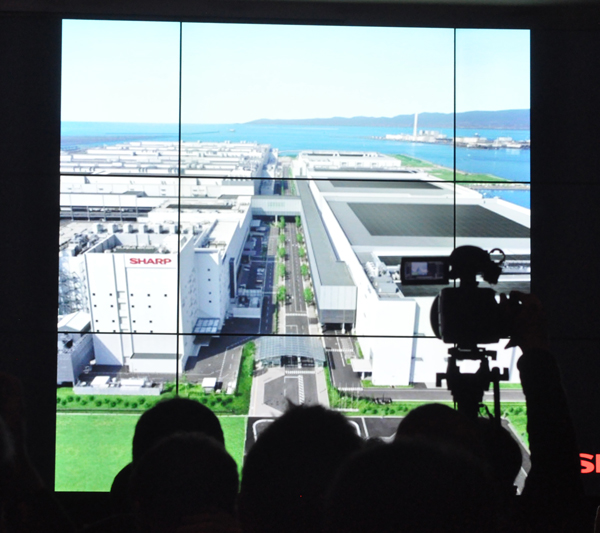 As two years of significant losses drained the company's cash resources, investors in Japan are suggesting that the company is woefully under-capitalized. Dow Jones noted that Sharp's liabilities at the end of March were nearly ¥2 trillion. This level is 10 times the amount of cash and cash equivalents the company has on hand.
Waning financial health…
Sharp's equity ratio – a closely watched indicator of financial health – is 6%. Says the Dow, "A ratio below 10% is considered dire." By comparison, Panasonic's capital ratio this past March was 23.4% and the company has announced plans to raise this ratio to 30% by 2015.
The company appears to be sweeping the decks to clear the way for the company's new President. Not only will current Chairman Katayama step aside, but according to the Nikkei, special adviser Haruo Tsuji and corporate adviser Katsuhiko Machida will both resign their positions with the company. Notably, all three of these gentlemen are former company Presidents.
Could be a signal…
Still, new President Takahashi will have his work cut out for him. Takahashi came up through the ranks at Sharp with extensive experience in their white goods and copier businesses. According to the Nikkei, he never held a position in their television or digital-goods segment. This may be a signal of a new direction for the company.
Perhaps recognizing this significance, Takahashi was quoted as firmly declaring that he will "part ways with Sharp as we know it."
He's the only one…
Takahashi also has international experience – he worked in Sharp's U.S. operations for two years. He is said to be a strong and savvy negotiator. In fact, he has been on a management fast track for some time now and is recognized to possess strong management skills.
"He's the only one who could handle being president of today's Sharp," a senior executive for a big creditor bank told the Nikkei.
But…the clock…is ticking…
See more of our Sharp coverage:
Simply click on "Sharp" in the Tag Cloud in the sidebar on the right of this page to see more of our extensive coverage of Sharp Corp.