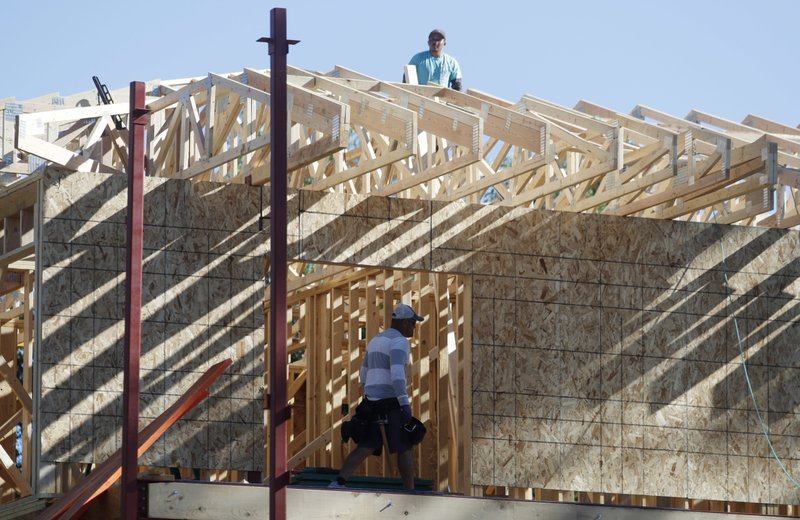 A new report by the U.S. Census Bureau and the U.S. Department of Housing and Urban Development notes that residential housing construction starts (housing starts) has taken a pretty severe downturn in May with overall starts sliding fully -14.4%. This is yet another indicator of the slowing growth in the housing market, as rising mortgage rates, overall inflation, and high housing prices begin to cool the once red-hot housing market.
See all the details from the latest report on housing starts…
Residential construction, a key economic component of the U.S. gross domestic product, has begun to cool off over the last couple of months now, as multiple economic variables come into play to cause buyers to back away from housing. According to the latest report, overall housing starts in May came in at a seasonally adjusted annual rate of 1.549 million units, or -14.4% lower than the 1.810 million units in the revised April report. May's figure was also -3.5% lower than the 1.608 million units started in May 2021.
Residential construction is often viewed as a leading indicator for the consumer electronics industry, and especially custom integration, as buyers of new houses typically invest in those products – like technology – that will help turn a house into their home. This is especially true of single-family homes which tend to more directly correlate to the custom integration buyer.
Single-Family Starts Off -9.2%
The government says that a total of 1.051 million single-family homes were started in May, -9.2% lower than the revised rate in April of 1.157 million units. And like overall starts, single-family starts in May also were lower than the rate of 1.110 million units started in the same month last year.
A poll of economists by the Reuters News Agency showed that they had expected a decline in May, but a more modest one of a drop to 1.701 million units for overall starts.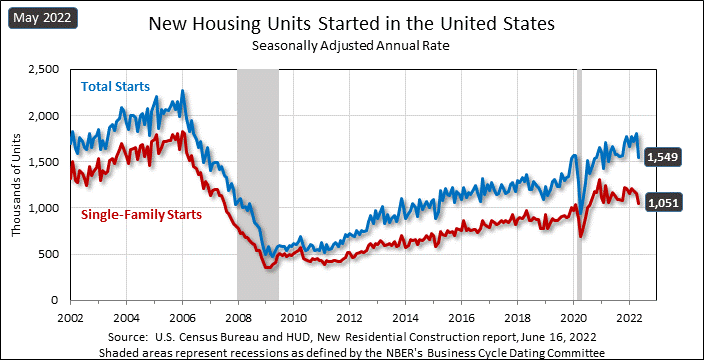 Housing Data from Multiple Reports Point to Downturn
There have been a plethora of new housing reports that when taken together clearly describe a housing market in decline. First I reported the April housing starts in this report which also reported on a survey of home builder sentiment, which hit its lowest level in two years. In a separate report, I told you about the double-digit decline in sales of newly constructed homes.
Finally, just last week I reported on the decline in sales of new luxury homes, which helped to establish that the housing slowdown is not just impacting first-time or entry-level buyers, but luxury home shoppers as well.
Permits for Future Projects are Down as Well
From the looks of things, this housing downturn will continue for some time to come. The latest reading on permits issued – a leading indicator of future housing construction activity – also showed substantial decreases.
Permits issued overall declined in May to 1.695 million units or -7.0% below April's rate of 1.823 million units. Permits issued for single-family homes also declined, coming in at 1.048 million units, or -5.5% below April's rate of 1.109 million units and -7.9% below the rate of 1.138 million units in May 2021.
Looking at housing starts on a regional basis, we find that the only region really rocking was the Northeast, which saw starts grow +14.6% and +5.5% for overall starts and single-family starts respectively. The next best region on overall/single-family starts was the Midwest with +1.9%/-5.9%…followed by the West with -17.8%/-11.8% and the South, which was really hammered at -20.7%/-10.0%.