Hisense is Said to be 'Defiant'
News sources in Japan are reporting that Hisense has fired back at newly aggressive Sharp negotiating tactics, saying firmly it will not relinquish the licensing rights to the Sharp brand name in North & South America, as the company has recently requested. Hisense paid heavily to obtain those rights, and despite the fact that Sharp has asked to terminate the deal, the company has no intention of doing so no matter the offer – or more recently – no matter the threat from Sharp.
See more on this developing Sharp soap opera…
In 2015, China's Hisense was a company bent on global expansion. So when Sharp was in a cash bind and decided to withdraw from the North American market and license their brand to a third-party – Hisense jumped at the chance.
The deal involved buying a Sharp TV manufacturing plant in Mexico, and the rights to the name in North and South America (with the exception of Brazil). The parties cut a five-year deal granting the rights to the Sharp brand name for a payment of $23.5 million. It was the perfect deal – Sharp desperately needed cash, and to cut overhead – Hisense needed a quick path to expansion in the largest electronics market in the world.
Now Under Foxconn, Sharp's Negotiating Tactic Get more Muscular
Sharp itself was in the process of being acquired by Taiwan's Hon Hai Precision Industry, better known as Foxconn. Once the deal was closed and Foxconn took control of Sharp, the company moved aggressively to try to undo several of Sharp's previous cost cutting steps. Some say these new moves are a reflection of the style of Foxconn chairman Terry Gou, who is said to be a very aggressive negotiator.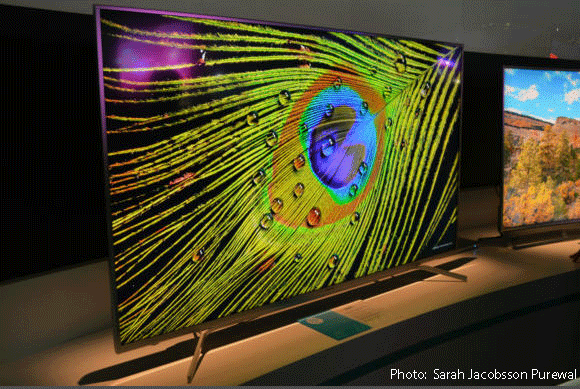 With Sharp firmly in Foxconn's grip, the company appears to have adopted a much more vigorous negotiating style. In recent days, for example, the company created quite a stir when it notified its largest customer, Samsung Electronics, that it will no longer supply it with LCD panels. The move was said to be in the wake of unsatisfactory negotiations over the pricing included in a new supply contract.
A 'Carrot and Stick' Approach
Then, after an unsuccessful attempt to buy the licensing rights back from Hisense in 2016, Sharp took the same tactic they used with Samsung – notifying the Chinese brand that they would be terminating the supply of LCD panels to the Sharp licensee.
Apparently, according to a report by the Nikkei, Hisense Group President Liu Hongxin will not relinquish the license of the Sharp brand as their deal appears to be working well, as managed by their company. And they so much as told Sharp that, back in October when Sharp's new management approached them about buying back the license. It was after this rebuff by Hisense, that Sharp decided to cease their supply of LCD panels.
Hisense to Follow the Contract 'to the Dot'
Now, Hisense's President for the U.S. market has reiterated the company's stance in the wake of the new threat by Sharp to terminate their supply of LCD panels used in the TVs.
"We will follow the contract to the dot," Liu told reporters last Wednesday in Las Vegas for the CES trade show.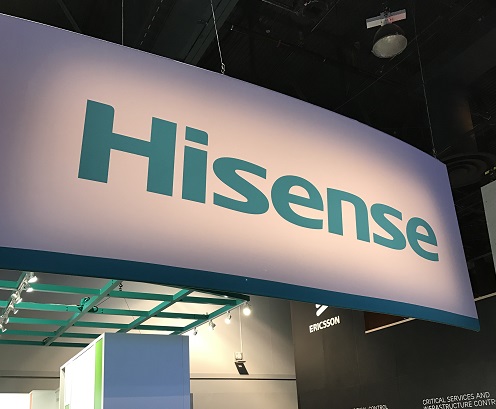 But when asked about the loss of Sharp as a supplier of LCD panels, Liu replied: "We have many suppliers, and we have our own brand and our own technology. Foxconn is only a supplier, and they don't supply all that much to us, but again we still have a partnership with them."
Marketing Products Under Both Hisense and Sharp in N & S America
Hisense's strategy for the North and South American markets is to market products under the Hisense brand name as a hip, young brand. The company is targeting Sharp-branded models to an older, more professional crowd.
In the meantime, Foxconn recently released a couple of important announcements that may be pertinent to the situation. First, Foxconn has signed an agreement in China to build an $8.8 million advanced panel manufacturing facility in Guangzhou in southern China.
Foxconn's Sales are Off
And the second announcement? For the first time in Foxconn's history, it has reported an annual sales decline. The company said its sales last year were $136.38 billion, down 2.8% from sales in the previous year.
So where Terry Gou and Sharp go from here is going to be interesting to watch. These are high-stakes games with big winners…and big losers.
See more about Hisense and its products at: www.hisense-usa.com.