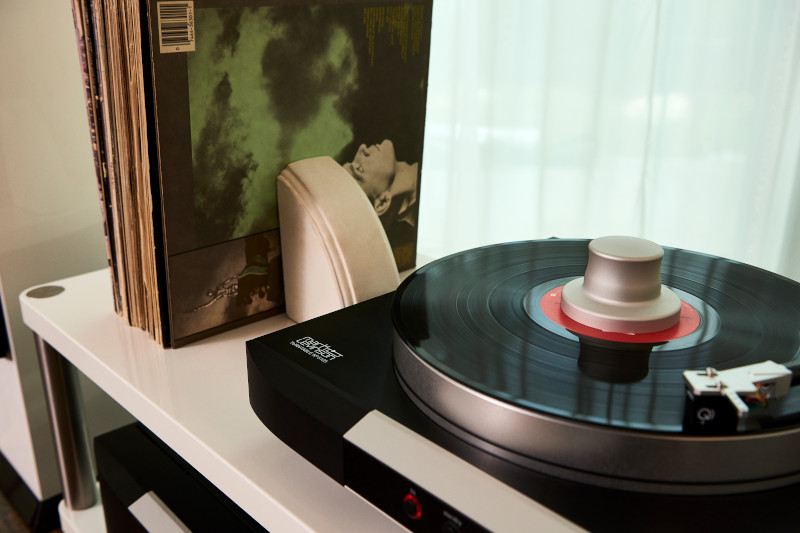 Last week, in dramatic fashion, Harman (part of Samsung) brand Mark Levinson announced the launch of an entirely new 5000 series family of products, whose lower price tag is designed to appeal to an expanded share of the market of audio enthusiasts. In a combination of well-produced video segments, coupled with live presentations to the industry media, Harman executives laid out their vision for the brand and presented the details of the engineering and craftsmanship behind their new line of electronics and sources that included a preamp, power amp, turntable and streaming SACD player
Learn more about the new Mark Levinson 5000 Series…
The press presentation was being streamed live from the Harman Experience Center in their Northridge, CA offices and the event "host" was David Tovissi, Vice President and General Manager of Harman's Luxury Audio division. It was pretty clear that the company viewed this launch as one of the more significant events in the nearly 50-year history of the brand.
Tovissi told the reporters that the brand has always been "driven by the unwavering belief in the transformative power of music."
Today, with everyone spending more time at home, music has been a source of hope. Human beings have always had a profound connection with music. If there is one thing this pandemic has taught us, it is that music matters…and now, more than ever."

David Tovissi, Vice President & General Manager, Harman Luxury Audio
Offering More Affordable Models to Attract Broader Consumer Market
This new series of products join the 5805 and 5802 integrated amplifiers, which were launched last year. Since that launch, the company has worked diligently to complete the line with separates – and their first source units.
So let's get this out there first thing, this 5000 series is a lower cost system than their previous 500 series line. No doubt, this fits into their strategy of broadening their potential market by offering greater affordability for that next, more mainstream tier economic demographic.
Company: Maybe Lower Cost, But Not Lower Quality
Perhaps hoping to counter any questions surrounding their new lower priced line, Director of Engineering Todd Eichenbaum – speaking from their engineering center in Shelton, CT – said this new line offers the same "full Mark Levinson experience" as the more expensive 500 series predecessor. How is that possible? A little engineering magic and a lot of innovation closed the gap, Eichenbaum suggested.
The Mark Levinson engineering team decided early on, that they would not seek to lower the cost by just removing elements from the more expensive 500 series. It was clear that they needed all new engineering to lower costs without lowering quality.
Started From Scratch with New Circuit Designs
The result was all new circuit designs for all stages of the first 5000 product, the 5805 integrated amplifier. According to the Director of Engineering, it's subjective performance was the closest thing he has ever heard in comparison to the company's 500 series line. Were these changes truly "innovative?" Well, the engineering team received two patents on their all-new circuit designs – so that's something.
And with that accomplished, next up is to apply those lessons to the other products needed to fill out the line. Here then is a model by model overview…
No. 5206 Preamplifier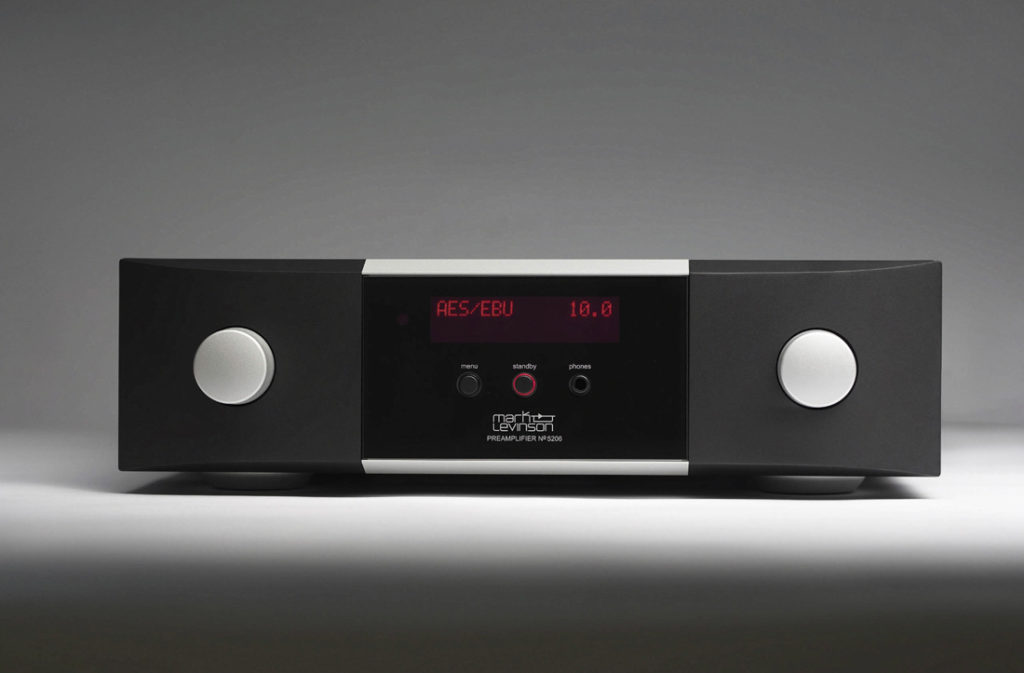 I start your overview with the No. 5206 Preamplifier. While the amplifier may be the muscle of the system, the preamplifier is the finesse – and the primary human interface that largely defines the quality and usability of the entire system. The company says that this new design is largely derived from the "highly-acclaimed Pure Path design philosophy" it is known for. It says that the No. 5206 Preamplifier "delivers all of the performance and quality expected from Mark Levinson at exceptional value with a price of $9,000."
The modern industrial design is equal parts beefy/manly and elegant/modern…stylish in its own right. There is, as you might suspect, a long list of features. Below are a selection of some of the key features…
Fully discrete, direct-coupled, dual-monaural, line-level circuitry design
Single gain stage coupled to digitally controlled resistor network for high quality volume adjustment
4 stereo line-level inputs (2 balanced w/XLR and 2 single-ended with custom Mark Levinson RCA connectors) each with its own signal switching relay
MainDrive headphone output with a preamp output stage possessing the current capacity to drive headphones directly – no need for a separate headphone amplifier
All-new phono stage featuring a hybrid gain topology that couples discrete components (from the 500 series phono preamp) with premium, low-noise integrated circuits "for high performance at a lower cost"
Hybrid active/passive RIAA equalizer with premium electrical components
2 stereo pairs of variable line-level outputs – balanced XLR and single-ended RCA
Precision Link II DAC with ESS Sabre Pro series 32-bit D/A converter with jitter elimination circuitry and 5 independent power supplies
6 digital audio inputs – 1 AES…2 coaxial and 2 optical S/PDIF…and 1 asynchronous USB for high-res PCM (up to 32b/384kHz) and DSD up to 11.2MHz) files
High quality Bluetooth input with aptX-HD decoding
Includes MQA (Master Quality Authenticated) technology
Key ports include: Ethernet, USB, RS-232, IR input, and 12V trigger input and output
1-inch thick, bead-blasted, black-anodized, solid aluminum front panel with sleek glass display incorporated
Solid aluminum IR remote is included…also programmable via browser-based interface
No. 5302 Power Amplifier
Without a doubt, the Mark Levinson No. 5302 Power Amplifier is a brute…but it's a nimble brute. The company says that this bridgeable, dual-monaural design delivers a performance "that has become synonymous with Mark Levinson…" with deep, expansive soundstage, accurate image placement and more. Like the No. 5206 Preamplifier, the No. 5302 Amplifier sells for $9,000. Below are the key features…
Fully discrete, direct-coupled, class AB amplifier
Oversized 11VA toroidal transformer with individual secondary windings for left and right channels
Output stage features 2 high-speed driver transistors operating in Class A with 6 260V, 15A output transistors
2 Thermal-Trak devices to guarantee stable output regardless of load or temperature
4 10,000-microfarad capacitors per channel mounted directly on output stage circuit board for high current transfer
Rated power (conservatively, the company says) at 135W/channel @ 8Ω, 270W/channel @ 4 Ω, and 550W bridged mono with stable operation down to 2 Ω
Input connections via 1 pair of balanced line-level XLRs and 1 pair of single-ended RCAs
Output connections are 2 pairs of high-current, multi-way binding posts
System interfaces include Ethernet, USB, RS-232, IR input, and 12V trigger input and output
No. 5105 Turntable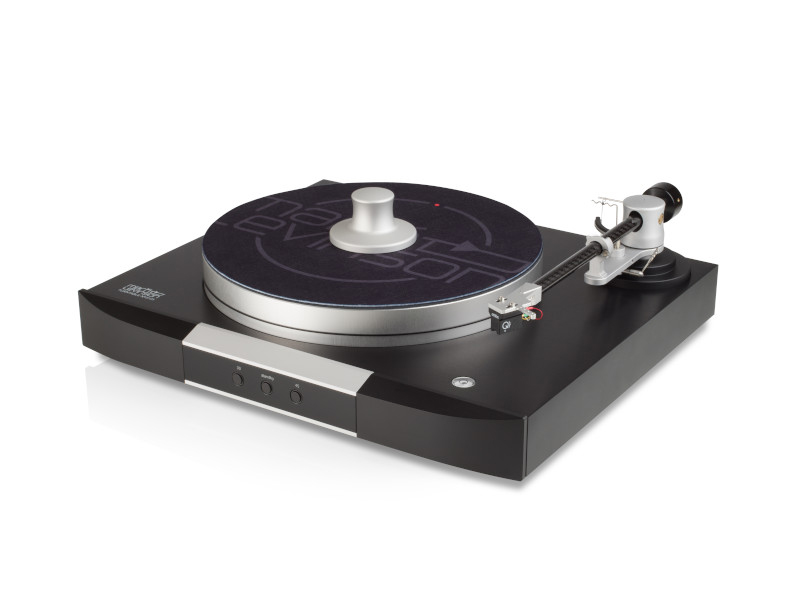 The first new source in the 5000 series is the No. 5105 Turntable. Like the other models in the line, the design of the turntable seems to project a balance of performance and grace. The company says the No. 5105 "turns heads for visual and audio excellence."
Available for $6,500 without a cartridge (add your own) or $7,500 with a factory calibrated cartridge. Harman executives call the No. 5105 turntable "an heirloom investment," adding that "analog has a warmth and depth that cannot be synthesized." Below are some of the key features…
Built on a 2-inch thick, solid aluminum plinth machined from a single billet
Plinth rests on 3 adjustable aluminum feet with a "mixed-material" internal suspension system
Front panel is made of a 1-inch thick, bead-blasted, black-anodized solid piece of aluminum, with a tinted glass display
Comes with a record weight that reflects the iconic Mark Levinson hourglass knob design and made from bead-blasted machined aluminum in a curved profile mass loaded with solid brass
Custom aluminum dual-axis tonearm gimbal
10-inch high-gloss black carbon fiber tonearm fused to a solid aluminum headshell
14lb solid aluminum platter suspended on a hardened steel axle with ultra-precise bearings
12V synchronous motor controlled by a digitally generated signal immune to temperature drift
Includes a custom Mark Levinson platter mat which along with the owners manual comes in a package designed and dimensioned to mimic a dual album record cover
Available with a factory installed Ortofon Quintet Black S moving coil phono cartridge; Can also be purchased without a cartridge
No. 5101 Streaming SACD Player and DAC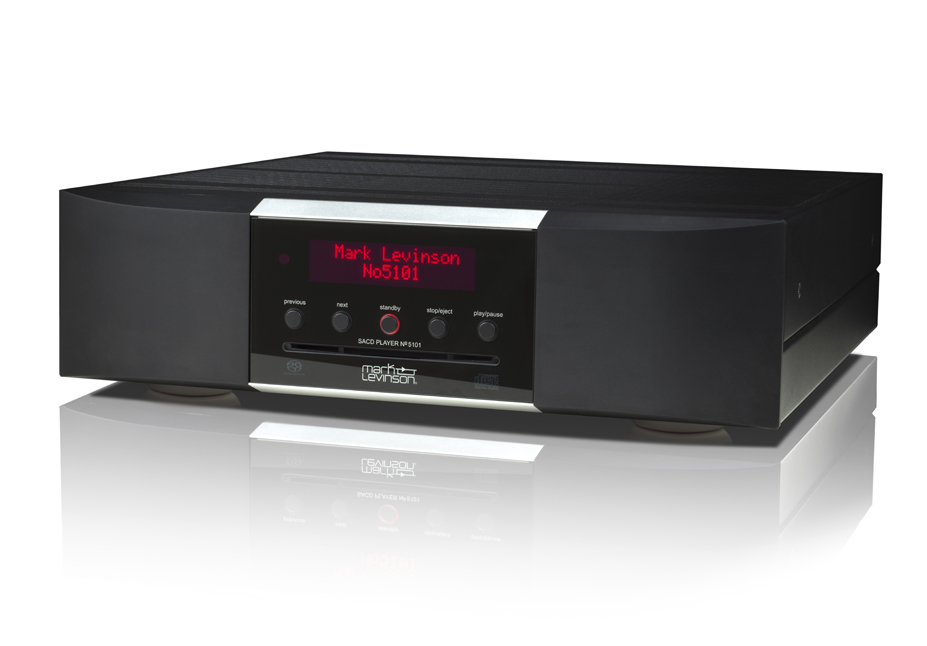 Rounding out the line's new source options is the Mark Levinson No. 5101 Streaming SACD Player and DAC. This digital jack-of-all-trades offers tremendous flexibility and support for today's high quality physical media, digital media, digital streams and sources – but it does so with no trade-off in performance quality. Utilizing many of the same technologies from the other products in the 5000 family, the No. 5101 is the perfect blend of standalone CD playing along with networked and streamed sources from around the internet and sells for $5,500.
The company says that the No. 5101 is designed to "deliver digital content with the best possible quality and convenience for nearly every digital audio format." Key features of the No. 5101 Streaming SACD Player and DAC are shown below…
Built-in transport to play SACD, CD-A, CD-R, and CD-RW discs
Network streaming via Wi-Fi or Ethernet
Natively supports FLAC, WAV, AIFF, OGG (up to 24bit/192k), AAC (up to 24 bit/96kHz), DSF, and DFF up to 5.6MHz (DSD128/DSD2X) as well as WMA and MP3 formats
Network streaming is accessed via a mobile app (Android and iOS)
Major streaming services can be accessed, such as Tidal, Deezer, Qobuz, and Napster…as well as a plethora of podcasts and radio stations from around the globe
Unit can access digital music files from Network Attached Storage devices…as well as a connected USB flash drive
Features Mark Levinson Precision Link II DAC with 5 individual low noise voltage regulators powering the ESS Sabre 32-bit PRO series D/A converter
PurePath circuitry
Fully discrete, direct-coupled, dual-monaural line-level output circuit
Linear power supply with oversized toroidal transformer
User selectable digital filters – 7 choices for PCM and 4 choices for DSD
Digital inputs include 1 coaxial and 1 optical S/PDIF, 1 USB-A (for flash drive playback), CD/SACD transport, network streaming via Wi-Fi or Ethernet
System ports: Ethernet, RS-232, IR input, and 12V trigger input
Aluminum IR remote control is included
1-inch thick, bead-blasted, black-anodized, solid aluminum front panel with glass display
Big Push Planned: Company Plans 'Millions of Dollars in Marketing Investment' to Broaden Customer Base
In about a year, the company has gone from just two 5000 series integrated amplifiers…to now six models in the series, including top notch separates and even source devices. That is a big effort in dollars and engineering – these folks are serious about going after this business.
But they didn't just stop with the products, they also gave the gathered media a peek at their plans for selling this line. The company plans to go all out, telling reporters that they are planning to spend "millions of dollars in marketing investment" to build sales of the line.
'Find a Dealer' Tool
This marketing will include a new website, a BIG social media push, lots of digital advertising…including online video advertising. The company is also creating new educational tools to aid dealers in sell-through. They even plan to put a dealer locator – a "Find a Dealer" tool – on their website.
In the question-and-answer session after the formal presentation, reporters had to submit questions via an online tool, and then someone off-camera there in Northridge would ask the question of the on-camera executives. Fortunately, they took a couple of my questions. Mainly, I asked if the company was planning to expand their dealer network in order to go after this broader market to whom they feel this new line should appeal.
Looking to 'Expand Our Portfolio of Dealers'
Tovissi took the question, but looked momentarily flustered – as though he had not anticipated that question. He answered by saying that he believed that this new, more affordable line of audio products will bring new customers to their existing dealers. Perhaps, even, a customer that they are not currently attracting.
Finally, Tovissi went on to say that, yes, the company was planning to expand the number of outlets selling the Mark Levinson line. They would, he said, be working with current and potentially future dealers with the line. "We are looking to expand our portfolio of dealers who offer our products."
Learn more about Mark Levinson and its line of fine audio products by visiting: marklevinson.com.