GoldenEar Technology, the loudspeaker company launched by renowned speaker designer and industry maven Sandy Gross, continues to broaden its line offerings – announcing two new systems at CES 2013 this week in Las Vegas. One of the new models, the Triton Seven, brings Triton technology to new more affordable price points. The other, the SuperSat 60 & 60C satellite & center speaker system, is a step-up over the existing 50-series.
See more on these new GoldenEar models including the surprising new Triton price point…
GoldenEar has been one of the rare success stories in our industry, launching three years ago during a time of great turmoil and economic sluggishness. Founder Gross (who also founded both Polk Audio and Definitive Technology), is well steeped in the ways of the industry's specialty past – and stays committed to an independent dealer network…earning added support from dealers who appreciate his commitment to their channel.
The original GoldenEar products were very well received and Gross has carved out a niche with products offering audiophile-grade performance…with affordable pricing. With these new products, GoldenEar broadens its beachhead by appealing to an even wider market.
GoldenEar's Triton Seven…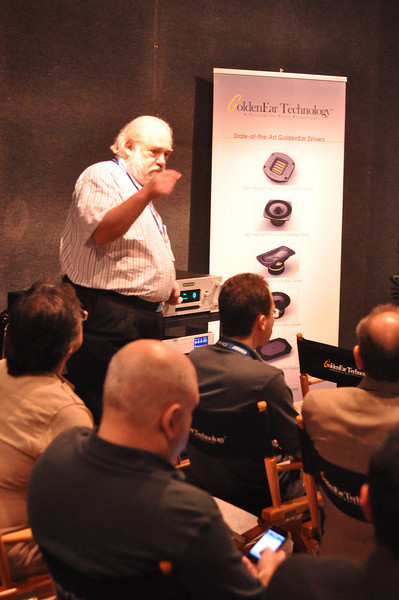 The new Triton Seven borrows heavily by the well-reviewed technology of its big brother, the Triton Two. When GoldenEar first launched the Triton series, some were skeptical as Gross had incorporated a folded ribbon driver he calls the HVFR (High Velocity Folded Ribbon driver). But GoldenEar won over the press and dealers with the remarkable open and even airy sound from a new implementation of a technology that in the past had been widely panned.
The Triton Seven is a smaller, lighter, but still impressive sounding speaker that maintains much of the remarkable technology of the original Triton, although at a much more affordable price point of $699.99 each. (The Triton Two has an MSRP of $1499.99 each.) One thing that had to go to hit this much lower price point was the built-in powered subwoofers.
Some clever engineering…
However, thanks to some clever engineering, the Triton Seven achieves incredibly deep bass (spec'd down to 29Hz) thanks to two side-mounted passive radiators mounted near the floor to facilitate efficient room coupling. These radiators work in conjunction with the 5¼-inch bass/midrange drivers to deliver strong and deep bass extension.
GoldenEar points out that their cabinet is designed with a unique shape for a reason. The cabinet design incorporates non-parallel surfaces to control internal standing waves and features a slight backward tilt for more coherent wave alignment at the listening position. And thanks to a thin front baffle, coupled with a diffraction-free grill design, GoldenEar says the Triton Seven exhibits "boxless imaging." And the piano black finish really dresses up the design.
You're going to want to hear these…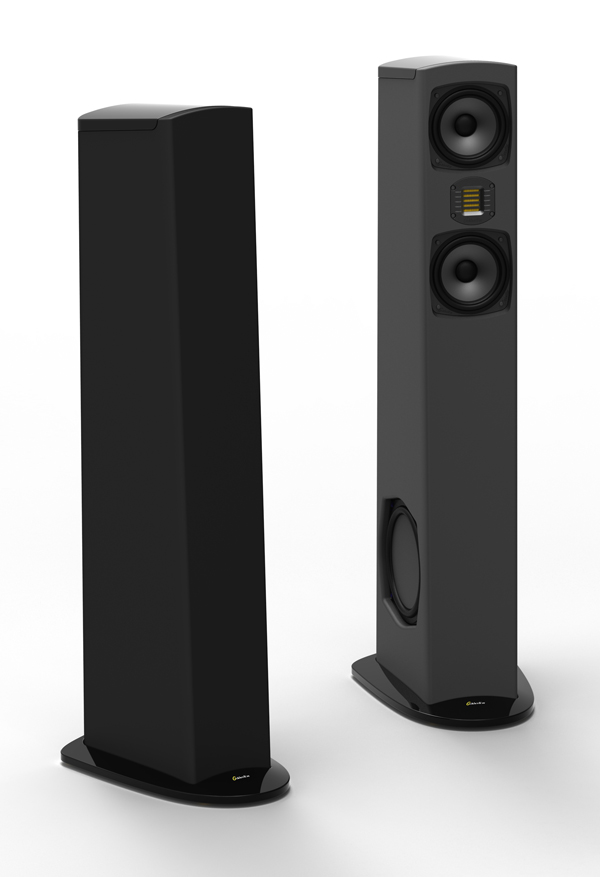 Along with the aforementioned passive radiators, loaded in that specially designed cabinet are a D'Appolito array of two 5¼-inch bass/midrange drivers and the HVFR tweeter. If you haven't heard it yet, we recommend you take advantage of your first opportunity to do so – these tweeters sound sweet (we've auditioned them ourselves.)
GoldenEar says the Triton Sevens are perfect for either stereo music listening, multi-channel music listening, or home theater listening. See the specifications below:
Triton Seven
Frequency response: 29 Hz – 35 kHz
Sensitivity: 89 dB
Nominal impedance: compatible with 8 ohms
Drivers: (2) 5¼-inch cast spiderleg-basket bass/midrange drivers; (1) High Velocity Folded Ribbon tweeter; (2) 8-inch planar passive radiators
Recommended power: 10-300 watts
Dimensions: 40¼-inches (H) X 5¾-inches (W-front), 7¼-inches (W-rear) X 11-inches (D)
Weight: 31 lbs
Availability: Spring 2013
Price: $699.99 (each)
SuperSat 60/60C, TV will never be the same…
GoldenEar is also showing a step-up version of its popular SuperSat 50/50C satellite speakers that are designed for augmenting the sound from your favorite flat-panel television. Called the SuperSat 60 and 60C (a center channel version), GoldenEar has designed a heftier sound system for use in larger systems or rooms.
The SuperSat 60/60C can either be set on (optional) stands, or mounted right on the wall next to – and under/over in the case of the 60C center channel model – around a 60-inch or larger flat panel television. And your television viewing experience will never be the same again thanks to the incomparable GoldenEar technologies incorporated in the 60/60C.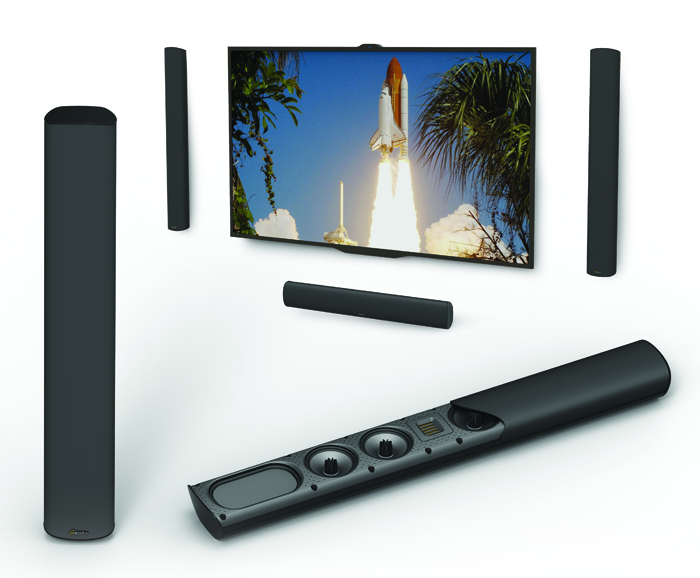 Aerospace cadet…
The company starts with aerospace-grade aluminum cabinet for extra rigidity and longevity – painted in their beautiful piano-gloss black finish. Loaded in this cabinet are four 4½-inch cast spiderleg-basket bass/midrange drivers with Multi-Vaned Phase-Plugs in a two-stage D'Appolito Array. In the center of this array is the GoldenEar HVFR tweeter.
But wait – there's more. Also included in the SuperSat 60/60C are two 4-inch – by – 7-inch quadratic planar passive radiators. And thanks to some magical engineering, GoldenEar manages to do all of this in a cabinet that is so thin, you can mount it on the wall right next to your favorite flat-panel television. See more specifications below:
SuperSat 60/60C
Frequency response: 50 Hz – 35 kHz
Sensitivity: 91 dB
Nominal Impedance: Compatible with 8 ohms
Drivers: (4) 4½-inch cast spiderleg-basket bass/midrange drivers; (1) High-Velocity Folded Ribbon tweeter; (2) 4-inch -by -7-inch quadratic planar passive radiators
Recommended power: 20-300 watts/channel
Dimensions: 35-inches (W) X 2¾-inches (D) X 4¾-inches (H)
Availability: January 2013
Price: $799.99 (each)
You can see and hear these systems at CES, and we suggest you do so. GoldenEar is in the Venetian Suites 30-326 & 30-328.
Get more information on GoldenEar at www.goldenear.com.