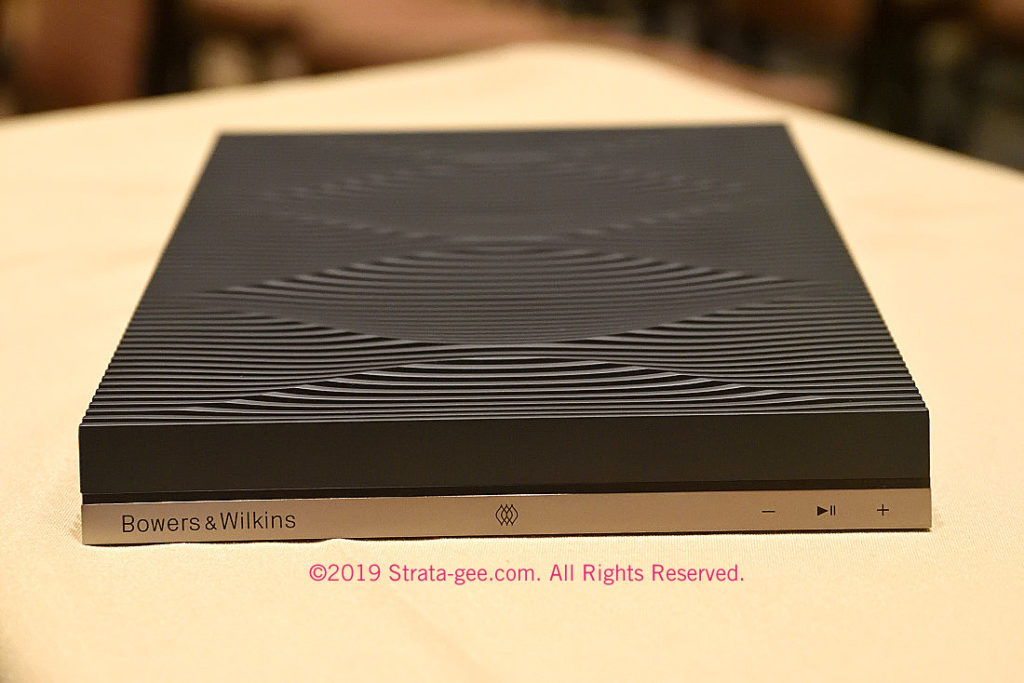 Ever since EVA Automation acquired Bowers & Wilkins (B&W) back in 2016, I have nervously watched to see the impact of this clash of cultures – new wave with old school. Strata-gee had already exhaustively reported on the painful slow-motion train wreck of Thiel Audio – another high-end audio brand purchased by private equity. In that case, its ultimate demise was in part due to the launch of affordably-priced, but common Bluetooth technology speakers relying on the power of the Thiel brand to justify the non-common selling price.
Would audiophile darling B&W suffer the same fate?
See more on B&W's new Formation wireless line…
After watching the crash and burn of Thiel, a company purchased by a private equity group that claimed to love the brand and their products, but wanted to contemporize the line with affordable, decidedly non-audiophile Bluetooth speakers designed for today's market – I was quite nervous when Bowers and Wilkins was purchased by EVA Automation. The scenario was not identical…but similar enough that the future for the revered audio brand appeared to be quite in jeopardy.
Not much was known about EVA Automation, a relatively newly formed company in Silicon Valley that had not produced even one product yet. Still, founder Gideon Yu seemed to be a pretty savvy player in the tech game, and he possessed a full team of engineers…many of whom were ex-Apple.
Super Secret Project
Not long after the purchase, we heard rumors of a secret project that would bring the 50+ year old audiophile brand…into the digital realm. Yu, a former Facebook CFO, was said to be a fan of the B&W brand and he certainly knows today's technology. But would he come out with a cheesy low-priced Bluetooth speaker and try and harvest a bounty based on the past brand reputation of B&W?
Now we know the answer to that. You (and I) can exhale. B&W has launched a well thought-out line of five logically-designed wireless multiroom music models, complete with proprietary wireless technology that is said to enable high-performance, audiophile grade audio performance in a wireless system.
Here is B&W's Formation Suite:
Formation Duo – a surprisingly good-sounding wireless, powered, two-way bookshelf style speaker system. I heard them myself, and the sound was impressive.
Formation Wedge – a wireless, full-range stereo music system that, despite its diminutive size can fill a room.
Formation Bar – Not your grandpa's soundbar, B&W has engineered a soundbar that couples elegant design with surprisingly good sound. Add a subwoofer – er, Formation Bass – to blow your clients' minds.
Formation Bass – With dual opposed drivers, built-in beefy power amplification, and Dynamic EQ, this sub promises to pack a real punch. A great addition to the Formation Bar, but you may be satisfied with the stock Formation Duo as is. That, of course, is up to you…
Formation Audio – A wireless hub that provides connectivity for your legacy analog products. Yes, wirelessly listen to your vinyl anywhere in your home!
Back in February, Strata-gee was the first in the industry to report on the emergence of the Formation name in a post I wrote after a lot of sleuthing. I was also one of the first to report on the launch just this past Monday morning – even though I've gotten quite bloody biting my lip after recently receiving a sneak preview of the line but sworn to secrecy until this past Monday. It's so nice to get this all out in the open!
Mesh, Synchronization & High Resolution Streaming
Not only is this new Formation Suite said to be built on B&W's legendary audio performance, it introduces the Formation proprietary wireless technology, said to reduce inter-speaker synchronization to 1 microsecond or less. The company says this lag is "imperceptible" and will be "industry-defining."
Long the bane of audiophiles who rightly insist on a rock-stable stereo soundstage, previous wireless products suffered from serious and wandering lag times that dramatically deteriorates the inter-speaker synchronization -and negatively impacts the stereo soundstage. You'll get sound…you just won't get audiophile-grade sound.
Class-Leading Audio Quality Performance
The Formation system employs patented proprietary technology that establishes what they call "a robust mesh network" which allows more reliable wireless performance independent of your homes network. According to the company, each device in the network dynamically selects the optimal path to route audio-data between devices in order to ensure a robust streaming experience.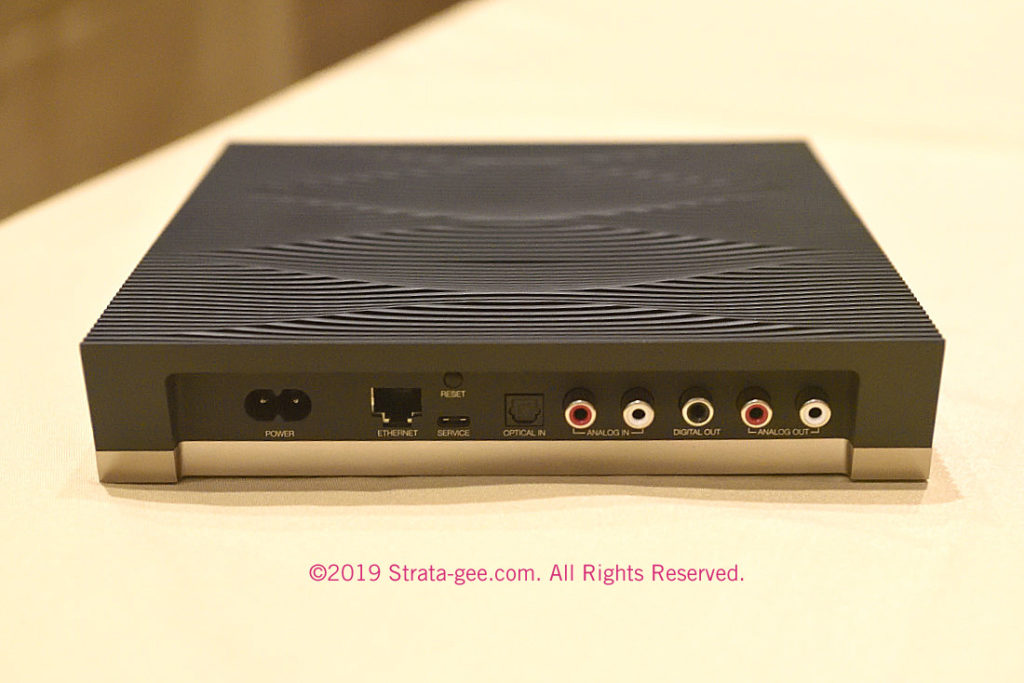 Furthermore, with Formation you are streaming a 96K/24-bit high resolution signal for class-leading audio quality performance. This high resolution streaming is "twice the fidelity than the leading wireless speaker brand" – which most likely is a reference to Sonos.
Why Did B&W Bring Up Sonos?
I don't think B&W has any designs on competing with Sonos, the lines are targeted at completely different market segments…with B&W certainly embracing the high end of the market. But Sonos certainly is the 800-pound gorilla in wireless multiroom music systems, if in the more pedestrian portion of the market.
Formation wireless capabilities include Apple AirPlay2 technology, Bluetooth v4.1, Class 2, aptX HD, SBC and AAC. The system is Roon-ready and offers Spotify Connect. The company plans to license their wireless technology to other companies, much as Bluesound does with their BluOS.
Three years ago, we had the vision to take Bowers & Wilkins 50 years of acoustic history and success and combine it with Silicon Valley automation expertise, creating an amazing user experience that is simple, powerful and incredible to listen to. Today, it's amazing to witness that vision come to life, ushering in the next chapter of sound experience. The Formation Suite introduces consumers to wireless sound technology that is unparalleled in the audio space and showcases the true innovation this company is capable of and this is just the beginning. There is so much more to come."

Gideon Yu, Co-Chairman of Bowers & Wilkins in a prepared statement
A Closer Look at the Formation Suite
Formation Duo – $3999/pr MSRP
I heard these with my own ears and the sound was impressive – deep, rich but authentic. Highs were crystalline but not brittle. I was not in a good spot to determine the quality of stereo imaging, but nothing hit my ears in this brief demo that caused me any pause. Response is down to 25Hz and I believe that!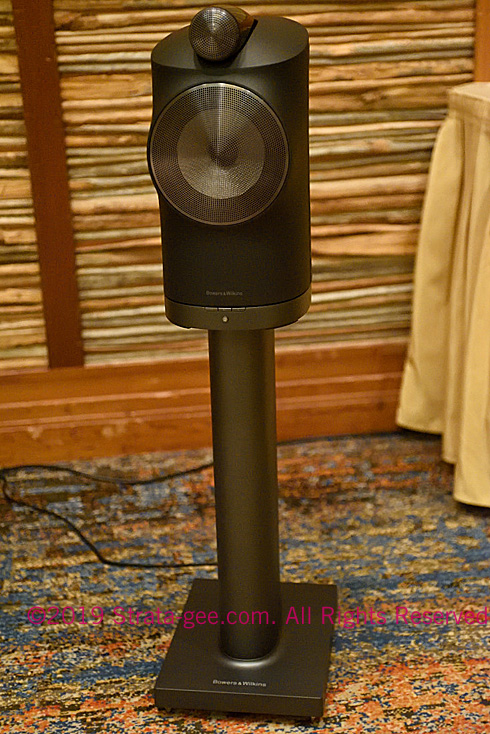 1″ Carbon Dome, tweeter-on-top design, high-frequency driver
6.5″ Continuum cone bass/midrange driver – same driver found on 800 Series Diamond speakers
Bi-amplified design with 2 x 125 watt amplifiers
25Hz – 33kHz frequency response
Wired (Ethernet) or Wireless (WiFi) networking
USB (non-powered)
Below 6 watts power consumption (in Sleep mode)
Dimensions: 15.6″ (H) x 7.8″ (W) x 12″ (D)
Weight: 23.4 lbs.
Formation Wedge – $899
First thing that struck me when I saw the Formation Wedge freestanding wireless music system was the clever design. From the front, it looks a little like their popular Zeppelin system. But when you look at the back you see two cutouts that make it into a wedge shape giving you a 120-degree speaker shape. Perfect, by the way for corner positioning. Delivers room-filling sound from its 5 built-in drivers.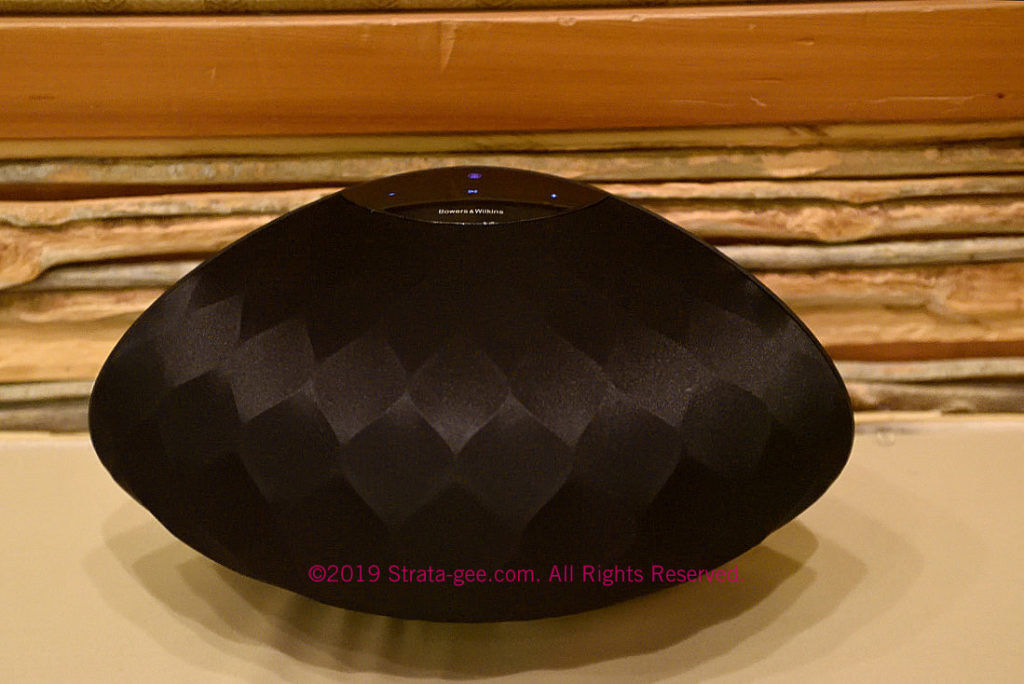 2 x 1″ double dome tweeter
2 x 3.5″ FST midrange drivers
1 x 6″ subwoofer
Amplification: 2 x 40 watts (tweeters); 2 x 40 watts (midranges); 1 x 80 watts (subwoofer)
35Hz – 28kHz frequency response
Wired (Ethernet) or Wireless (WiFi) networking
USB (non-powered)
Below 6 watts power consumption (in Sleep mode)
Dimensions: 9.1″ (H) x 17.3″ (W) x 9.6″ (D)
Weight: 14.3 lbs.
Formation Bar – $1,199
Although I technically heard this unit playing during a short demo, it was playing in conjunction with other models, so I could draw no conclusions about how it sounds. However, I found the design to be quite pleasing with a sculpted speaker foam design on a sleek cylindrical bar that tapers towards its endpoints. You'd never know housed in that elegant, sleek, elongated tube were a total of 9 drivers positioned for optimal and immersive left/center/right sound.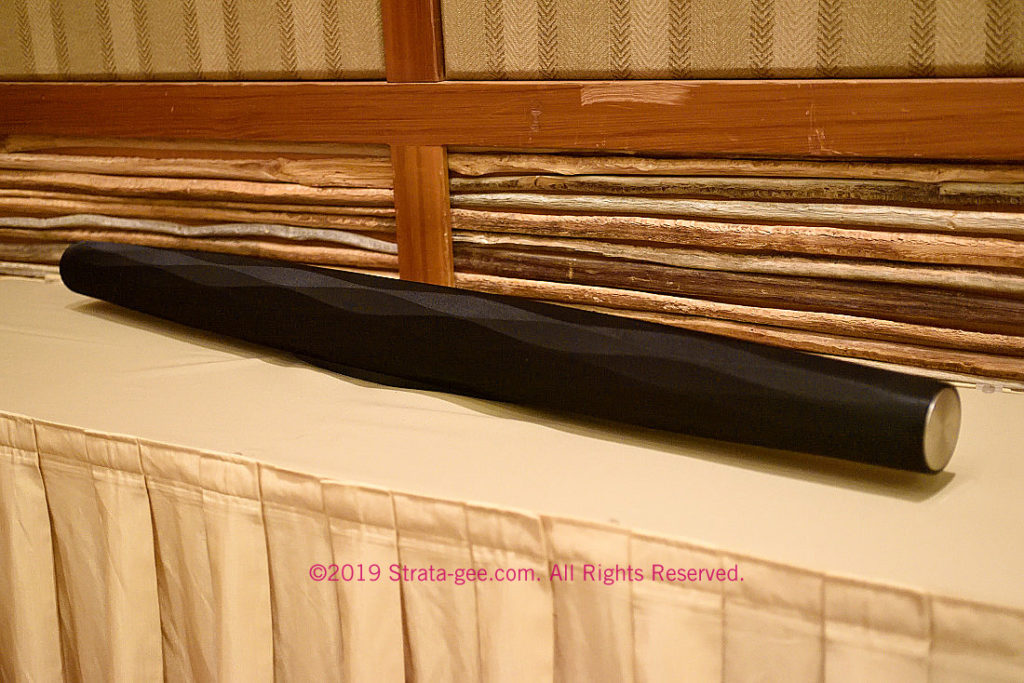 3 x 1″ double dome tweeters
6 x 2.6″ woven glass fiber cone bass/midrange drivers
Amplification: 6 x 40 watts
40Hz – 28kHz frequency response
Wired (Ethernet) or Wireless (WiFi) networking
USB (non-powered)
Below 6 watts power consumption (in Sleep mode)
Dimensions: 4.3″ (H) x 48.8″ (W) x 4.2″ (D)
Weight: 12.1 lbs.
Formation Bass – $999
Unfortunately, Formation Bass was not part of my sneak peek, so I have no idea how this sounds. But its elegant cylindrical design, which the company says is patented, fits in perfectly with the rest of the suite. While wireless subwoofers are becoming more popular, this design, with it's dual opposed drivers promises lower distortion and cleaner bass. It has plenty of built-in Class D power, tuned by a built-in Dynamic EQ for greater accuracy.
2 x 6.5″ long throw bass drivers
Amplification: 250 watts
20Hz – 150Hz
Wired (Ethernet) or Wireless (WiFi) networking
USB (non-powered)
Below 6 watts power consumption (in Sleep mode)
Dimensions: 10″ (H) x 11.1″ (W) x 10.2″ (D)
Weight: 27.6 lbs.
Formation Audio – $699
I did see this wireless hub, although they were not using it in the demo system. The Formation Audio device is the connecting point that allows you to elegantly and seamlessly incorporate your legacy or passive system components into your wireless system. Imagine, your turntable, CD player, etc. all get new life streaming throughout your home thanks to Formation Audio.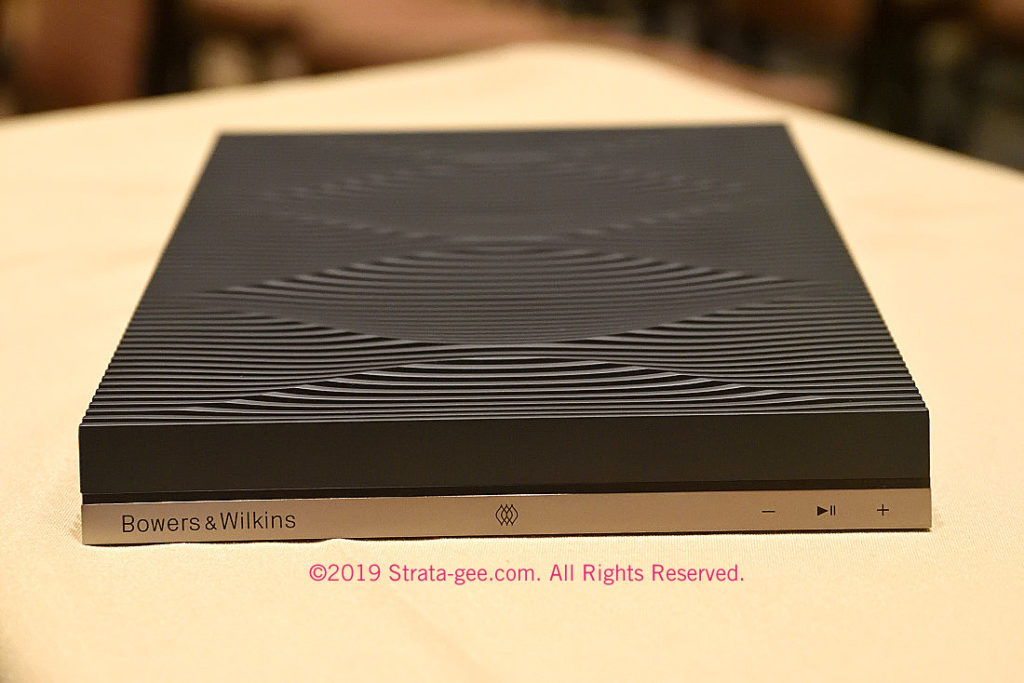 Connectivity: Digital audio in (Toslink); Analog audio in (2 x RCA); Digital audio out (1 x RCA); Analog audio out (2 x RCA)
Wired (Ethernet) or Wireless (WiFi) networking
USB (non-powered)
Below 6 watts power consumption (in Sleep mode)
Dimensions: 1.7″ (H) x 8.5″ (W) x 10.4′ (D)
Weight: 2.2 lbs.
You can learn more about B&W's new Formation Suite by visiting: bowerswilkins.com.