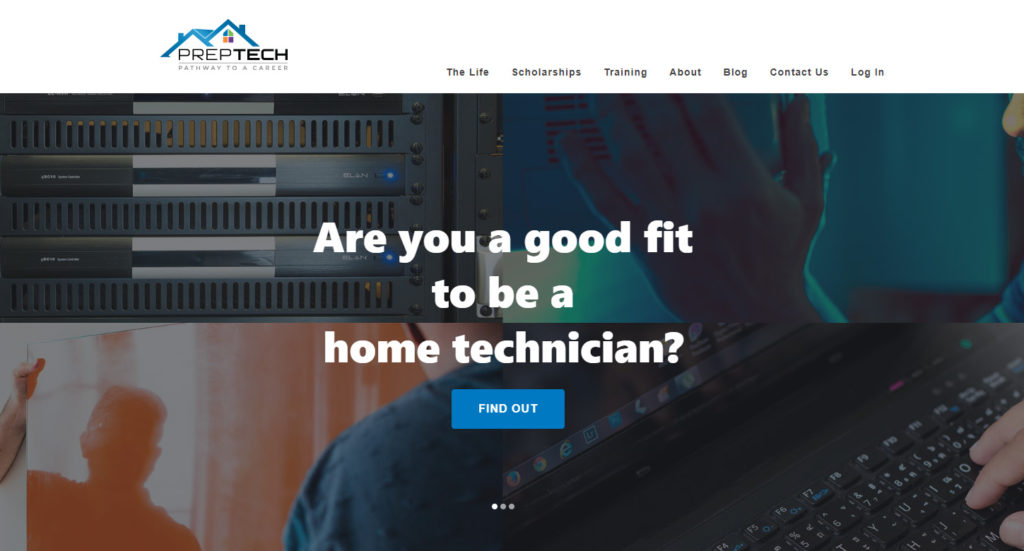 PrepTECH, a for-profit workforce service company that finds, vets, trains, and places new entry-level techs into the custom integration space, has had its first graduating class enter the industry in the Dallas market. A "pilot" or proof-of-concept initiative, the company says it was quite successful and a great learning experience for them – as well as for their participating students and the industry.
Now the company is looking to scale the concept.
Learn more about PrepTECH…
It has long been a vexing problem in our industry that qualified candidates for entry-level positions are rare…if not downright non-existent. I hear this all the time from integrators around the country and the problem has become so severe, that it is literally impacting their success by limiting the number of projects they can handle.
PrepTECH founders Paul Starkey and Helen Heneveld are seeking to make a difference by offering a service that both finds and trains qualified candidates that are then made available to regional integrators through an arrangement with program sponsors. Both Starkey and Heneveld are well known in the custom integration industry – Starkey from Elan and Core Brands/Nortek…and Heneveld from Bedrock Learning.
Sponsors Seek to Help the Their Dealers Attract Talent
Currently, PrepTECH has two inaugural sponsors – AudioControl and HTA. Generally, Starkey tells me, sponsors get involved with PrepTECH because they have a sincere commitment to the custom integration industry and want to contribute to helping achieve greater growth through attracting and onboarding a stream of fresh candidates.
It is a daunting challenge to address and a tall order to try to move the needle of an entire industry. Each step of the process offers its own unique challenge. Finding candidates, familiarizing them with the opportunities in our industry, screening them to engage only the most likely to succeed, and then providing in-depth education to prepare them for entry into a new career is a lot to accomplish. Only then can these candidates be offered to integrators to join their crews.

The PrepTECH Process
The process works like this:
Potential candidates are sought through online outreach and invited to apply to the program
Applicants go through a screening process and are evaluated for fitness for the program
Qualifying candidates are invited to enroll. Tuition is $5,600 but sponsors offer scholarships in a commensurate amount
Those who accept are trained in a largely online course spanning 2½ to 3 months (recently reduced to 4-6 weeks)
Upon successfully completing the training, the student earns a PrepTECH credential
PrepTECH then connects graduates with prospective local integration companies for interviews and potential hiring
It's a well-known problem in the industry that growth is being held back by lack of available talent. We love what PrepTECH is doing to address the labor shortage problem in the industry; everyone wins when more techs enter our ever-growing industry.

Josh Christian, Home Technology Association Founder
The First Class has Graduated

The first class just wrapped up and Starkey says it was quite the learning process for the students…and for PrepTECH. There were a total of 400 applicants to the program. The first thing the company learned was that there was a pretty dramatic "fall-out rate" from applicants to candidates. Some of that was to be expected, as many applicants did not meet what the company thought were the minimum standards necessary to be successful. But many more self-selected themselves out of the program as well.
Of that initial group, 30 who were qualified were offered scholarships from the program sponsors. And of that group, fully 20 went through the entire training to become entry-level techs, of which 7 graduated.
The first two were gobbled up in, literally, days. We have five more interviewing now and we're really excited at what we're hearing from the employers. Our big goal now is how do we get to 10,000 applicants. But the pilot program went well and we learned a lot from it.

Paul Starkey, PrepTECH Co-Founder
What Candidates Cost Dealers
Dealers pay a $1,000 annual fee to have access to the candidates and sponsors support the dealers with a $500 credit on their first two hires. After that, the dealer pays a $2,000 placement fee for each candidate hired. Starkey tells me that this is substantially less than they would have to pay a headhunter to find candidates.
PrepTECH is looking to scale the program dramatically over the coming months. Certainly, part of that scaling process comes from expanding the list of participating sponsors.
Sponsorship Program
The company offers brands two levels of sponsorship: Brand level (for companies under $20 million in annual revenue) at an $8,000 fee to provide up to 20 scholarships and 20 – $500 credits to their subscribing dealers; Corporate level (for larger companies) at a $15,000 fee to provide up to 40 scholarships and provide 80 $500 credits to their subscribing dealers.
The program is designed to offer sponsors the opportunity to partner with PrepTECH to attract new talent to the industry. At the same time, sponsors are also enhancing their relationship with dealers by giving them exclusive access to the pool of qualified talent and extra discounts under the sponsor's brand name.
Interested in becoming a PrepTECH sponsor? It's as easy as texting the words BRAND or CORP to Paul Starkey at 859-492-9801 to get started.
Learn more about PrepTECH at preptech.com.