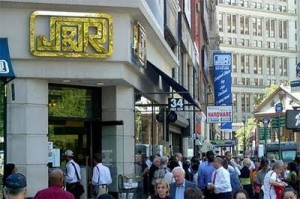 J&R Music World has announced that it will close its Manhattan store location today. The announcement is likely a surprise to consumers – but those in the industry in the New York Metro market are not surprised. J&R has been struggling for years, starting with a major push down a slippery slope in the wake of the September 11, 2001 World Trade Center terrorist attacks which were close enough to damage their location in lower Manhattan.
J&R has posted a note on its website about the matter. Will they come back?…
First reported by a major New York newspaper, the Daily News, J&R Music World is closing its doors for the last time after 43 years in business. According to the Daily News report, employees received "pink slips" Wednesday morning…their last day open as a retailer. Letting their staff go suggests that they are totally ceasing operations – however, the company appears to be still taking orders on their website as of today.
J&R is, in the estimation of many in the industry, an iconic retail brand in the NY market. At one time recognized as a leading retailer, in an incredibly competitive – some would say brutal – retail market…J&R succeeded in consistent growth. The company pursued a unique approach to the market – expanding over the years by buying out neighboring stores and instead of knocking out the walls to create one superstore…leaving the walls up and reassorting the adjacent locations to create multiple specialty stores with each added section dedicated to a separate product category.
Own the block…
Eventually, J&R founders Joe and Rachelle Friedman grew to own the entire block of very valuable real estate in New York. In their minds, the multiple side-by-side stores created a monster retailer of a wide range largely consumer electronics and photography products.
While some in the industry felt that this multi-store approach created a cozy specialty store feel for each of their categories…it could be cumbersome for customers interested in looking at multiple product segments. You had to quite literally exit a store back out onto the street, to move down the sidewalk to enter another store. This process could get annoying after a couple of categories – not to mention the hassle of fighting crowds into and out of each store on a busy weekend shopping day. And if it was raining outside…well, as we like to say in New York/New Jersey: fuggeddaboutit!
What Joe & Rachelle say…
J&R has posted a letter on their website explaining the closing of the store to their customers. After noting the company's long history, the letter goes on to say that a lot has changed over the years including "not only the way we listen to music and the technology products we sell, but the way people shop and socialize."
J&R's letter then says, "As part of these evolutions, we too have to continue to adapt to the technology, retailing, and real estate trends and reinvent ourselves as we continue to look ahead."
Losing Focus and focus…
Last week, news emerged that J&R was in deep discussions to either partner with, or merge with, or be bought out by Focus Camera of Brooklyn, NY. Ultimately, these negotiations broke down and today's announcement appears to be the result.
J&R's letter goes on to suggest that the building will be "totally reimagined and redeveloped." The company is said to be looking for new retail partners for the location when it relaunches. Whether these partners will offer consumer electronics or not…remains to be seen.