Emotiva Audio Corporation is one of those ideas whose core elements initially seemed incongruous – high-end products…sold on the Internet? When we learned of their launch 12-years ago, we predicted doom and damnation. After all, high-end audio, we posited, was as much about the experience -the audition – as it is about the product. Founder Dan Laufman proved us wrong. This week, Laufman caught our attention again when we recently received information about an impressive roster of new models to be launched at CES.
See what we learned from our interview with Dan Laufman…
When we were offered the opportunity to meet (over the phone) Dan Laufman, we jumped at it. Having been directly involved in manufacturing in the past, it got our attention when we received news of the impending launch of almost 20 new Emotiva models. That's a major initiative for any company of any size – let alone a company that offers products targeted for the market we call affordable audiophilia.
In a telephone interview, we met an enthusiastic company founder who was as excited about this line launch, as we were to meet him. Laufman started by giving us a brief overview of the history of the company, which started about 12-years ago.
Why Internet Direct?
Emotiva started as an Internet direct business, not so much because he was a strategic visionary who predicted the future popularity of this form of retailing – rather, it was a way to work around potential conflicts. Laufman was working with an OEM supplier of electronics to other brands, and he didn't want to conflict with them.
In those days, most companies were not distributing their products on the Internet. So by founding Emotiva as an Internet business, he was not directly conflicting with any established markets that these OEM customers had in place – most were working solely with brick-and-mortar retailers.
"At the time I was heavily involved in the OEM electronics business and I started Emotiva as kind of a therapy session for myself," Laufman told us. "I always wanted to have my own product that represented my values and my feelings about what affordable high-end should be."
Affordable Audiophilia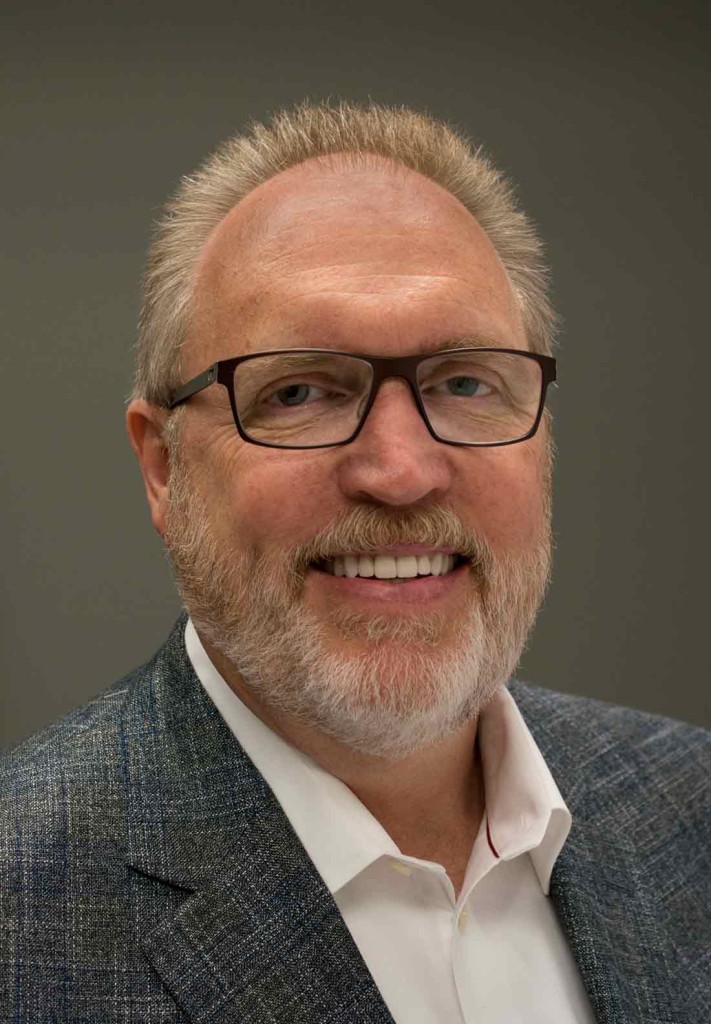 With Laufman's experience on the OEM side of the business, he felt confident he could create a line of products that reworked the equation, bringing near-audiophile performance levels to much more affordable prices. His instincts told him that there was a market in this affordable high-end market – perhaps a large market.
"I saw a real disconnect between the price of high-end gear and what was actually being offered to the end-user,"Laufman explained. "And as an OEM builder, I saw a huge disconnect between what was being charged for products that we developed and engineered…and…I just didn't see a correlation between what things were being priced at versus what they cost to build."
Emotiva was launched with this unique ethic and has clearly touched a nerve with the market. Twelve years later
"So I saw an opportunity for Emotiva to be a company that aspired to high-end values and performance, and high-end user experience – at the same time designing with discipline and care and efficiency – so that we ended up delivering an audiophile-level product at a price point that just about anybody can afford," Laufman told us. "And, to me, there's more satisfaction – and it's more challenging to do that than it is to just throw money at something."
Talking About 'Real Business'
Not surprising then, but astonishing now, Laufman's OEM customers told him "to stay out of brick-and-mortar retail." When he asked them about his selling on the Internet they told him, "No, no, I'm talking about real business Dan. You can put it on the Internet, but you stay the hell out of stores." So he had no option but to go Internet. He didn't know it then, but they were doing him a big favor.
The trend to consumers buying products online took off – and Emotiva benefited from that. Not only that, but as the recession hit in 2006/2007 – even audiophiles began looking for options to feed their performance desires…but at a more affordable price.
"It [the recession] made people rethink where they spent their money," Laufman said. "Even guys that were high-end audiophiles said, 'Maybe I don't need to spend thirty grand on an amp, maybe I can spend two grand on an amp and be just as happy.'"
Reaching Critical Mass
All these trends combined to allow the company to get established and, eventually, reach critical mass. "We've been very successful and I am very grateful for that," Laufman said.
We were surprised to learn that Emotiva has 75,000-80,000 customers. What's even more encouraging to Laufman is that most of these individual customers are "multiple purchasers."
Laufman told us that he has sold off his interest in the OEM manufacturing business which has allowed them the opportunity to work with dealers as well as consumers. Laufman told us that he has been approached by dealers almost from the beginning. By carefully structuring his programs ("We will never undercut the dealer," Laufman said), it is a win-win for both Emotiva and the dealer…even though the dealer business is lower margin for the company. But it is incremental business he would likely not get otherwise.
New Product Launches
The company is launching a significant number of new models in three series: XPA Gen 3 amplifiers, Airmotiv loudspeakers, and the all-new Emersa lifestyle series. The number of new model numbers is large and Laufman told us that these new models have been in development for more than a year-and-a-half.
XPA Gen 3 Amplifiers
"Our core brand is our 'X' series product," Laufman said. Now there is a new X series amplifer. So new the company doesn't even have photos yet (we show a rendering here), the XPA Gen 3 line builds upon the success of their previous Gen 2 line. But it offers an extremely unique design – a fully configurable modular design that customers to buy the version that makes the most sense today…and then if needs change in the future, they can upgrade down the road.
The secret to this series is that the design is modular – the same chassis and power supply is used for all of the amplifier models. Then the amp section is essentially an individual "blade" that is inserted into the amp by the company. Two blades can be used for stereo, three for possibly an L/C/R or stereo& unpowered subwoofer setup, five/six/seven blades for a full blown home theater setup.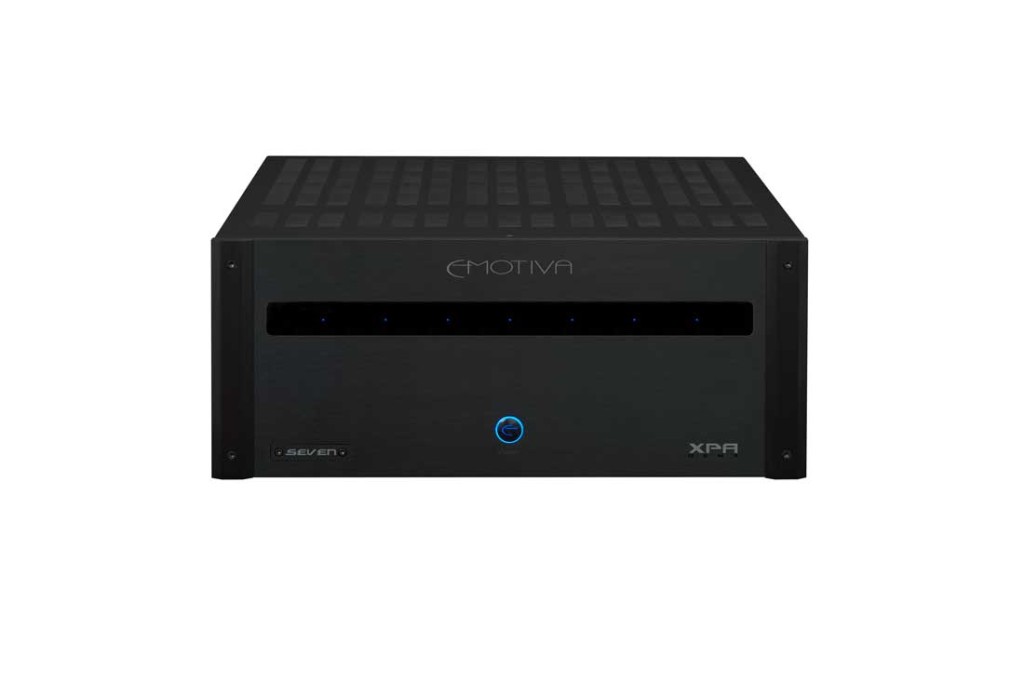 Consumers can start small and increase later. Laufman says the company will offer consumers a service where the amp can be returned to have more blades added (no, this is not a consumer serviceable process) for a nominal fee. Turnaround time for a blade upgrade is expected to be no more than two days. Pricing for this service is yet to be determined, but will be announced shortly.
The power is 250 watts/channel and Laufman tells us that the circuitry is based on their XPR amplifier topology, with Class A/B circuitry and balanced design.
Pricing (MSRP) for the amplifiers for those buying preconfigured models is: XPA-2 ($999), XPA-3 ($1,199), XPA-4 ($1,399), XPA-5 ($1,599), XPA-6 ($1,799), XPA-7 ($1,999).
Airmotiv
The company has been offering the Airmotiv speaker line before now, but as a powered or active studio monitor design. The company has been getting a lot of requests to offer an unpowered or passive home speaker line (other than the subwoofers, which include a built-in amp) and with this launch this market need will be fulfilled.
The Airmotiv line includes the company's popular air motion transformer (AMT), folded-ribbon tweeter. Laufman tells us they've been using AMTs for about 8-years now and their customers just love the sound. According to the founder, once customers try the AMT, traditional loudspeakers just never sound the same again.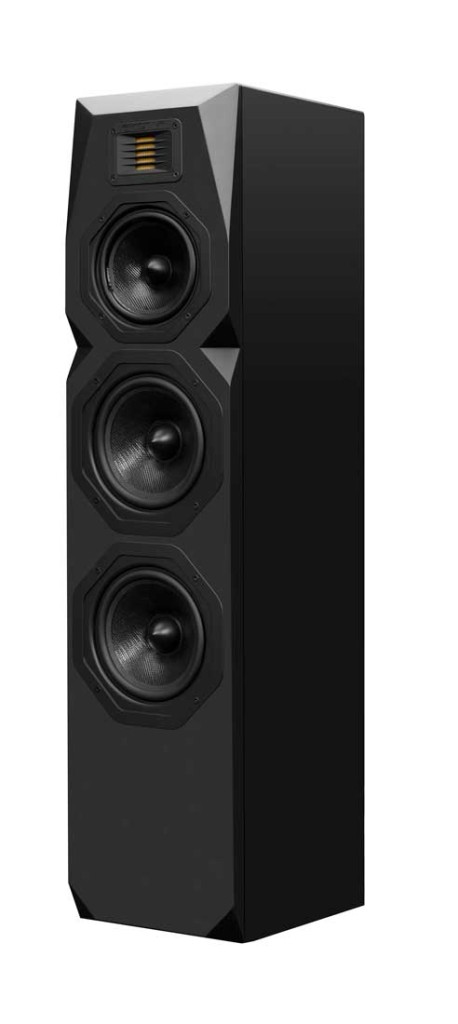 The Airmotiv line includes:
Airmotiv T1 (MSRP: $349 ea.): A three-way tower loudspeaker with Airmotiv™ folded-ribbon tweeter. Featuring 3-way ported design with dual 6.5" woven Kevlar® woofers, one 5.25" woven Kevlar® mid-woofer, and one 25mm x 32mm Airmotiv™ tweeter. The T1 has inserts for removable spikes, and dual speaker terminals for bi-amping or bi-wiring.
Airmotiv B1 ($299 pr.): A two-way bookshelf loudspeaker with Airmotiv™ folded-ribbon tweeter. The B1 features 2-way ported design with 5.25" woven Kevlar® woofer, and 25mm x 32mm Airmotiv™ tweeter. It also has are dual speaker terminals for bi-amping or bi-wiring.
Airmotiv C1 ($249 ea.): Three-way center channel loudspeaker with Airmotiv™ folded-ribbon tweeter. The C1 features a 3-way ported design, dual 5.25" woven Kevlar® woofers, one 3" woven Kevlar® midrange, and one 25mm x 32mm Airmotiv™ tweeter.
Airmotiv E1 ($249 pr.): A two-way direct-firing side surround or rear-surround loudspeaker with Airmotiv™ folded-ribbon tweeter. Features a 2-way ported design with 4.5" woven Kevlar® woofer, and 25mm x 25mm Airmotiv™ tweeter.
Airmotiv SB1 ($499 ea.): A two-way LCR (three-channel) sound bar with Airmotiv™ folded-ribbon tweeters, the SB1 has three independent M-T-M speakers for Left/Center/Right in a 3.0 or 3.1 system. Each speaker utilizes six 4" woven Kevlar® woofers, and three 25mm x 25mm Airmotiv™ tweeters.
Airmotiv S10 ($499): A powered subwoofer with a cast frame, 10" long throw woofer, and a 10" passive radiator. The S10 has a 350-watt RMS Class A/B amplifier with balanced and unbalanced inputs, and a toroidal power supply. With onboard controls for gain, crossover frequency, phase, the S10 automatically switches on when signal is detected.
Airmotiv S12 ($699): A 12" powered subwoofer with a cast frame, long throw 12" woofer, and a 12" passive radiator. The S12 has a 500-watt Class A/B amplifier with balanced and unbalanced inputs, toroidal power supply, as well as onboard controls for gain, crossover frequency, phase, and automatic signal detection and switching.
Emersa
Finally, we have the all-new Emersa line. Laufman tells us that although Emersa is a new category for them, it is still an audiophile-caliber product.
"We're kind of re-imagining the 21st century audiophile," Laufman said. "We're using a lot of horsepower behind the front panel to deliver a very simple user experience with an audiophile listening experience."
An all-new industrial design that features simplified controls, thick milled aluminum enclosures, OLED displays (processor and preamp), all Class-D design, and just over 1RU tall. There are 2-channel, 5-channel, and 7-channel configurations in their line of preamp/processor, stereo preamp, stereo integrated amplifier, and amplifiers. Interestingly, all products in the Emersa line are design, engineered, and manufactured in the United States.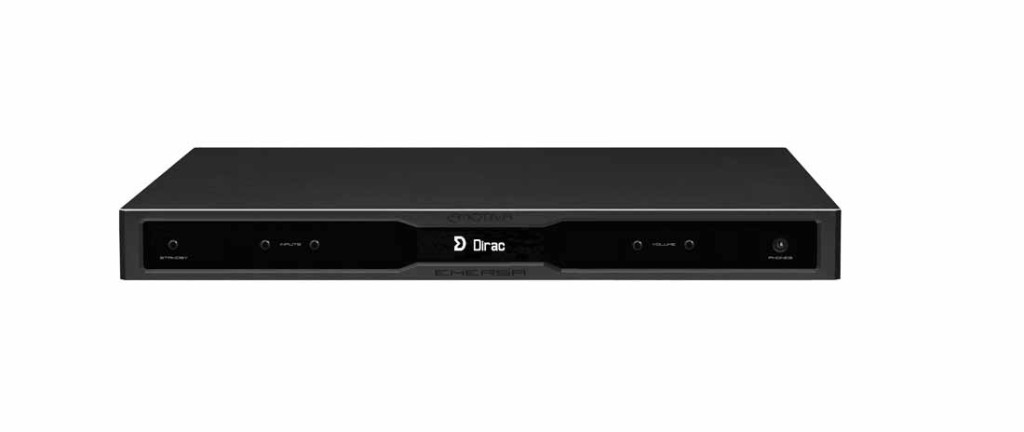 The Emersa line includes:
Emersa EMP-1 (MSRP: $899): This full 7.1 channel preamp processor with unbalanced analog outputs plus balanced subwoofer output, has built-in Bluetooth connectivity, Dirac Live ™ room correction, USB DAC, and an Ethernet remote control option. The EMP-1 features an elegant aluminum chassis and includes a machined aluminum infrared remote control.
Emersa EPA-1 (MSRP: $599): Contemporary stereo preamp with digital audio inputs. An intelligent graphical OLED display automatically provides full support for the options installed. Standard support for 4 pairs of stereo line level analog inputs and one moving magnet phono input.
In stereo mode, the EPA-1 can be connected to a standard stereo power amp or a pair of powered speakers. In 2.1-channel mode, the main outputs on the EPA-1 can be configured with a fixed 80 Hz high-pass crossover, and a separate summed output is provided to connect a subwoofer.
With the Emersa EPA-1, support for various digital audio options provided by installing one of three optional Digital Input modules:
The DAC1 input module provides basic support for streaming audio via USB
The DAC2 input module offers an audiophile-quality USB audio input featuring an AKM 32-bit D/A converter
The Universal Streaming module offers digital audio streaming via USB, WiFi, Bluetooth, and Ethernet connections
Emersa EPI-1 (MSRP: $799). An optional stereo integrated amplifier with digital audio inputs, the Emersa EPI-1 combines all of the features of the Emersa EPA-1 (including the slim chassis and optional digital input modules) with two channels of ICEpower Class-D power amplification delivering 100 watts RMS per channel.
Emersa Amp (three models). Like the EPA-1 and EPI-1, Emersa Amps are designed with the same slim, elegant 1RU chassis, and lightweight, ultra-efficient ICEpower Class-D power amplification found throughout the line. Individually they are:
Emersa EDA-2 (MSRP: $599): 2 channels; 150 watts/channel into 8 ohms.
Emersa EDA-5 (MSRP: $799): 5 channels; 125 watts/channel into 8 ohms.
Emersa EDA-7 (MSRP: $999): 7 channels; 125 watts/channel into 8 ohms.
See all of these new models at the upcoming CES 2016 in Las Vegas next month. For more information about Emotiva and its products, visit: www.emotiva.com.