Dirac Research, a provider of high-quality room and loudspeaker optimization technologies, announced today that it has reached an agreement with Pioneer Corporation to distribute their digital technologies in the OEM market in Japan. The deal, their first with a relatively mainstream manufacturer, will put Dirac technology in a wide range of products under a wide range of brands.
See more about this milestone agreement for Dirac…
Dirac's room correction technology is a well-regarded solution that Strata-gee editor Ted Green recently profiled in a cover story for the February 2016 issue of Residential Systems Magazine (see The Perfect Room). Currently, Dirac's technology in the United States is available largely in the mobile A/V and high-end audio markets.
Most room correction systems measure and adjust frequency issues to smooth out room response. Dirac's innovation is that their algorithms not only correct for frequency deviations, but also correct for time domain issues as well. Dirac rather convincingly claims this yields a more accurate and listenable result, as frequency-only systems can exhibit nasty side-effects relative to phasing issues.
Despite Selling A/V Division, Pioneer Remains Major Player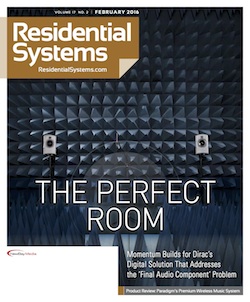 In 2014, we widely reported that Pioneer, a major Japanese corporation, had decided to exit the A/V business. They ultimately decided to sell Pioneer's A/V division to Onkyo and a private equity company (who was ultimately dropped from the deal). Pioneer also decided to sell off their rather significant DJ products division – streamlining the company to their core competency…automotive electronics.
However, what many in the U.S. don't know, is that Pioneer remains a large and active Original Equipment Manufacturer (OEM) that builds a range of products under contract for other brands. Not only that, but Pioneer works with/sells to a wide range of other manufacturers in Japan – including other OEM manufacturers.
The Land of Japan, Inc.
In the land of Japan.Inc. this is not unusual. For example, Onkyo Corp. is a distributor of Monster Cable products in Japan. All of these companies in Japan work much more closely together than is typically the case here in the U.S.
"About three years ago, Dirac introduced us to their suite of digital sound quality optimization technologies," said Osamu Takechi, Senior General Manager of Pioneer Industrial Solutions Division. "Completely different from conventional virtual surround and/or equalization, the Dirac solutions are both theoretically and practically proven to fundamentally improve an audio systems' performance. We were quite impressed with Dirac; hence, we decided to integrate their technologies into our newest speaker systems. We are now in a position to market these groundbreaking technologies in Japan."
Not Entirely Clear

With Pioneer distributing Dirac technologies to other OEM manufacturers, it is likely that a whole new roster of products will be introduced featuring Dirac solutions. The Dirac release notes that it anticipates products in a wide range of categories including: computer speakers, sound bars, Bluetooth speakers, TV loudspeakers, portable audio devices, educational support products, "amusement" equipment such as commercial arcade games and more.
Not entirely clear in this announcement is whether Pioneer will be fielding products under their own brand name in the near future. In a discussion with a Dirac-related source, we were initially told that this was a distribution deal only. But when we pointed out that there were some indicators of Pioneer offering products with Dirac technology under their brand name, the Dirac source said he would seek clarification. Unfortunately, this clarification was not received prior to the posting of this story.
But is Pioneer a Licensee Also?
"We are excited about the synergy between Dirac and Pioneer and look forward to delivering superior audio solutions to Japanese OEMs," said Dr. Mathias Johansson, CEO of Dirac. "We anticipate that the integration of our advanced technologies with innovative hardware from Pioneer and other Japanese manufactures will establish new benchmarks for audio performance in a variety of product categories."
If in fact Pioneer will begin offering Dirac technology within their well-respected line, this would be big news indeed, as it would represent a significant added exposure for the brand. We will continue to seek this verification and update this story as appropriate.
Learn more about Dirac technologies at: www.dirac.com.