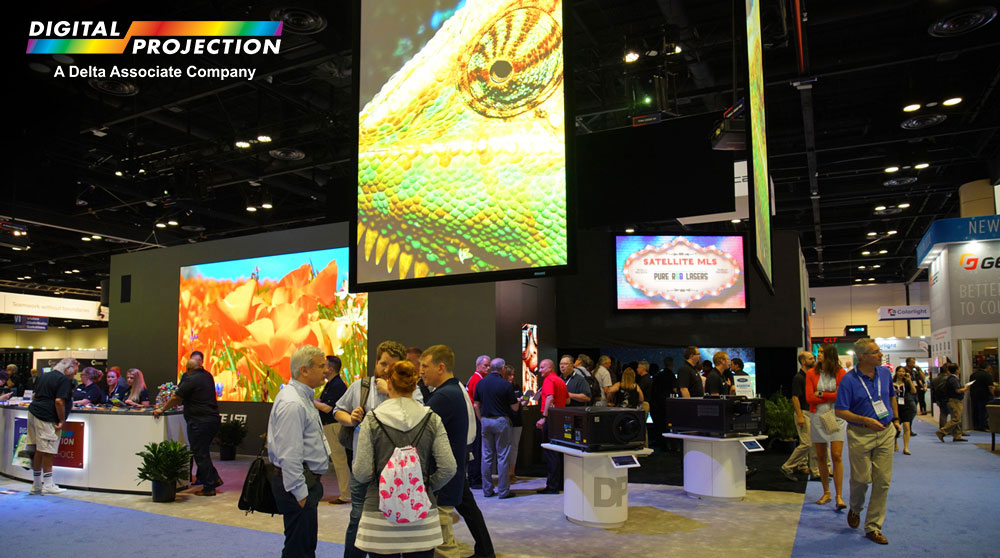 Digital Projection, Inc. (DP), a leading video technology provider, announced this week that it will withdraw its participation in CEDIA Expo 2021, as well as all large, in-person tradeshows for the remainder of 2021. While DP says they enjoy meeting face-to-face with "customers, partners, and friends," the ongoing COVID-19 pandemic has forced them to reexamine the risks of such events and led to this decision.
See more on the thinking behind this DP announcement
Digital Projection is well-known for its cutting-edge, high-reliability video products targeted primarily for commercial and high-end residential uses. The company regularly participates in a wide range of industry tradeshows in both channels, and says that they enjoy presenting their technologies and meeting with their customers and partners face-to-face.
But in the face of a resurging COVID-19 pandemic, thanks to the rise of the Delta variant, the company has been forced to rethink the risks of this constant travel and participation in tradeshows. Consequently, they have come to a tough conclusion – to pull out of all such events for the remainder of 2021.
[W]e have decided to place a hiatus on our North American tradeshow schedule for the remainder of 2021. This includes the CEDIA Expo, InfoComm, and I/ITSEC shows – events that we cherish participating in. Though our decision not to exhibit at these events in 2021 may be disheartening to hear, our paramount concern is the safety and well-being of our team members as well as our partners, clients, and community."

DP announcement on the decision to withdraw from all tradeshows for 2021
The company goes on to say that they are confident that in 2022, "…we will return to most of the tradeshows that we missed this year." They also want to reassure dealers and integrators that product development is still marching forward and they look forward to sharing their many new products and solutions as soon as possible.
"The future is bright at Digital Projection – and we can't wait to showcase all of our exciting display solutions" in 2022.
For more information on Digital Projection, be sure to visit: digital projection.com.