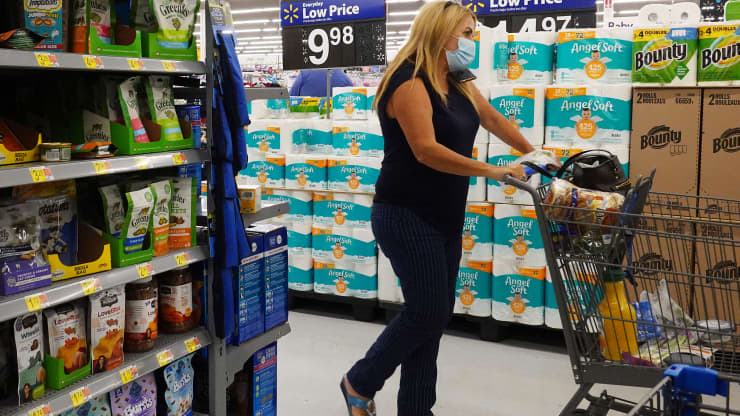 High-Income Consumers are 'Trading Down' to High-Value Products
Walmart surprised analysts in its latest earnings report for its fiscal second quarter. After having issued a warning last month that its profit may drop as shoppers were feeling the effects of high inflation and focusing purchases on necessities like food rather than discretionary (and more profitable) items such as electronics. But on Tuesday, the company reported solid revenue increases and although earnings tightened a little, they still beat analysts' forecasts.
In a tough economic environment for retailers, how did they do it? The company says they are attracting more middle- and high-income shoppers. These high-income consumers are 'trading down' – an effect that has been discovered in past times of economic slowdowns and recessions. And it seems to be happening now…
Read more about high-end customers trading down
It's been a rough earnings season for retailers, many of whom had aggressively sought to fight supply chain issues and out-maneuver their competitors by directly and aggressively finding and importing goods. Of course, this all takes time to accomplish and by the time they had their warehouses full, the economy shifted with consumers moving purchases away from goods to services and experiences.
And now the data suggests that high-income shoppers are 'trading down' by purchasing value or generic brands and products instead of their usual luxury or high-quality brand name favorites.
Revenues Grew and Profits Beat Expectations
Walmart said revenues grew by more than 8% and profits tightened a bit as shoppers shifted to buying only necessities. Also, the company reiterated its existing profit forecast for the remainder of 2022. Many analysts had been watching to see whether they would be forced to further cut their profit estimates.
Wall Street was so surprised by the report that shares of Walmart stock were driven up by about 5%, closing at $139.37. Another surprise was Walmart's assessment of what contributed to its better-than-expected result.
Gaining Market Share with Six Figure Consumers
In a report by CNBC, Walmart Chief Financial Officer John David Rainey said that the company is attracting more middle- and high-income shoppers. Fully 75% of the company's market share gains in the quarter came from customers with an annual household income of $100,000 or more. He went on to say that they see many signs that inflation-strapped shoppers are trading down "in terms of quality and quantity," he told CNBC.
This trading down effect has been identified by economists in previous times of economic strife or recession. It's becoming more common to see luxury vehicles parked outside of Walmarts, Costcos, and the like.
Swapping 'High-Priced Items for Cheaper Versions'
As the Morning Brew newsletter put it, trading down is "when consumers facing tough times swap high-priced items for cheaper versions." In fact, a magazine associated with the University of Chicago's business school called the Chicago Booth Review actually reported on a study of this effect looking at the 2009-2011 economic downturn.
In reviewing purchasing habits of a wide variety of consumer goods, including many grocery items, the study found that the ratio of high-quality to low-quality goods dipped notably during the economic recession of 2009-2011. When the hard times ended and the economy began to rebound, the ratio went back to a more historical norm.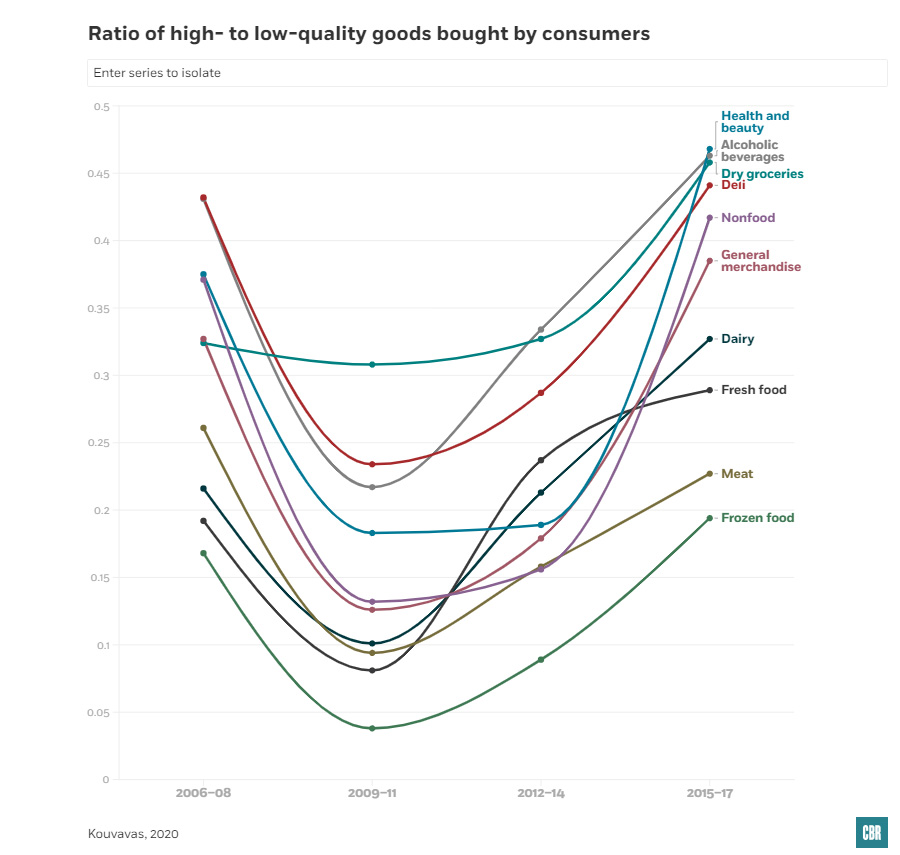 The issue is due to what the literature calls trading down. When times are tough, consumers have the option either to buy less of a product or to buy cheaper versions of it. Kouvavas [ed: Omiros Kouvavas is a University of Warwick PhD candidate who authored the study] posits that during economic downturns such as the Great Recession, consumers choose cheaper products, such as generic versus name-brand goods. The reverse, he finds, is true during times of expansion, when consumers choose more-expensive brands.

Chicago Booth Review
Luxury Market Slowdown is Likely
So the luxury market is likely to suffer a bit of a slowdown, but it certainly is good news for those companies known to provide exceptional value. Besides Walmart, both Applebee's and IHOP reported that they grew sales by 6%-8% among households with annual incomes of $75,000 and more, according to CNN. The CEO of Dine Brands, the company that owns both Applebee's and IHOP, said their data "suggests to us that guests that often dine at more expensive restaurants are finding Applebee's and IHOP because of their well-known value position."
Also, Chipotle says its data shows they are attracting more customers with "relatively high household incomes." Not only that, but these high-income customers are buying with an increased frequency of orders – and spicing up Chipotle's financial results.
So next time you run to Walmart to pick up a few grocery items, don't be surprised if you run into one of your high-income integration clients there!