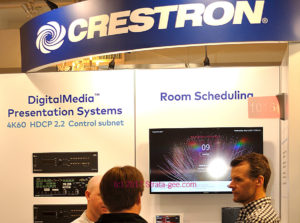 During the Sapphire Marketing NYC Road Show in Manhattan this week, we had the opportunity to spend time with Jeff Singer, Crestron's Executive Director of Product Marketing, who shared with us the latest updates on the company's major residential technology initiatives. He also helped us gain a better understanding of the company's philosophy of product development and design, saying "We're just trying to figure out how to solve real world problems for real world people."
See more on Crestron's initiatives…
As is usually the case at the Sapphire Marketing NYC Road Shows, Crestron had the largest booth and the greatest diversity of product segments represented. As we noted in our report from the show, Crestron showed several products of interest to us, including the new Digital Media NVX UHD over IP solution, their sophisticated Avia DSP sound shaping and room tuning solution, a clever new room scheduling system sure to excite the corporate crowd, their DM Presentation System, their Mercury all-in-one console, and more.
But for all of these new or upgraded systems and technologies, we were mostly interested in the DM NVX UHD over IP solution and their Avia DSP room tuning technology. The other items were pretty much exclusive in their use, while these two solutions have strong residential influence as well.
DigitalMedia NVX UHD over IP
First and foremost, we were really interested in seeing the DM NVX system in person and we weren't disappointed. A major section of the Crestron booth featured a DM NVX system outputting 4k Ultra High Definition content to a display. At this event, they did not do any kind of comparison demonstration as they had at others, likely due to the smaller space at this show than Crestron usually has available. But they did have on display the freestanding box version of the product, as well as the "card" style for rack mount installation.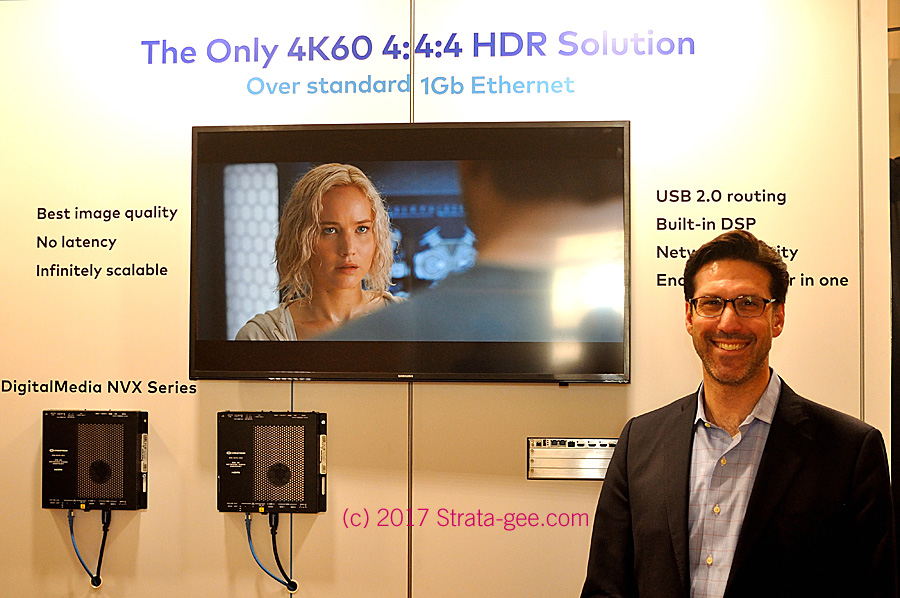 There are many unique elements of the Crestron NVX line. First, Singer made it a point to talk about the custom created chipset, which he says was co-developed by Intel and Crestron. As a result of this partnership, Crestron was able to create a feature it considers a significant advantage over any other IP-based AV solution – near zero latency.
Near Zero Latency
As Singer tells us, in every other system, the signal goes through two independent processes: decoding and scaling. As a result, some latency is introduced as the signal goes sequentially through those processes. But in the new Intel chip in the DM NVX, decoding and scaling occur simultaneously…eliminating this source of added latency.
The DM NVX delivers 4K/60, 4:4:4, HDR over a standard 1 Gigabit network system. Interestingly, another difference is that Crestron built both the encoder and decoder into each box. Most other systems use a separate box for each function. Singer told us this greatly diminishes inventory headaches for integrators. So in essence, there is only one model with one variation. The basic unit is called the 350, the variation is called the 351 which adds in audio downmixing for those installations that require it.
Don't Install 'Hack Points'
Crestron has also built in robust security at the device level. "So none of these endpoints will be a hack point," Singer joked.
We asked Singer if he thought that UHD over IP solutions will be parasitic to their rather significant matrix system business. "It's not an 'either/or,'" he said of Crestron's opinion, "…it's an 'and.'"
IP-Based Solutions Will Replace Matrix…Some Day
However, it is unlikely to be accretive to sales over time. Even Singer admitted that IP-based solutions are likely to supplant existing proprietary matrix solutions sometime down the road.
"I don't know if it's 5-years, 10-years, or 20-years, but it won't happen overnight," Singer said.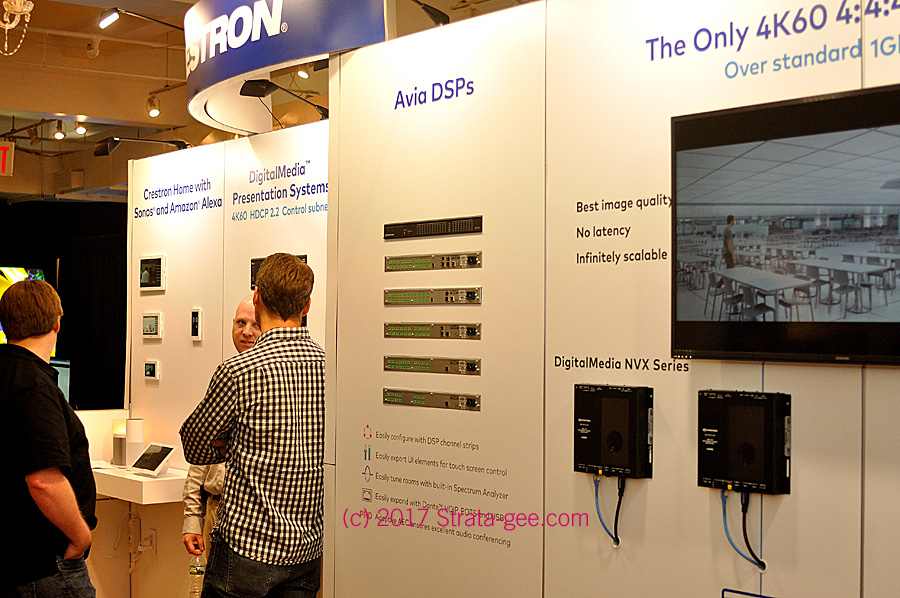 Avia DSP – A Customizable Automated Room Tuning Solution
The Avia DSP is really a complete audio sound shaping system that involves custom DSPs, software tools and interfaces, and complementary audio amplifiers. The goal was to find ways to make sound shaping for room correction or tuning, both high quality and easy to implement.
Singer admitted that other company's offer audio tools, some sophisticated by confusing and others simple and ineffective. "A lot of rooms don't get a DSP…or they're not properly tuned," Singer said. Singer told us he's seen research that shows that less than 5% of rooms are tuned properly.
Flip that around and you see that 95% of rooms are NOT properly tuned. And that, in Crestron's mind…is a real world problem.
Avia (ah' vee ah) seeks to address this issue by providing integrators a smart automated solution that is customizable. The system comes with real world presets, that integrators can then use the built-in tools to further customize to optimize their installations. Thanks to included VU meters, built-in spectrum analyzer, virtual mixers – Avia is said to make optimization…easy.
Barely Scratched the Surface
We have barely scratched the surface of all of the solutions that Crestron showed at Sapphire Marketing's 2017 NYC Road Show, but these two were their solutions most applicable to the residential business. We walked away impressed at the company's technological prowess.
This article, by the way, barely scratches the surface of our discussion with Singer, as we delved into many deeper topics. So watch for more from us on Crestron – and a big thanks to Jeff Singer for his insight…and his patience with our many questions.
Learn more about Crestron at: www.crestron.com.