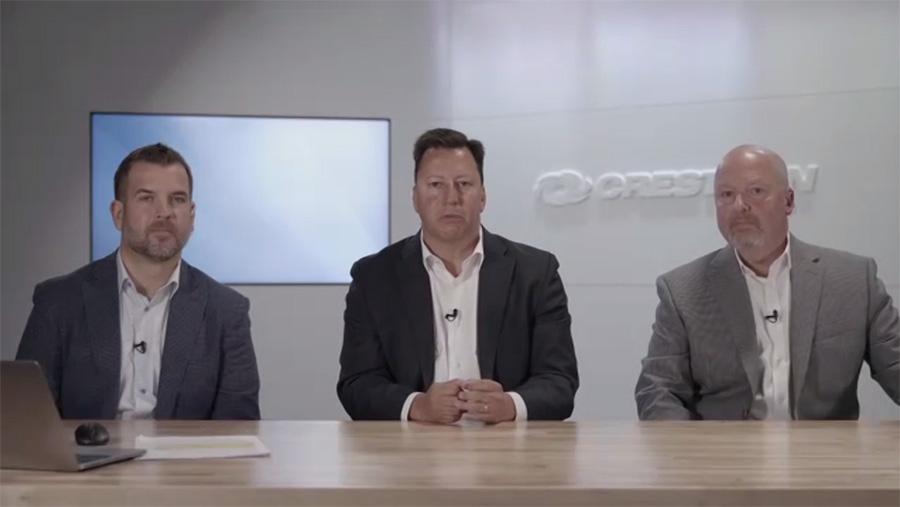 This week, Crestron Electronics held a special Supply Chain Town Hall meeting with their dealers to conduct a deep dive into the root causes of their delivery delays, suggest what actions dealers can take, and offer a preview of what to expect in the future. The action was taken, the company says, in the name of transparency – a noble goal. But some dealers are asking what took so long – we are now 2½ years into supply chain issues and things don't seem to be getting any better at Crestron. Or are they?
See more on the Crestron Supply Chain Town Hall meeting
A somber-looking group of Crestron executives faced dealers in a special Zoom gathering known as the Crestron Supply Chain Town Hall Meeting. For this hour-long meeting, the company pulled out the big guns – its top executives – as it clearly is an issue of significance. Speaking to dealers was Crestron CEO Dan Feldstein, COO Dan Brady, EVP of Residential John Clancy, and EVP of Marketing Brad Hintze, who acted as the master-of-ceremony.
While the company said it called the meeting in an effort to be transparent and to explain to dealers where the company is at with regards to supply chain issues, especially as it relates to the delivery of Crestron products that dealers have ordered. I support the notion of transparency and applaud any company who comes clean about their challenges.
A Touch of Defensiveness
Still, it seemed to me the company was feeling a little defensive with a presentation that was much heavier on explaining how the situation is the result of matters over which they have no control. I may have been tainted by the fact that over the last few months, I have received many complaints from Crestron dealers, telling me that the company is extremely back-ordered and has never been harder to do business with. They don't know how to schedule installations as delivery quotes from Crestron keep slipping.
What caught my attention about these complaints is that some of these came from very large, very loyal, and very long-term Crestron dealers. When I receive a call like this – and again, there have been many – I challenge the assertion by asking, "Aren't you experiencing this from all of your manufacturers?"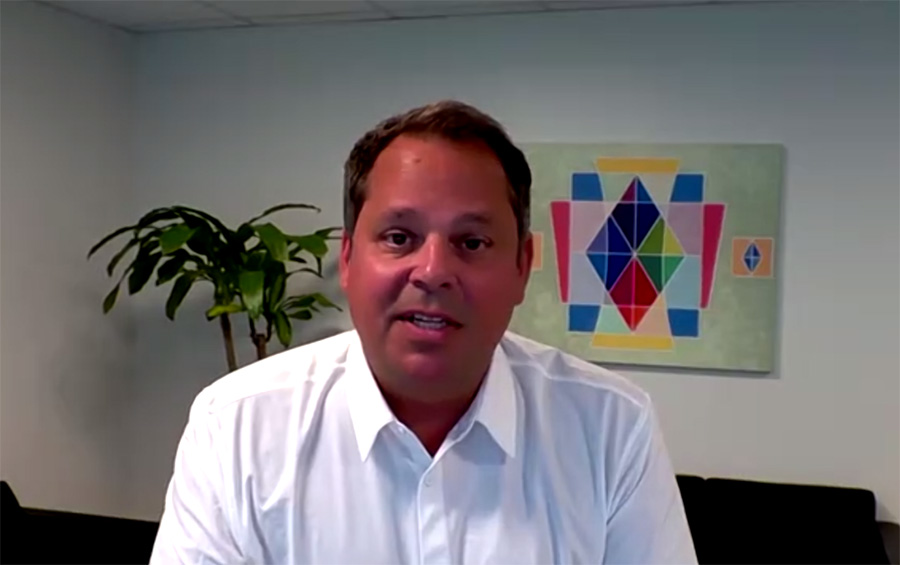 Direct and Transparent Answers…Mostly
What these Crestron dealers told me is that, initially, yes, they had pretty much the same experience with all of their suppliers. But over the last year or so, these other suppliers have improved, they said. But Crestron's out-of-stock situation seems as bad as ever, if not worse, they tell me. So I suspect that Crestron has heard these same complaints. Perhaps that is why they chose to hold this town hall meeting now.
These sessions have been designed to give you direct and transparent answers to the way Crestron is navigating this moment. Hundreds of questions were submitted. We reviewed every single one… Today we've picked some of the hardest questions because we know there are many questions that you have for you and for your business and for your customers.

Brad Hintze, Crestron EVP of Marketing
Better…Than Ever Before?
Before we go through some of the topics that Crestron raised in this town hall, let me mention the fact that the company has recently engaged in a dealer communication which raised some eyebrows and may have been counter-productive for the company. Some of the angry calls I've received about Crestron came in late May after dealers received an emailed letter from COO Dan Brady who announced then that the company's efforts to "tackle" supply chain issues were showing "promise and progress."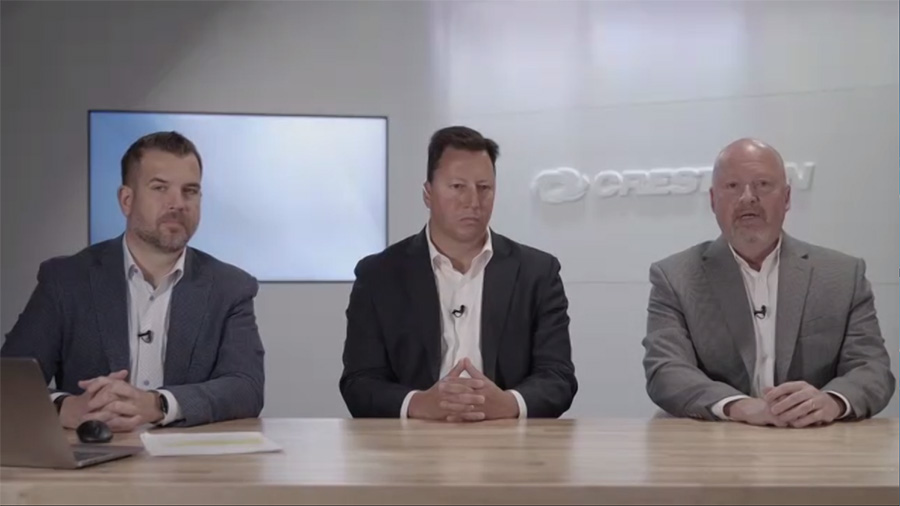 Therefore, Brady announced, "I can say with great assurance that we are in a better position now than ever before." Better than ever before? Really? Yeah, dealers weren't feeling that…to say the least.
Now, 90-some days later, the company was communicating with dealers again. Would they stick with the messaging style of Brady's letter?
A More Measured Rhetoric
As CEO Dan Feldstein began to speak, it seemed that the company was moderating its rhetoric a little. Feldstein admitted: "We're going to discuss a lot of things. We may not give you the answers you want to hear, but we will give you the most honest, up-to-date information that we have available."
Feldstein then added, "Crestron has grown over 50 years because of our commitment to working with you, to supporting our customers. It's so critical to us that our success is tied to our mutual success."
Adds COO Brady, "Thank you all for tuning in here. I'm really happy to take this opportunity to share as much information as I possibly have at my disposal. I've had a lot of conversations with a lot of you – some had been pretty difficult. But my objective today is to share everything that's going on so that you know where we are today. But more importantly, where we're going tomorrow."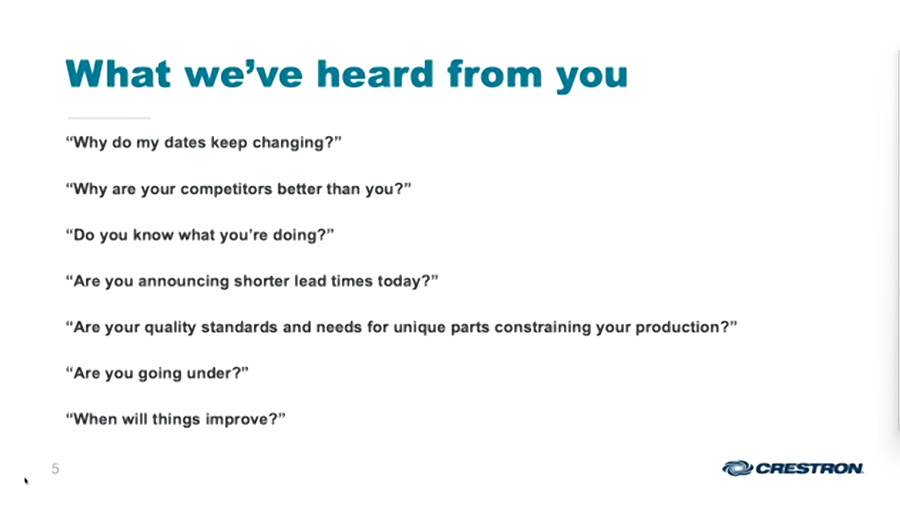 Questions Submitted in Advance
In advance of the town hall, the company solicited questions from dealers that they would like to have answered. The dealers didn't hold back. Hintze put a slide on the screen with a selection of what he said was the toughest questions the company has been sent. These are, in fact, many of the questions that I have been hearing from Crestron dealers as well. While Crestron addressed each one, they didn't necessarily answer all of them. That includes the one question that I am most asked – why are competitors filling orders so much better than Crestron?
Here are the Cliffs Notes (condensed and paraphrased) version of Crestron's answers to the dealer questions shown above:
Why do my dates keep changing? We give you an expected ship date based on the information we receive from our suppliers. So if the dates are slipping to you, it's because suppliers are changing the delivery to us.
Why are your competitors better than you? The Crestron execs never really answered this question. Saying something along the lines of, we can't speak for our competitors, we can only tell you what we're doing. So that question was really ducked.
Do you know what you're doing? Yes, we know what we are doing. This town hall is all about letting you know all the things that we are doing.
Are you announcing shorter lead times today? While we're beginning to see some small signs of improvement, the situation is going to remain challenging until the middle of 2023. In answering this question, Brady specifically told the story of Texas Instruments having cut their lead time from eight quarters to six quarters. So that's a small sign of improvement.
Are your quality standards and needs for unique parts constraining your production? On this question, the Creston executives didn't directly answer. However, Dan Feldstein said unequivocally that, "So again, we are doing everything we can, but we will not do anything that sacrifices the reliability and quality of the products that we're delivering." This may be an area where their competitors are out-maneuvering Crestron. Savant, for example, told me that they are reengineering products to swap out original components that aren't currently available, for replacements they've found available on the open market that are comparable but have, for example, a different pin configuration – requiring an engineering change. Savant's priority is shipping and being flexible with components helps them to be able to continually deliver. Crestron's answer is that they will only use components as originally spec'd.
Are you going under? I've heard this question from dealers as well – it is based on the growing perception that finances may be part of why the company isn't delivering as well as its competitors. Crestron strongly denies this. Feldstein assured dealers in the town hall that the company has been creating reserves for years for just this kind of cataclysmic time.
When will things improve? [See the answer to the "lead times" question above.
The Heart of the Problem
In the presentation, which was pretty comprehensive, the execs covered all the usual supply chain issues – chip problems, other component shortages, factory shutdowns, port issues, and on and on and on. But then the company offered that one of its biggest problems – or perhaps more accurately, the heart of the problem… is growth.
Popping up a chart that showed a comparison between both product shipments and products booked, the company said they were hit with a huge uptick in orders – about five times larger than their normal monthly order flow – and that has exacerbated their inventory shortage situation. According to Feldstein, this burst of orders was related to an impending price increase that dealers were trying to beat.
Having said that, this is the kind of pitch that sounds suspiciously like marketing hype. Giving them the benefit of the doubt, I'm sure it's not hype…but it sounds like it. Turn a negative (product outages) into a positive by tying it to the stunning success of the brand. Company reps had been pitching that concept out in the field for some time now, and I've spoken to several Crestron dealers who are rubbed the wrong way by it.
To Their Credit
To their credit, Crestron did admit that they did not have a robust enough back end to their systems to allow them to efficiently handle the large increase of backorders – as well as the shifting complexity of this backorder situation. Consequently, mistakes were made, and estimated ship dates were given initially on old data only to have to be adjusted later.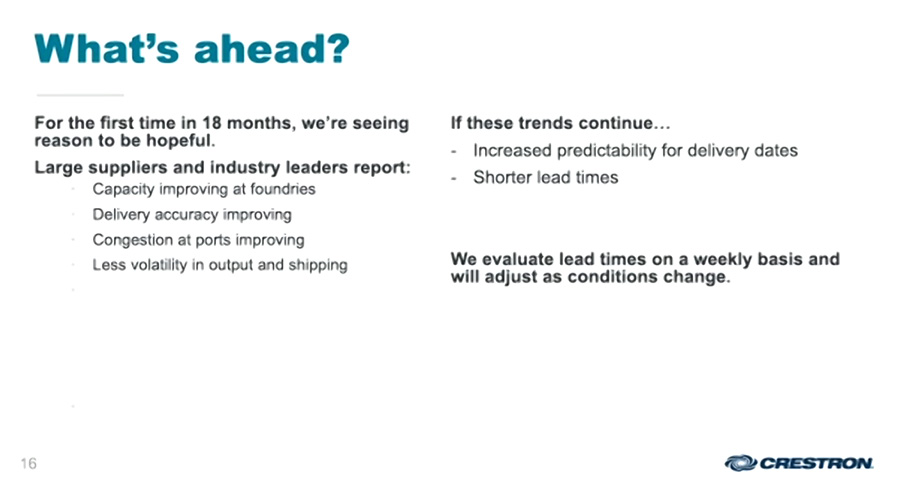 Crestron wrapped up the event with a touch of optimism that things may be changing for the better. They noted several factors appeared to be improving, such as foundry capacity, port efficiency delivery accuracy, and more. However, unlike in the past, this time they were "hopeful" but much more moderate in their messaging on this improvement.
Dealer Reaction
So I spoke with a couple of dealers who had recently complained to me about Crestron's performance as a supplier. These dealers are very frustrated with the constant challenge of juggling angry clients waiting for ever-delayed installations, changing delivery estimates constantly disrupting installation operations, and seemingly nothing going smoothly in Crestron system installations for months now.
This presentation did not satisfy them. Crestron calling for this town hall gave dealers hope that there was going to be some kind of major announcement. "They mostly just offered excuses for why things are so screwed up," one dealer said. The dealers had been hopeful for some breakthrough announcement from the company that would guarantee a brighter future. They didn't feel they heard that. For them…the frustrations continue.
And the biggest question they had remained unanswered – why are Crestron's competitors delivering gear so much more reliably (according to dealers)?
Learn more about Crestron by visiting crestron.com.
See all that Crestron Home has to offer at crestron.com/home.